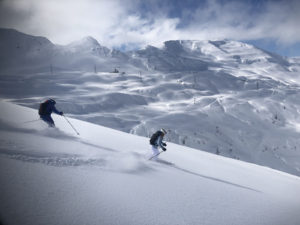 The Europeans call it free riding or off-piste, Americans say ski touring or backcountry skiing. Call it what you will – skiing out of bounds comes with high risks and high rewards. Ski resort trail maps show you what everyone sees and skis. Venturing beyond groomed, lift serviced, patrolled ski terrain is tempting to score fresh untracked powder. However, skiing OB, Out of Bounds, or off-piste has huge risks. This terrain is unmarked, with no avalanche control, no signs of cliffs, you get the picture. You could die…
Know before you go, or go with someone who knows!
Hire a guide!
In the Alps, its natural to want to adventure into beautiful untouched wide open ski bowls. As an advanced and expert skier, its tempting to ski the thousands of acres of fresh snow in this amazing high alpine environment – that looks all white and wonderful. But there also lies grave un-marked danger, hidden crevasses and cliffs, jagged rocks and the ever-present possibility of slides and avalanche. Hiring a Guide or Bergfuhrer, Maestro De Ski,  is the best way to explore safely and reach ski terrain beyond the "pistes" – marked groomed trails.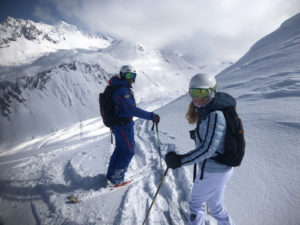 Cost for a Ski Guide in Italy, Switzerland, France and Austria ranges in price from $200 – $800 per person per day, which sounds expensive but the rewards can be awesome as your guide delivers you safely to secret stashes of powder you would never have otherwise found, or maybe not returned safely. Besides, can you really put a price tag on safety?
Mountain Guides are experts who have trained far beyond ski instruction. Bergfuhrer spend at least five years becoming accredited, spending upwards of $40,000 on certifications from medical to skiing skills, to weather to avalanche rescue.
Skiing off piste with an experienced knowledgeable guide, we have had private powder – both quality and quantity of runs – far superior to days of heli skiing or cat skiing, money well spent.  Good Ski Guides check the weather, the avalanche warning reports, know the terrain, and make a plan based on those factors and your preferences.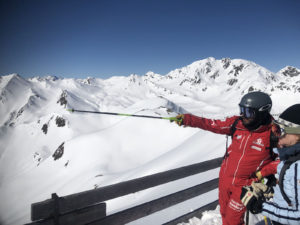 Your input and feedback with the Guide is important so you achieve your ski goals. When you hire your own guide, you can dictate where you want to ski, and with whom you want to ski, the size of your guided party – the price is commensurate with the number of skiers. The safety decisions are the responsibility of the Guide so you must respect and heed their instruction and direction.
Guides can equip you with avi gear – backpacks with beacons (aka peips) probe and shovel. Ask if this is included in your ski guide service fee or available for an extra rental. Avalanche air bags may also be available.
Ski Guide Status – The Bergführer are the upper echelon in ski resort towns. The Mountain Guide Association of the Alps dates back to 1858. Becoming a Bergführer is no small accomplishment. Many guides are a legacy to previous generations, predominantly male and all quite athletic and skilled in alpine safety. The hierarchy in the mountains is rumored to be Bergführer first, ski instructor next, hoteliers and restaurateurs, tourism departments, and on down the line – that's how it rolls.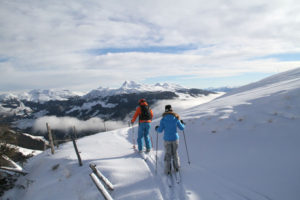 Our Guides have been super friendly, humble and highly skilled, and we have witnessed a few that think they walk on water, or snow as the case maybe. A mere ski instructor is not as qualified, trained or certified to take you in the back-country, but less money if you just want a ski companion.
Some of our best ski days in the Alps have been with a Ski Guide. Our best off-piste adventures and deep fresh powder have been in The Arlberg's St Anton and Stuben with Maris, Serfaus with Sebastian, Courchevel with Ambrose, Markus in Kitzbuhel, The Jungfrau with Beat, Lech with (crazy) Rolf, Solden with Alex, Italy with Paolo and Luca. Meanwhile a day with a ski instructor in Davos Klosters was disappointing, no big vertical drop and few un-tracked descents.
A bonus of being with a guide, you learn about the ski history, local lore and legends. In St Anton, for example, we learned about the earliest skiers to resort gossip, where to go for après ski and where the new lifts would be installed for example. We have also met some real characters, like the Guide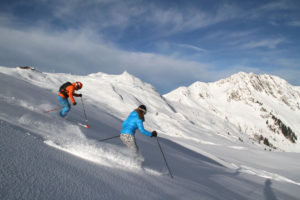 who thought he was Jesus, one who spent the day trying to hit on our teenage daughter (blame that one on Canada). In the Italian Dolomites, our Maestro di Ski in Cortina – 5 star ski guides Luca and Paolo found us the best snow, the finest on mountain chalets for lunch, and kept us laughing and smiling all the way. In France's Courchevel at Les 3 Vallées, our Mountain Guide found us fresh powder all day we'd never have scored ourselves, and brought us to Courchevel's best on mountain chalet where our fireside table was reserved.
Guides are typically a great investment for safe but also  seriously incredible off-piste skiing. Hiring a ski guide doesn't guarantee your safety – but it does vastly improve it, in fact their professional reputation depends upon it.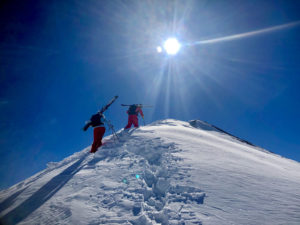 Skiing the backcountry without a guide is becoming more and more prevalent. Unfortunately so are the losses – with more skier triggered avalanches, buried and lost skiers. Get a guide.
Tips on getting the most from your Ski Guide:
Ask what safety gear is included and/or required: PEEPS, transceivers, Airbag backpack?
Describe your ski ability honestly and accurately, don't over or underestimate your skill level.
Clarify the hours, price and expectations of your Guided Ski Day: How long is the day? Lunch plans? Typically you treat your guide to lunch if it's all day. Discuss your lunch plan and preference, guides can make a reservation with a chalet where they have rapport.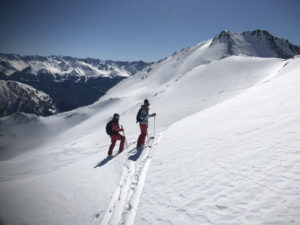 Tell your Guide what type of skiing you seek before your adventure begins. Don't tell him at the top of an off-piste run down to the valley that you "don't like tree skiing" or "get terrified on steeps".
Ask about the conditions, understanding the 1:5 avalanche ratings and that weather and snow will affect where you can go.
Communicate with your Guide as you go how you are feeling – if you want to go faster, slower, more or less chatting (this one makes me laugh from experience – "please Pat – lets talk on the lift only, we came to ski"). Tell your guide if you're getting tired, thirsty, hungry, as this affects where he or she should take you.
Respect your Guide's expertise and experience, ultimately they decide what is safe to ski.
Ask questions. Guides are  typically a wealth of local information – both environmental and trivial.
NEVER pass your Guide, always stop above your ski guide unless instructed otherwise. If the guide says "ski to the left of my tracks" there's a good reason, involving your safety and livelihood.