Why Anna Maria Island is so…AMIable!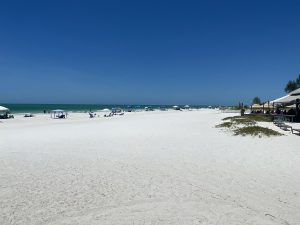 Imagine seven miles of talcum powder sand, with three fun & funky beach towns, fabulous boating,  beach bars serving fresh seafood and salty drinks, dolphin frolicking just off shore, and fiery sunsets that melt into the sea each eve.
Want in? Plan a vacay to AMI: that's local code for Anna Maria Island!
On Florida's friendly Gulf Coast, Anna Maria Island is a vibrant resort community on an eight-mile long barrier island. Anna Maria is north of Longboat Key, south of Tampa Bay and St Pete, with western views of the Gulf of Mexico, and flanked to the east by the ever scenic ICW – Intracoastal Waterway.
AMI is incredibly historic – Anna Maria's Pier dates back to 1911. Cortez is the oldest fishing village in Florida, since the 1880s. The island architecture is Bahamian, beachy, charming, cheerful, and so casual. So is the vibe.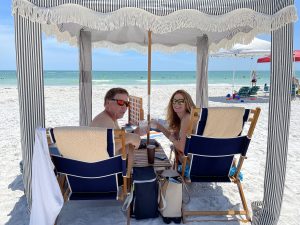 AMI is also super happenin' with accessible beaches stretching from northern Bean Point, to Anna Maria, Holmes and Bradenton beaches, down to southernmost Coquina Beach, beach bars line the strip too. Anna Maria's broad stretch of soft sand with its gentle turquoise surf reminds me of Grand Cayman Island or Bermuda – only more accessible, and far more affordable!
Our Top picks of Things to See, Sea & Do on AMI:
Hit the Beach. Anna Maria Island has great beach access all around the island, with public parking, even parks with facilities. Forgot your beach chairs and cooler? AMI Beach Suites has you covered – literally -with their Luxury Beach Escapes, you arrive to a beautiful private covered cabana on the beach, with comfy chairs, a stocked Yeti cooler, beach towels, sunscreen, Bluetooth speaker, and fun games like paddleball, Jenga, Frisbee. At the end of your blissful day in the sand – just walk away – set up and removal are all included. This special set up can be arranged with Anna Maria Concierge Susanne, your go-to-gal and Director of Contagious Enthusiasm on AMI!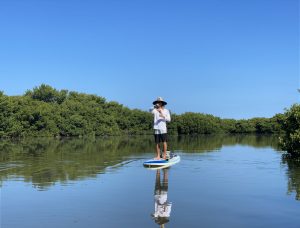 Kayak with AMI Paddleboard on their Eco Tour to truly immerse yourself in Florida's mangroves, see dolphin, and meet George and Bob the friendly cormorant companions. Our Guide Andrew kept us intrigued and entertained during our peaceful 2 hour paddle along Anna Maria's sparkling shallow Sound, as we explored deep into dense mysterious mangrove tunnels. Lots of wildlife and no one got wet, win!
Stroll Anna Maria's City Pier stretching 700 feet out into Tampa Bay on the northeast tip of the Isle. Picture yourself arriving in 1912 on a steamer, long before AMI bridges, in your long wool travel clothes, to promenade across island to the beach where you would change into your  "bathing costumes" at the Pavilion and Bath House. Today the Pier is the epicenter for fishing. Remarkable that the long wooden Pier has been returned to it original glory after several hurricanes including 2017's Irma, and it is once again open for public fishing, photo taking and drinking. Read the tribute on the docks, "Beneath the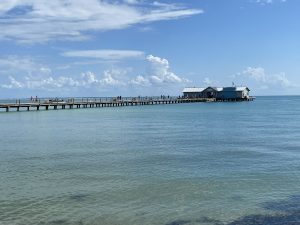 roof of the city pier is a place to sit with shrimp and beer while lightning in the distance plays and thunder rumbles across the bay."  Yes, you can order shrimp and beer at the Pier's end. Soon the Pier will be home to a Mote Marine too, Florida's oldest sea research lab – since 1955.
Shop Pine Ave, the City Pier's "bay to beach boulevard" (or is it "sea to sand" boulevard) of amusing beach boutiques and cafés. Locals call Pine their Rodeo Drive, that's a stretch – still it's a fun stretch of casual shops with sandy sidewalks. Be sure to visit Pineapple Marketplace where 30 local artisans share their cool wares, formerly called Pineapple "Junk"-tion, emphasis on junk, lol. Pop in to the Green Village nearby – an enviro-friendly self-sustainable block of neat shops.
History buffs – don't miss Anna Maria Island Historical Society, and the open-air Jail still standing on Pine Ave.  The museum offers a self-guided tour, donations happily accepted, of AMI's evolution from prehistoric times, to the Pier and Old Town beach days, to the Roses family – and their Fig Newton success, to Esther Williams movies and more filmed here. Learn how back in the day a big beach day could land you in Jail out back, and why the jail has no roof.
Swimsuit and sunglasses at West Coast Surf Shop – check! Florida's oldest surf shop,  since 1964, is brimming with top brand bikinis, swim trunks, surf boards, sunglasses, sandals and hats. Owners Ronee and Jim will have you in and out – outfitted and on your way to the beach with cool swag and a smile.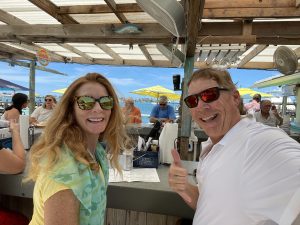 Visit Cortez Village, just over the Cortez Bridge. This is the oldest and among the last working commercial fishing villages on Florida's Gulf Coast, settled in the 1880's, now a national historic district. Do not miss Tide Tables at Marker 48 for the BEST fish tacos this side of the continent. The Bell family are proud of their fishing heritage, continuing to serve the freshest catch daily, its a local favorite with a humble happy vibe! Sip a beer or wine (that's all they offer for adult bevies) on the docks while you wait for your table with water and sunset views of the Cortez Bridge and ICW.
Bridge Street is a must see, mid-afternoon walk this historic avenue, so cheerful with Key West style architecture,  just south of the Cortez Bridge in Bradenton. We suggest you end at the Tiki Bar at Bridge Tenders Inn for a waterfront drink and "shrimpcargo", often live entertainment here too.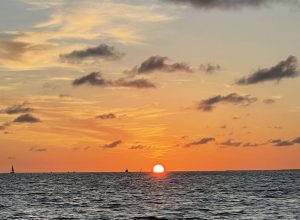 A Sunset Dolphin Tour is the perfect "fin"ale  to your island day. Bring your own cooler (adult bevies allowed) for the 90 minute tour boat cruise. Captain Chris is admittedly a dolphin dork with a salty sense of humor – we learned so much about my favorite mammal perfectly on queue with dolphin pod sightings, followed by a magical sunset of brilliant orange disappearing into the sparkling horizon – until tomorrow. AMI Dolphin Tours depart from Waterline Marina, your AMI Concierge can reserve this cruise for you too.
Ride the Monkey Bus and don't worry about traffic, scoring a parking spot, or if you're a party animal who had too many boozie banana drinks on island. This festively colored beach bus runs on donations only, "trips for tips", call  941-565-6542. I love the concept and the conservation aspect on car-congested AMI.
Where to dine on Anna Maria Island? See you faves for fish, sushi, best beach bars and more.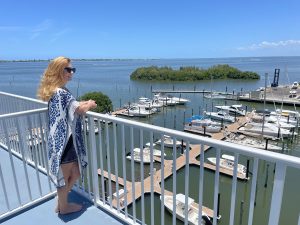 Where to stay? Compass Hotel by Margaritaville on Anna Maria Sound is a cool resort just prior to the Manatee Bridge, with commanding views of the waterfront and the Island from upper floor balcony suites. This Caribbean casual resort hotel opened in 2020, its affordable and perfect for families or couples looking to relax by the beautiful pool. Boaters can arrive by boat at Safe Harbor Marina Pier 77 and Freedom Boat Club. Start your day with a complimentary breakfast buffet, then set out on resort bikes to the nearby Preserves or to the beach over Manatee Bridge. There's also a free shuttle. Afternoons, return for happy hour at Compass Bar & Chill, hang out in a poolside hammock overlooking the boats, or take a rainfall shower in your lovely room before dinner at their own Floridays tiki restaurant with live music on weekends. Compass has captured the legendary laid-back Margaritaville vibe here at AMI, with breezy island music playing, cool Caribbean décor and a fun friendly team to serve you.
Plan your trip to AMI ASAP. Our only regret? Not staying longer to explore more beaches and lively beach bars! One other regret would be not discovering Anna Maria sooner, like two decades ago before it became such a popular hot spot. We imagine what a cool beach town this was when it was more locals, less folks from away! But that's true of so many Florida coastal destinations!
See more Florida Reviews:
Amelia Island- Fernandina Beach
Anna Maria Island
Boynton Beach
Crystal River, Homosassa & Inverness Things to Do
Delray Beach Things to Do
Fort Lauderdale's Top Things to Do
Fort Lauderdale Port Everglade
Key West's Best
Miami Luxury Hotels
Mount Dora
Marathon Top Things to Do
St Augustine Top Things to Do
Sarasota, Siesta Key and Venice
"Everyone should believe in something, I believe I shall go to the beach."