If you've skied the Swiss Alps, Austria and France, then put Italy on your must ski list, and do the Dolomites. This Italian ski region is bold and beautiful and big with 1,200 kilometers of ski slopes groomed and marked, amazing lifts – 450 total connecting 12 ski regions and 45 villages, and hundreds of mountain huts offering delicious Italian food and drink during and après ski in the Alps. Italy offers the ultimate luxury ski vacation.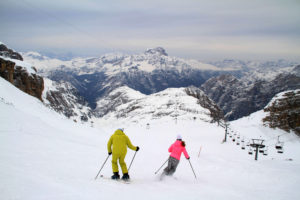 The most popular Dolomite ski resorts are Cortina, Val Gardena and Alta Badia –World Cup race venues, and world class skiing. But there are Italian resorts in this vast region you have never heard of – Kronplatz, Plose, Gitschberg, Jochtal, all wroth y of exploration – with amazing ski terrain, on piste and off-piste backcountry terrain. And the Dolomites ski terrain is all on one ski ticket – called the Dolomite Super Ski Pass. Much of the Dolomite ski terrain is moderately pitched, you are not skiing from the top of the jagged limestone peaks, like in the Swiss, French or Austrian Alps.
You ski around the Dolomites summits, which is spectacular as well.  One amazing exception is the famous Marmolada run, at 3,342-meters (10,964') it's the highest skiing in the Dolomites, with awesome views, one long prepared run down and some adventurous off piste, so hire a guide if you venture from the trails. See our guide to skiing The Alps.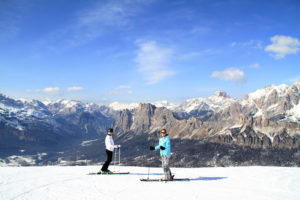 The best interconnected skiing of the Dolomites is Alta Badia, Arabba, Val Di Fassa – all part of the 42-kilometer Sellaronda tour. Val Gardena is also connected and offers beautiful skiing in a stunningly scenic valley. Cortina is a great ski town with three separate ski areas of its own on Tofane, Falloria and Cinque Torri. Other worthwhile skiing areas for a day of skiing in Dolomiti include the 360-degree mountain of Kronplatz, the interconnected Gitschberg and Jochtal and Plose in Val Isarco. Take at least a week to ski the Dolomites, and savor La Dolce Vita … eating, drinking and socializing while you ski. The Dolomite ski region is a blend of beautiful geography, historically reefs millions of years ago, then the site of World Wars. The cultural influences of the Dolomites are fascinating, Austrian meets Italian and German. The food, architecture and language are rich and unique with Tyrolean, Venetian and Mediterranean influences. Some ski villages speak Italian – like Cortina, others German, and local Ladina. No worries, most everyone speaks English as well, and are incredibly hospitable.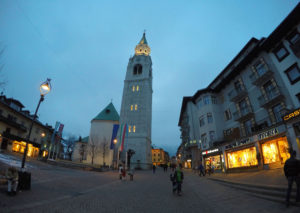 Skiing the Dolomites, we recommend you stay in Cortina for a few nights, and ski the three separate ski areas there, before heading to the heart of the Dolomites for a few nights, Alta Badia or Arabba, and the beautiful ski village of Val Gardena and Ortisei. From here you can ski the famous 42-kilometer Sellaronda circuit if you wish, just try to break away from the packs of people on the same circuit. And be sure to stop for lavish lunch at mountain chalet – there are over 100 in the Dolomites. Learn the Italian art of Far Niente – doing nothing… enjoy the sunshine in this South Tyrol region, north eastern Italy.
The Dolomites can be busy during peak weekends and holidays, like Carnival in March and school holiday in February. The Dolomite Super Ski region season ranges from December to Easter typically.
See Ski Videos of the Italian Dolomites
Family Skiing Review of a Dolomite Ski Holiday
Top Ski Resorts in the Alps of Europe