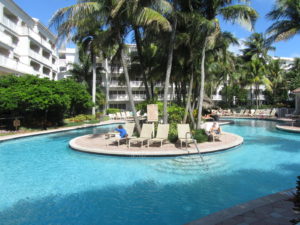 The grand dame of Fort Lauderdale is Lago Mar Beach Resort, a posh Fort Lauderdale resort – a classic – not as contemporary as other chain hotels, The Atlantic, W, Ritz, Hilton and Hyatt on the strip. Lago Mar is more refined, and confined with its own private beach access and a perfect stretch of sand. From the moment you enter the gracious lobby, you are transported to a fanciful old-world Florida, a trompe l'oile ceiling and grand chandelier tower above, and a sensational mosaic tile sea scene below your feet set the mood. The Lago Mar staff is trained to know your name and anticipate your whim, a credit to the Banks family who have owned the resort since 1959 and continue to polish their four-diamonds and Condé Nast Gold status. Lago Mar is often ranked as a Top Family Resort in Florida!
Lago Mar Resort offers ten lush seaside acres, with two gorgeous swimming pools draped by tall palms, a Promenade poolside bar, a full-service spa, tennis courts, mini-golf and playground, and 500-feet of private uninterrupted beach. Most of the 200 Floridian décor guestrooms, picture Tommy Bahama's bedroom, at Lago Mar are suites and ours overlooked the beach and ocean with a generous balcony.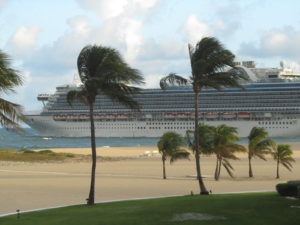 Perfectly content on our fabulous deck I watched the Fort Lauderdale based cruise ships come and go from Port Everglade to the Bahamas and Caribbean,  listening to the surf.
But there is plenty to do at Lago Mar, with daily activities scheduled, live music by the pool and fruity drink specials, plus fabulous dining – formal or casual. And you can stroll the sun soaked beach, read a book under a resort umbrella, or simply bob in the crystal blue 85° sea.
Walking Fort Lauderdale beach to the north, you arrive at the high rise hotels, The Sheraton, Hilton, The W, The B Ocean, The Ritz Carlton, The Atlantic, and The Westin. These big properties are on the busier strip and the more popular stretch of beach, where Lago Mar is more private and preferable – protected near the end of the beach peninsula and breakwater.
Fort Lauderdale is still considered the yachting capital of the world, if you wish to leave the luscious grounds of Lago Mar, there is much to explore by foot, bike, car or water taxi. See our Top Things to do in Fort Lauderdale!
At  Shooters – a fun waterfront bar and restaurants we watched yachts passing by, we savored happy hour snacks and drinks. Then we strolled the boutiques and bistros of Las Olas Boulevard – where we discovered great upscale resale shops.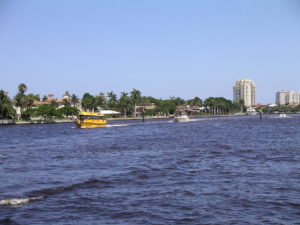 The best way to see Fort Lauderdale is by boat, the Water Taxi or a tour boat from Las Olas Riverfront Plaza. This way you get to see the incredible yachts and homes of the rich and famous, multi-million dollar mansions and mega-yachts belonging to Miami Dolphin players and movie stars. I called it the "I feel poor tour," but it is fun and refreshing getting on the water to see why Fort Lauderdale is called the "Venice of America" – featuring a labyrinth of 200-miles of inland waterways.
Back at Lago Mar, we took turns lounging at the lagoon pool, the marvelous private beach, and our scenic deck from our suite. We even played an amusing game of shuffleboard on the manicured grounds.
Fort Lauderdale is a great destination for a Florida beach vacation, or for a Cruise Ship stay over in a hotel room before or after your cruise. Lago Mar Beach Resort is a classic resort with all the trimmings of a modern resort and spa and exceptional staff, and the best beach setting in Fort Lauderdale.
See More Florida Luxury Vacation reviews:
Fort Lauderdale Things to Do
Amelia Island- Fernandina Beach
Anna Maria Island
Boynton Beach
Crystal River, Homosassa & Inverness Things to Do
Delray Beach Things to Do
Fort Lauderdale's Top Things to Do
Fort Lauderdale Port Everglade
Key West's Best
Miami Luxury Hotels
Mount Dora
Marathon Top Things to Do
St Augustine Top Things to Do
Sarasota, Siesta Key and Venice
"In order to write about life, first you must live it."
– Ernest Hemingway