La Ventana is one of the coolest, most athletic wind havens of Mexico. This is "the window" (ventana in Spanish) to the world of kite surfing, kite-boarding, hydra-foiling, and wind-powered watersports on Mexico's Baha Peninsula.
Just 2 hours north of Cabo San Luca, La Ventana is in the Mexican state of "Baja California Sur". La Ventana is south of La Paz, on the eastern side of Baja peninsula. This authentic beach town centers on a beautiful horseshoe beach, with surrounding mountains, and extraordinary views across the broad windy bay to Ilsa Cerralvo, on the Sea of Cortez.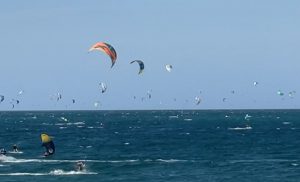 The winds in La Ventana are considered ideal by sailing and surfing aficionados, consistent and strong – perfect for sporting, with the bonus of keeping days on the beach cooler with the shore breezes.
La Ventana is now a World Heritage Site by UNESCO, for its abundant natural beauty and marine life. In fact, Jacques Cousteau referred to it as the "world's aquarium" and he conducted many explorations here on Ilsa Cerralvo – which has been re-branded Jacques Cousteau Island – but the locals aren't making that leap.
What started as a humble fishing village in the 1940's by a pearl diver, is now home to about 250 locals, and thousands of annual visitors to the shore of La Ventana Bay. La Ventana is a "must-sea" for wind-sport lovers from California, and all over the world, heralded for its steady winds from November to March and the Bay's L-shape sandy beach with side shore winds. On any given day you can stroll the beach and hear "surfer dude" speak, German, French-Canadian, and various dialects of Spanish – of course.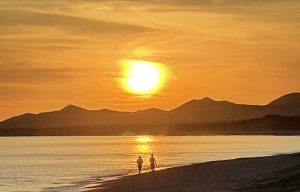 Fun things to do in La Ventana:
Savor the sunrise, its magical, sunsets are splendid as well.
Obviously, learn to kite-board, wind-surf or hydrofoil. Hovering and dancing on water with wind-power is the top activity here, and numerous sailing schools dot the sand beach offering instruction and rental gear.
Ride horseback on the beach, or on rugged mountain trails like the Mexican ranchers do.
Kayak or SUP on calm mornings around the glorious clear bay, you may be treated to sights of turtle, rays and flying fish as you glide across the crystal turquoise waters. Afternoons, the wind typically kicks up and its more conducive to kiting.
Go fishing, charter a boat to get out and drop a hook. La Ventana is rich with marine life, and fishing excursions get you out with local family members who have fished these waters for decades.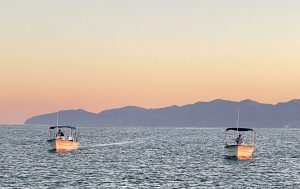 Boat out to Isla Cerralvo – renamed Jacques Cousteau's Island in 2009, for the oceanography that loved it here. The private Island rises to 2,100-feet above sea-level and is 18 miles long, 35,000 acres, known for its amazing surrounding marina life. Seals, gray whales, whale shark, and a multitude of fish are your snorkeling friends, especially from January to March. Isla Cerralvo is for sale – if that's your $20 million island fantasy.
Dining around La Ventana
Las Palmas on the upper balcony overlooking the beach and bay is easy and breezy, casual and cool. Enjoy tasty burritos and classic Mexican fare, a cold Cerveza or tequila in hand, while watching kiters fly back and forth across the bay.
Marlin Azul has the best margaritas we found, and plentiful homemade tacos, burritos, and guacamole. Service may not be super speedy, but each marg is fresh squeezed, and authentic meals are cooked in an open kitchen near your patio table. While not directly on the water, it's delicious food in a shady courtyard.
Nomada Organic is a very earthy, exceptional outdoor dining spot in El Sargento. Their "slow food" is locally sourced, organic and homemade in an outdoor kitchen. Nomada is great for a romantic dinner, sit back, sip a sangria or craft cocktail by candlelight and await a specially prepared meal. Nomada is often open for breakfast and lunch too, famed for their Huevos Rancheros and fresh made fruit smoothies.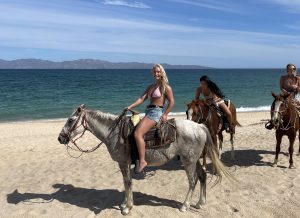 Baha Grill is super casual, no water view in this divey shack, but the vibe is fun, festive, and the shrimp tequila is yummy. Locals frequent here too – always a good sign!
Coyas at La Ventana Windsports is the ultimate beach bar, step in from the sand beach, no shoes needed. Enjoy margs, tasty Mexican fare, seviche, and a relaxed atmosphere. You may meet some new friends that blow in when the wind dies down.
La Ventana Lodging
La Ventana has several glamping resorts right on the beach. Chilochill is rustic but real close to the ocean, and you're on budget. This is essentially camping on a platform bed with canopy under the starry sky, tenting or lodging on a bunk bed, with restroom facilities, for relatively small pesos. And oh those sunrises…priceless.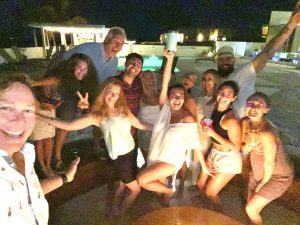 Palacio Blanco has beautiful beachfront villa apartments, upscale from "glamping", with spacious two-bedroom units outfitted in modern appliances and chic appointments. With a common swimming pool and hot tub, a firepit, and direct central beach access, it's an ideal setting. Upper floor units have grand balconies with a prime view, while first floor condos have step out access to the pool, patio and beach. Palacio Blanco is new, and construction is ongoing with additional units being added behind the beachfront villas. Ask Todd for a front row beach location. Heads up: as of Nov 2021 the entrance is a Construction Zone. But you do not know it once you are in your unit.
La Ventana is a perfectly bucolic beach destination for fishermen and sailors alike. There's nothing fancy, its super casual, sometimes dusty, with a breezy athletic vibe, and classic Mexican fare served with salty drinks. On Mexico's sparkling Sea of Cortez (also known as the Gulf of Baja California) every day is special, the ocean-blue waters can be flat calm and then whip up into a choppy windy wild bay full of bright fast flying sails and kites. The surrounding mountainous landscape is arid, desert-like with cactus and craggy rocks. The friendliness of the local Mexicans make La Ventana a fun, vibrant place to "hang-ten" for a spell.
See alos our review on Mexico's luxury Baha retreat Gran Suenos
More on Mexico…
"In Mexico, no one says you speak with a good accent. You either speak Spanish, or you don't. No one cares." – Salma Hayek