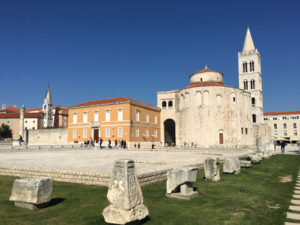 Zadar Croatia is the oldest inhabited city in all of Croatia, and the fifth largest city, a beautiful port, once war torn but now revitalized post-Serb attacks in 1991. Today Zadar is a fascinating mix of old and new, Roman ruins meet contemporary architecture in this seaside settlement of 75,000 Croats. Zadar was voted best European city in 2016. Our cruise ship landed at the spectacular open waterfront promenade, ideal for a day's exploration.
Here are top reasons to explore Zadar, and the best sights!
Greeting to the Sun is your welcome matt at Zadar, especially arriving by boat or cruise ship on the waterfront prom. This modern stone-embedded circle of 300 reflective glass panels decorates the pedestrian piazza on the seashore, quite a sight in the changing light and spectacular at sunset, or during the solar laser light show at night.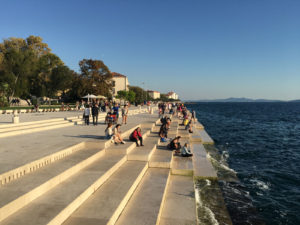 Zadar's Sea Organ is another one-of-a-kind waterfront feature,  stone carved steps descend toward the sea, with deep holes that emanate musical sounds as the sea flows up into the pipe chambers. This "Morske Orgulje" won the European Prize for Urban Public architecture in 2006, part of Zadar's post-war revitalization. Just enjoy the lapping of the waves on the shorefront and listen to the Sea Organ's ever changing haunting chorus.
Zadar's Roman Forum is a perfect first stop on a walk, the largest ancient forum on the Adriatic. This is where Julius Caesar founded a Roman veteran's colony. Wander around the tumbled stone pillars and remaining columns of this grand marble piazza and imagine the heritage and history. Don't miss the Pillar of Shame where 1st century sinners and criminals were publicly chained and shamed. Oh, the good old days…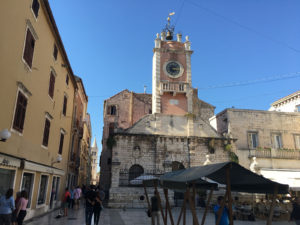 St Donat Church is now the centerpiece of Zadar's ancient Forum. This magnificent circular shrine constructed of marble hosts modern day concerts with most ominous acoustics. Be sure to climb up to the balcony for the best perspective. At neighboring St Mary's Church, the Campanile is a Romanesque Bell Tower built in 1105 – its a long climb worth evey step to the top for "breathtaking" photo-taking views.
Zadar City Gates, called Land's Gate and Lion's Gate, is a grand 16th century stone entry to the old city of Zadar, embellished with a renaissance lion, best viewed (and photographed) from the beautiful park south east of the city, overlooking a charming well-protected marina filled with fishing boats and pleasure yachts.
Stroll Siroka ulica, or Kalelarga, the wide main thoroughfare from People's Square to the Forum. Modern boutiques and cafes spill out on to the historic marble pedestrian street, serving delicious pizza, Panini and gorgeous gelato. Shop for bargains on clothing and crafts in this resilient Croatian city, since 1991's conflict with Serbia. We found the locals to be very friendly, English speaking and appreciative.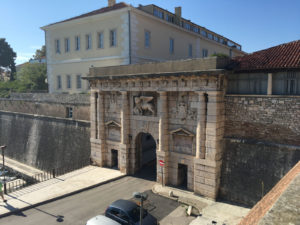 Maraschino liquor is a must taste, this sweet but fortified (48% alcohol) aperitif is made from cherries grown in the hillsides above Zadar. Don't be fooled by its simple clear color and cherry flavor… its potent!
Nearby national parks include Paklenica, Zrmanja and Kolovare Beach – featuring waterfalls, spectacular forests, cliffs and gorges, and a few sand beaches. Alas time zipped away from us in Zadar, next trip…
Paseo Maritimo is the beautiful waterfront stroll stretching the entire length of the shores of Zadar, a fantastic conclusion to exploring Zadar, back to our ship. Stone steps by the Sea Organ lead to the Adriatic if you have the courage to swim, but be warned: there are no railings or swim ladders, never mind lifeguards…
Best time to visit Zadar might be the September Fig Festival.
More beautiful Adriatic ports of call in Croatia include Split, Dubrovnic, plus Koper Slovenia, and Venice Italy.
"The sunset of Zadar is the world's most beautiful and incomparably better than Key West , Florida" – Alfred Hitchcock.