Not all cruise ships are alike… we have wisdom to share for your ship to shore experience. You will "sea" the beauty of cruising, aboard a floating hotel transporting you from one fabulous port of call to the next, no worries, no work, with the bonus of fun and fabulous activities and food on board. We review luxury adult only cruise ships, the best cruises for families, and how to best enjoy your cruise vacation.
We also highly recommend chartering your own yacht in the Caribbean or the canals of France or the fjords of Norway.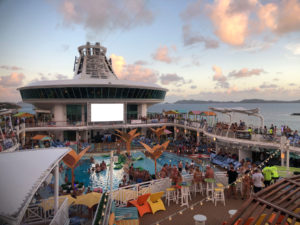 Cruise Tips:
1. The ship matters so do your research. For couples, we recommend smaller cruise lines, boutique luxury ships that visit more exotic ports, and offer top shelf service. Azamara is unique mid-size ship with less passengers, more service and unique ports of call. MSC is another European cruise liner with gorgeous ship designs, their service and food are hit or miss. Royal Caribbean is consistent and scores high for families – with loads of activities, entertainment and venues for everyone from toddlers to teens to couples. Royal Caribbean continues to launch beautiful ships with unique features like rock walls and FlowRiders and SkyPads, Central Park and multi-story Promenades, even cantilevered hot tubs overlooking the sea. We have yet to experience Holland America, Princess, or Windstar which sound very classy but more subdued. Newer ship have the latest and greatest amenities and décor, lots of passengers too.
Tip: you can score deals on older ships, many have been renovated recently.
2. Don't pack too much clothing. You don't need six pair of shoes and three pair of jeans. Staterooms just aren't that big for huge suitcases, so you're best off coordinating your outfits ahead. See our Guide to Packing for a Luxury Vacation. That being said, it is tradition to dress for dinner, especially formal night, so bring one formal dress, rent a tux on the ship for about $90.
3. Get to know the crew – these people will be your extended family for the next few days (and the providers of service). Living aboard the ship is an internationally diverse staff, a long way from home, working long hours. Most genuinely enjoy interacting with passengers (and getting tips at the end of your cruise). We danced with our headwaiter, conga lined with the cruise director, worked out with the show dancers and learned to fold towels into shapes with our stateroom attendant.
4. Disconnect and don't pay for the internet or cell phone service. Turn off your devices since roaming fees can be ridiculous, and instead chat with your ship mates. Our teenage daughter enjoyed her withdrawal from facebook and texting – meeting kids from the UK, the Cayman Islands, Canada, Italy and Germany. I give that a big "like".
5. Get involved with the Cruise ship planned activities, shows and games – that's part of the experience even if it means you look silly or find yourself line dancing.  You won't likely see these people again – so go for it! What happens on the ship stays on the ship – unless you buy the DVD.
Tip: Read the daily Compass that lists all that's going on onboard and in Port, from classes to shows, to discounts in the shops and specials in the restaurants.
6. Know that there will be lines, getting on & off the ship, for dinner seating and show times, unless you are on a smaller boutique ship like Azamara. Logistics of shuttling 3,000 passengers bring moments of mayhem – patience is key – talk with your fellow travelers, and marvel at how the cruise industry flips thousands of people every week – turning over an entire ship in just hours.
7. Be prepared for a big bar tab, drinks add up at $7 each and they flow daily on trays from 10am till 1am. It's so easy with your sign and sail card, you don't need any cash and you don't think twice about buying that beautiful Pina Colada served by the pool. Unlimited drink packages are $5075 day, wine packages and soda fountain cards are $50 a day, these can be a wise purchase if you drink big on vacay. A few cruise lines like Azamara include wine at lunch and dinner, but you are paying more up front.
8. Don't get carried away at the buffet. The Spa and Fitness director told me the average cruiser gains a pound a day, 7 pounds in a week. I found that shocking till I witnessed the buffet eaters at breakfast, lunch and dinner, later snacking on the 24-hour pizza and ice cream, before the midnight buffet. Hit the gym, usually in the scenic bow of the ship with state of the art equipment and hourly fitness classes.
Tip: Take the stairs, and get off the ship in ports of call to explore and stretch your sea legs.
9. If you cruise with kids, send them to the organized kids' camp on the first day – to meet friends and have fun, making for a better trip for everyone. Remind them everyone's in the same boat (literally) not knowing anyone. The counselors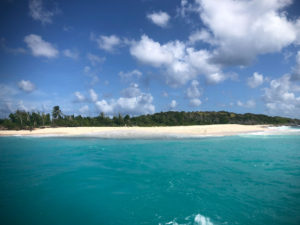 engage the kids in fun supervised activities, all included in the cruise. Royal Caribbean and Carnival have the best kids programs. Our kids went reluctantly at first, later we had to schedule dinner with them when they became so involved with new friends.
10. Get off the ship in port, stretch your sea legs, and explore new land. Excursions are offered through the cruise or you can just stroll the shops or catch a cab to the nearest beach club. Think of the ship as your floating hotel, you unpack once but travel to exciting new ports of call each day. You can get back on board anytime.
Tip: the ship does offer spa discounts when in port to tempt you to stay on the ship.
See our Reviews of Cruising
Tips for the Best Luxury Cruise
Royal Caribbean Guide to Cruising
Azamara Cruise in the Adriatic
Cruising aboard MSC Divina
Cruise Ship Spa and Beauty Salon Prices