Beaufort North Carolina is one of its prettiest, and the third-oldest town, established in 1709. This delightful coastal town of about 4,000 is located out on a peninsula, protected by the barrier islands. This southern coastline of North Carolina is called the Crystal Coast for the many waterways, coastline and islands. Beaufort is a gem for boaters, a convenient midway harbor for major yachts plying the ICWW – Intercoastal Waterway, and a haven for history buffs and nature lovers alike.
N.C.'s Beaufort -pronounced "Bo-fort" – is not to be confused with her southern sister – Beaufort, South Carolina –  same name, for the same Duke of Beaufort, with a much different pronuncation – "Bey-U-fort". See our Tale of Two Beauforts.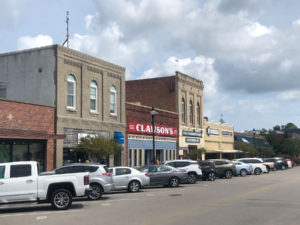 Beaufort has a wonderful small town feel and friendliness despite the elegant yachts that come and go from the face docks daily and the grand homes lining the waterfront boulevard. It's a relaxed southern town, with friendly people, a casual resort flair, and real beachy vibe come the summer months given nearby Morehead City and Atlantic Beach communities.
Front Street is Beaufort's hub, with its grand boardwalk and waterfront park, plus a dozen shops and restaurants within an easy stroll. You'll also see stately old southern mansions along Front Street.
What's especially beautiful about Beaufort are the islands just beyond the town. You can see Carrot Island – Rachel Carson's Reserve – where wild horses run free and graze by the marshy shores. To the west is Newport River, the east is North River and the south is the Atlantic.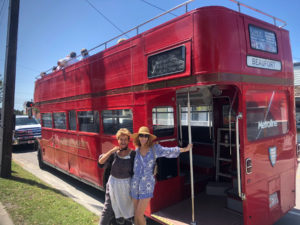 A perfect intro to Beaufort's fascinating history is Beaufort's Historic Site Double Decker open air trolley tour. You'll ride along narrow tree-canopied streets with costumed narrators, and learn of the old homes which were troop occupied and therefore never burned. You'll learn lore of Blackbeard the legendary pirate whose ship – Queen Anne's Revenge – ran aground in 1718 just outside Beaufort harbor.
Beaufort's Old Burying Grounds on Ann Street between the churches is another must for spooky and sad tales from 1700s "privateers" aka pirates, to the Revolutionary War to the Civil War. Guide to Beaufort's Historic Sites.
Beaufort's Maritime Museum is free and full of artifacts from Blackbeard's ship, to pirate treasure tales, to the evolution of the local fishing industry. Look for the whale bones, hint – look up.
Take a sunset catamaran boat from Beaufort's docks, or an Island Ferry to see the wild horses of Shackleford Banks, or out to Cape Lookout Lighthouse – the so called Diamond Lady for her iconic black & white diamond pattern design. There are 56 miles of beaches near Beaufort on these outer islands.
The place to stay in Beaufort NC is The Inlet Inn, right on central Front Street, with a view of the water and the marina. Ask for a 2nd floor water view room for the outside balcony. You can easily walk from Inlet Inn to Beaufort's attractions, shops and restaurants, or just watch the luxury yachts come and go, the wild horse graze on the preserved islands. Breakfast of fresh brewed coffee, juice and muffins are delivered to your room when you call.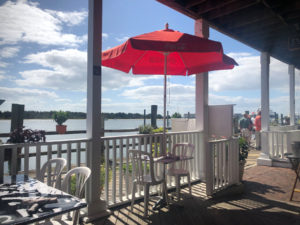 Beaufort is casual, and compact, very walkable along the shop and café lined Front Street. Beaufort has a handful of authentic restaurants serving local crab, shrimp and fish, like Front Street Grill, Finz, Spouter Inn – all on the water. Moonraker has a fantastic rooftop sky bar – to watch the sunset over the outer islands. Cru Wine & Coffee bar is the place to get the local gossip and your breakfast joe and pastry in the morning. Cru turns lively at night with wine tasting at the inside bar, and live music many evenings. Clawson's is like the cheers of Beaufort – a convivial pub with a great bar and pub fare including native crab and shrimp with grits of course.
Beaufort North Carolina is relaxed, a bit touristy in summer, but always friendly and fun, not fancy. Larger coastal town like Morehead City and Newport are just beyond Beaufort, while Wilmington is 45 minutes away.
Its less expensive and less sophisticated than Beaufort South Carolina. Both offer genuine southern hospitality, wonderful walkability and boat tours, and you're shore to get your share of local seafood – shrimp with grits, oysters, crab, or my favorite – "low country boil" of crayfish, shrimp, sausage, potatoes and corn all steamed in savory Old Bay spice.
Other great southern seaboard towns include Swansboro, New Bern, Washington, Southport and Calabash in North Carolina, and of course Charleston, Hilton Head and Bluffton South Carolina, and  Savannah Georgia.
See more reviews of
Beaufort South Carolina
Charleston South Carolina
Hilton Head Island
Savannah Georgia