Both Beauforts in The Carolinas are "beau'tiful"… fun, friendly and full of fascinating history…both are perfectly poised on the eastern shores of the mid-Atlantic…what's not to love?! But which Beaufort do we love best?
Pronounced differently – pr: "Bo-fort" is in North Carolina, while "Bey-U-fort" is the South Carolina sister city. Both seaside towns are named for the same Duke of Beaufort. Each Beaufort is well worth the visit, for the history, scenery, delicious southern food and charming hospitality.
Beaufort South Carolina is everything you hope for in a southern seaside (not a "beach" town, a "seasside" town) town – well preserved antebellum mansions, a picturesque waterfront park, splendid moss-draped live oak tree-line streets, charm and class…and a healthy dose of sun and fun!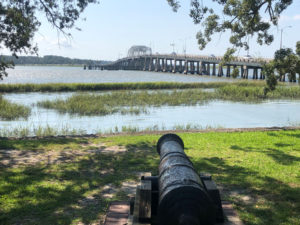 This authentic 1711 town in The Carolina's so called "low country" has plenty of waterfront, it's on the ICWW (inter coastal waterway) and boasts a proud heritage, from cotton barons to Revolutionary and Civil War encampments and now festivals and fine southern hospitality. Beaufort is now home to 13,000, on the island of Port Royal.
Beaufort SC is situated between Charleston and Savannah, near Hilton Head, and Bluffton, the Sea Islands of Dataw, Callawassie, Lady's Island and Hunting Island. Also nearby is Parris Island – the US Marine training facility. See our Guide to Beaufort South Carolina, where to stay, the best tours, dining and sights.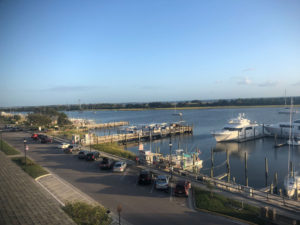 Meanwhile, to the North!
Beaufort NC was established in 1709, its third-oldest town in North Carolina, and one of the prettiest. This delightful coastal town of about 4,000, is located out on a peninsula, protected by the outer barrier islands. This southern coastline of North Carolina is called the Crystal Coast for the many waterways, coastline and islands. Beaufort is a gem for boaters, a convenient midway harbor for major yachts plying the ICWW – Intercoastal Waterway.
Beaufort has a wonderful small town feel and friendliness despite the elegant yachts that come and go from the face docks daily. It's a relaxed southern town, with friendly people, a casual resort flair, and a real beachy vibe in summer months given nearby Morehead City and Atlantic Beach communities.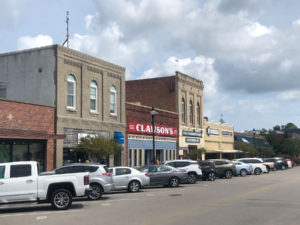 Front Street is Beaufort's hub, with its grand boardwalk and waterfront park, plus a dozen shops and restaurants within an easy stroll. You'll also see stately old southern mansions along Front Street.
What's especially beautiful about Beaufort NC are the islands in view from town. You can see Carrot Island – Rachel Carson's Reserve – where wild horses run free and graze by the marshy shores. To the west is Newport River, the east is North River and the south is the Atlantic.
See our review of Top Things to do in Beaufort North Carolina.
Beaufort North Carolina is relaxed, a bit touristy in summer, but always friendly and fun, not fancy. Larger coastal town like Morehead City and Newport are just beyond Beaufort, while Wilmington is 45 minutes away. Its a bit less expensive and less sophisticated than Beaufort South Carolina.
Both Beauforts serve up genuine southern hospitality, wonderful walkability and boat tours, and you're "shore" to get your share of local seafood – shrimp with grits, oysters, crab, or my favorite – "low country boil" of crayfish, shrimp, sausage, potatoes and corn all steamed in savory Old Bay spice.
Other great southern seaboard towns include Swansboro, New Bern, Washington, Southport and Calabash in North Carolina, and of course Charleston, Hilton Head and Bluffton in South Carolina, and Savannah Georgia.
See our reviews of
Beaufort North Carolina
Beaufort South Carolina
Charleston South Carolina
Hilton Head Island
Savannah Georgia

"To Travel is to Live" – Hans Christian Andersen