Of all the European countries, Italy is by far the most fun and friendly to visit. There, I said it. Sorry France, Switzerland, even Ireland which is a brilliant island with delightful people and pubs at every corner. But nowhere do I feel more welcome than Italy – the people are beautiful, the food is legendary and lives up to its mangia reputation, and the wealth of sightseeing in this small country is extraordinary. In a word: bellisimo.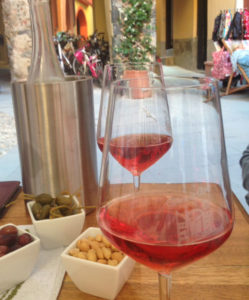 So for our girls' getaway, a mother and daughter celebration in our case, Italy was the choice. For our itinerary, Florence is a must for museums and history, then Tuscany with a night in Siena for the classic countryside, Cinque Terre for the Italian Riviera to relax on our otherwise busy touring agenda, and finally Milano – the fashion capital since my daughter is a fashion designer textiles grad.
1.Florence – Must see on a Girls' Trip to Florence:
Climb the Duomo when it opens at 8:30 am – ahead of the crowds. Its 463 stairs to this crown of Florence in bright sienna colored tile, for an amazing view of the city and the distant hills. On your trip up and down inside the circumference of the Dome, see Brunelleschi's amazing (neck-straining) ceiling fresco as well.
Mercato Centrale is a multi-sensory, this market of fresh flowers, gorgeous produce, local wine, pecorino and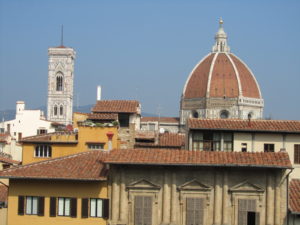 parmesan cheese, whole fish and squid, smoked meats – a farmers market extravaganza. Procure picnic provisions, or just sample the Italian vendors' delicious goodies. Outside the market are carts selling leather bags, belts, silk scarves and more – we bargained and benefited.
Designer resale shop Street Doing on Via dei Servi 88 between the Duomo and the Academia is brimming with vintage Prada, Gucci and Pucci. This fun boutique is a fashionistas' fantasy, clothing is sorted by occasion and era, with reasonable prices given the fabulous labels.
Tour the Gucci Museum located in Piazza Del Signoria – a $7 Euro ticket shows you the brilliance and beautiful people of Gucci through the ages. The Ferragamo Museum in the basement of the flagship store on Piazza Sant Trinitia  is not as good as Gucci so just go and browse the fabulous Ferragamo store.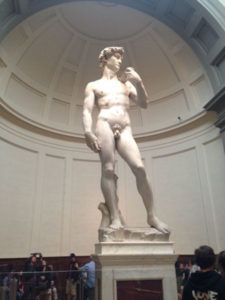 Date with David. He's the 17' tall man of marble at the Accademia. Buy your time slot ticket in advance – this place jams – everyone wants to see Michelangelo's David carved from a cast-aside block of marble, now perfectly positioned in his own dome. The rest of the museum is a snooze – but David is bold and beautiful.
Stroll the Ponte Vecchio, past the many jewelry shops. Imagine you are the Medici family who had a secret passage over the bridge. In those days the Ponte Vecchio bridge was full of fish markets – today's gold watches and pendants are far less smelly.
Art lovers- ooh and ahh at the Uffizi – home to masterful Italian artists Giotto, da Vinci, Michelangelo, Raphael, Caravaggio, and Titian. Botticelli's "Birthplace of Venus" is the best, a beautiful ginger in a clam shell (but I am biased). Aside from the paintings, mostly Jesus & Mary, wandering this grand palace is worth the price of admission. Reserve your tickets in advance, and don't miss the outdoor terrace bar for a cappuccino or vino at the end for great views.
Piazza della Signoria is great people watching, with grand statutes like Neptune on guard, near the Uffizi, but beware of pushy vendors.
The grand Pitti Palace, on the Oltrarno, is home to the beautiful Boboli Gardens outside, and the lavishly decorated Medici family home inside, plus a tasteful costume gallery that spans centuries. Your chance to see how the 1% lived and dressed in the Renaissance to today.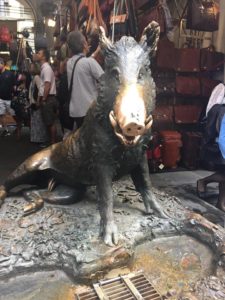 Splurge at Gelateria La Carraia on the Arno River near the namesake Ponte Alla Carraia, west of the Pont Santa Trinita and the Ponte Vecchio. Delicious gelato with a view! It is regarded as a top gelato shop in Firenze!
Shop at La Rinascenti, Italian Macy's, and head for the 7th floor rooftop terrace for a cocktail – the views of the Duomo are fantastic.
Find the bronze pig in Pizza della Republica and rub his shiny snout for good luck while you are in the 'hood.
Favorite places to Dine in Florence:
Apertivo at Open Bar Golden View is chic, and relatively cheap. Order a wine or cocktail of your choice, and you are treated to a spread of wonderful happy hour snacks from pizza to pasta and dessert. Florentines make a meal out of it – get a table with a view of the Arno River and Florence – fabulous!
Trattoria 4 Leoni's in Oltrarno – try the pear ravioli or the spaghetti con vognole (clams). Mamma Mia, its delicious- ask for an outside table in the piazza.
Il Latini is a traditional trattoria on Via dei Palchetti. From the big jug of self-serve Vino Rosso on the table to the family that runs the place – its old school authentic. Go for lunch when its just locals, so authentic and less busy than dinner.
2. Must see in Siena
Siena is a super cool Italian town high on a hill in the heart of Tuscany, dating back to Etruscan and Roman times, ideal for a one night stop on your way to the west coast of Italy.
Piazza del Campo is the heart of Siena's sienna-colored city of brick and tile and marble, see the Torre del Mangia – the Mangia Tower, and Santa Maria Church located in the beautiful center, with sloping brick panels.
Admire the Fonte Gaia ("Fountain of Joy") of 1419 here, where the annual Palio di Siena horse race is held in July. You can just imagine the chaos and commotion when 17 horses race around this city's stone arena as they have annually for centuries.
Visit 1380 Sienna Cathedral and be sure to get a ticket that includes the rooftop archway tower for amazing views and photos.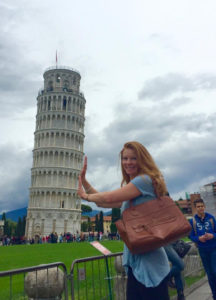 Restaurant Guidoriccio is splendidly local with delicious Tuscany food – rabbit pappardelle for example.
Stay at Hotel Athena – a four star Siena hotel with a splendid rooftop terrace hwere you can rest your tired touring feet with a glass of wine, just watch out for the pigeons that want your apertivo snacks.
3. Pisa
Stop  for a selfie of the Leaning Tower and Duomo in the Field of Miracles if you must… but don't hang out (too many tourists and tacky vendors) and don't bother spending the night. Pisa is rather industrial, and tourist trappy, nothing too scenic, and certainly not the best of Italy.
4. Cinque Terre 
Stay in Monterosso – the north western most of the 5 lands -hence the name Cinque Terre, on the Italian Riviera. Beachfront hotels and apartments in Monterosso are convenient to everything. The old town of Monterosso is more charming than the new beach town, they are connected by a pedestrian tunnel or a longer but scenic oceanfront path.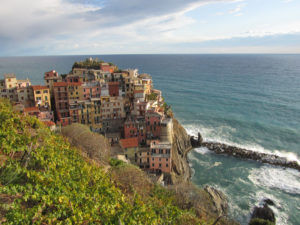 Hike to Vernazza, Corneglia, Manarola and Riomaggiore – Cinque Terre'sother 4 towns, ride the train, or take a ferry boat that stops at each. The hiking in Cinque Terre is surprisingly aggressive – through the high hillsides and terraced olive groves. Bring good hiking or walking shoes for this sometimes steep slippery terrain.
Get on a ferry for a more scenic relaxing boat – $20Euro (more on weekends) for all the on and off stops you can manage in a day. The best way to see the coast is from the Sea!
Riomaggiore, stroll the Via Colombo to see the shops, sample local squid and sardines/anchovies served in paper cones, or sit at an outdoor cafe for espresso or vino.
Walk the Via dell'Amore – a path connecting Riomaggiore to the next town Manarola, this oceanfront walkway has a romantic history linking the two towns, lovers' locks line the boardwalk. This Lovers Lane was closed during our visit, Cinque Terre is plagued with flooding and erosion due to the rough hilly terrain, so check ahead with Cinque Terre Park Service.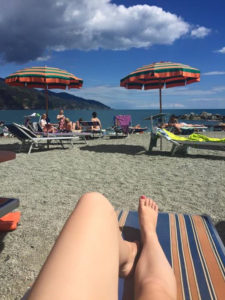 Manarola – climb up to the cemetery, fascinating to see how these humble hardworking Italians pay homage to their dearly departed – with ocean views. In town, see how the industrious fisherman hoist their boats out of the water. Sample the local DOC vino bianco and the Sciacchetrà Manarola – a strong dessert wine best with biscotti.
Vernazza is the next seaside town heading North West with a beautiful harbor. Here you can stroll the streets, visit the castle and church, and picture this pitoresque village flooded in mud in 2011.
Savor a super scenic castle meal– Ristorante Belforte sits high above the bay. Order the antipasti di mare – a seafood plate picked fresh from the sea, before getting the boat back to Monterosso.
Monterosso – walk the boulevard that links the beaches in the "new town" all the way to the Gigantic stone structure. Rent a beach chair at the Spiaggia if you want a relaxing day, and WiFi inlcuded, after hiking up to the cemetery and Friars Church.
Best places to dine in Monterosso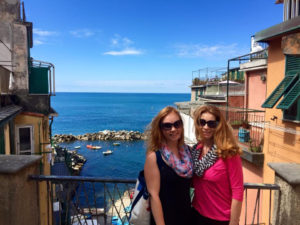 Enoteca Eliseo is the place for a cocktail or vino and people watching before dinner. A plate of peanuts, olives and huge capers accompany your drinks gratis – a delightful Italian tradition "apertivo".
Ciak in the old town has three dining spots – all serving deliciously fresh seafood from open kitchens. Our clam and mussels spaghetti was served in a heaping clay crock – fantastic!
L'Ancora della Tortuga is picture perfect perched on a cliff between the old and new Monterosso with beautiful beach and sea views. It's incredibly romantic, even if it's a girl's night out. They even light candles in the World War pill box on the cliff below. Italians – that's amore!
Ristorante Il Pozzo in Monterosso serves the best Gnocchi con Gamberini – a pink pasta sauce with shrimp, and delicious seafood risotto.
For lunch on the beach, Bar Gio has oceanfront tables and great pesto trophie (a potato based pasta dish).
Fast Bar is great late. Two amiable bartenders pump music and mix drinks in this little club in Monterosso village.
5. Milano
The Fashion Capital of Italy is a great last stop of your girls trip– flying out of Malpensa airport. You can also tag on a trip to Lake Como – just a half hour away.
Go to the Piazza Del Duomo – and climb the 223 stairs to the Milano Cathedral rooftop to walk amid the 18th-century marble spires with marvelous views of the city and beyond. The Church is the 4th largest in Europe, be sure to visit the creepy Crypt below too.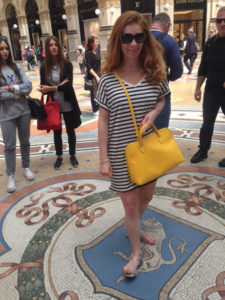 Lunch at Rinascenti on the 7th Floor of this Italian department store for great views of the Duomo, Cathedral, and the rest of Milano in a very chic atmosphere – order the mozzarella.
Stroll through the Galleria Vittorio Emanuelle – Milan's 1870 four story, glass ceiling shopping pavilion of top designer boutiques, elegant bars and cafes. Prada, Mercedes Benz, LV, YSL, very chic. Sip a Prosecco at Gatto Rosso and watch the beautifully-dressed people pass by.
La Scala is the Italian Opera House right next door – last minute tickets go on sale each afternoon for that night's opera.
La Brera is where the up and coming Italian designers work and display their fashions in their classic Milanese shops.
The Fashion Quadrilatero, the crisscrossing streets with the big fashion labels is best explored walking up Manzoni from La Scala to Monte Napoleone where you head down this world-famous fashion Ave by all the top designer ateliers and stores. Once you arrive at Teatro Nuovo, head back toward the Duomo on Corso Vittorio Emmanuelle passing trendy affordable shops like Coin, H&M, and a Designer Outlet.
Navigli is a popular place to be in the evening, this riverfront Milan neighborhood is very chic, casual and fun at night. Apertivo at Manhattan Bar is $10 Euro for a cocktail and a spread of Italian-fare happy hour snacks. Outdoor tables are the "it" spot.
How's that for an Epic Girls Trip to Eataly! See more of our favorite Travel Destinations!
Italy's Cinque Terre
Venice Top Travel Tips
Italian Cruise of the Adriatic
Florence – our Favorite Italian City
The Italian Dolomites Ski Vacation
"Travel as much as you can, whenever you can, wherever you can, as long as you can. Life's not meant to be lived in one place." – Luxury Vacation Guide