Taste of Vail is back! I am so excited…
Let's see – skiing one of the best resorts on the planet – Vail? Yes please!
For après ski – how about wines served by top sommeliers from boutique vintners? Even better!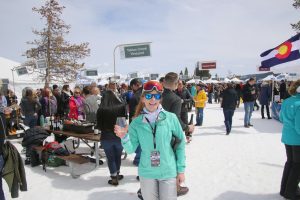 Tasting Top Chefs' flavorful bites in a charming alpine village, with wine in hand? Heavenly, right?!
Well, Taste of Vail features all of this… epic skiing amid Vail's 5,200 acres – front side views to back bowl expanses. Then amazing wine and cuisine to cap off your ski days.
Did I mention the fun, friendly people that come out for this "epic ski, food and wine fest"?!
Now in its 30th year, after two years postponed, Taste of Vail is back to the delight of skiers and riders, foodies and oenophiles, and just lovers a fabulous time in a fantastic mountain town.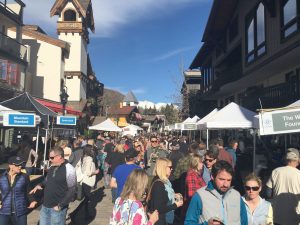 Taste of Vail is perfectly timed – in the spring, April 6-9, 2022. Picture a winter's worth of snow meeting warmer temps and sunshine on Colorado's scenic slopes. Now visualize Vail village welcoming 50 wine purveyors and 30 talented chefs for an "epic" food and wine festival to conclude each amazing day on the slopes.
This year Taste of Vail celebrates three decades of decadence with the mantra "elevate your palate" – a playful reference to the high altitude setting at Vail's 8,000′ base, and the Mountaintop Tasting at 11,000'.  Top Chefs and world-renowned wine-makers bring their best to entertain you after you've skied extraordinary spring ski conditions at Vail.
Our favorite events of Taste of Vail are Thursday's Après Tasting on the streets of Vail, the Mountain Top Tasting midday Saturday,  and the finale Grand Tasting Saturday evening – this year at the new Hythe.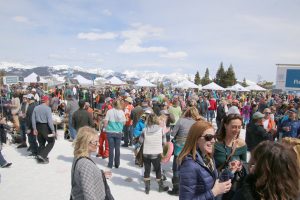 Participating in any or all of these events, you'll soon see why Taste of Vail has been named the nation's best spring food and wine festival by Forbes and The Travel Channel.
Top 2022 Events Include:
Debut of Rosé 22 Wednesday April 6, 3 – 6:00 pm at The Lodge at Vail
Tickets $85.00
Come sip just-released 2021 Rosés for the first time at the 2022 Debut event! This rosey Rosé event will have over 100 Rosé varietals to try. Rose wine is the elixir of the much-celebrated lifestyle of Mediterranean France. Rose in the U.S. has evolved to be a highly drinkable, enjoyable, social wine …come taste some of the freshest and finest from dry to sweet to "gulpable" Rose. This après event is 3 hours, not quite Rose all day…lol!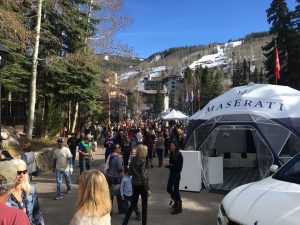 Après Tasting on the streets of Vail, Thursday April 7,  3 – 6:00 pm  in Vail village
Tickets $85 for food and wine tastings
Vail's village turns out for this outdoor open concept Après Party. Sample an array of dishes from Vail Valley's finest chefs and guest chefs from their pop up tents and tables. In the theme of "Life Beyond Chardonnay, Cabernet, and Merlot" participating wineries will showcase wine varietals including Reisling, Sauvignon Blanc, Pinot Noir, Shiraz, and Zinfandel. Come dressed for any Rocky Mountain weather, and walking around the beautiful Bavarian Vail village.
Mountain Top Tasting Friday April 8, from 12:00 – 2:30 pm at Eagle's Nest atop the Eagle Bahn Gondola from Lions Head
Tickets $220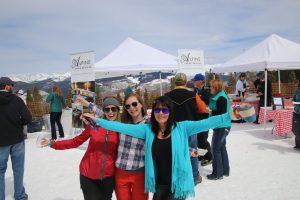 This is Taste of Vail's ultimate high elevation, haute cuisine outdoor tasting. Held at 10,350 feet above sea level, this event offers spectacular mountain vistas accompanied by gourmet food tastings, beer, wine, and spirits samplings. Snow or shine  – this is an outdoor event, and great opportunity to meet and mingle with locals and visitors, to taste and sip in Vail's spectacular setting. Dress accordingly for the snowy setting, read: no high heels – lol. Use your ski pass if you have one and arrive via the Eagle Bahn or from Avanti. If not, foot passes will be provided for your gondola ride up and down.
The Grand Tasting  Saturday April 9,  from  5- 8:00 pm at Hythe, Vail
Tickets $240.00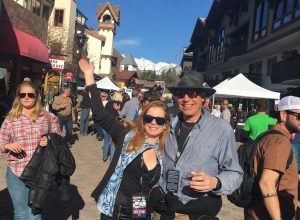 This is the grand finale culinary event, featuring Vail's premier wine and food tasting. This event features all of the Taste of Vail's participating wineries and restaurants, in a celebratory evening of the 30th Anniversary of Taste of Vail. Enjoy the culinary delights from local culinary creators, with sensational sips, all in the new Hythe Hotel, with all the foodie friends you've met over the four-day festival.
Stay tuned for other Taste of Vail Pop Up Culinary events, wine seminars with Sommeliers, tastings, and cooking classes with Top Chefs at Taste of Vail's website and Facebook page.
If you love skiing, food and wine (who doesn't?!) go to Vail Resort for this amazing foodie event in April! I'll be there in ski boots with a big glass and a bigger smile! Cheers..
Get your tickets and Vail lodging now as top events do sell out. See the Full Schedule for Taste of Vail here.
See our Review of Skiing Vail
Vail's best on mountain lunch spots