What's cool – literally – about skiing in South America is that its winter here while its summer in the Northern Hemisphere – so you can extend your ski season as skiing in Chile and Argentina occurs in July, August, September and maybe even October.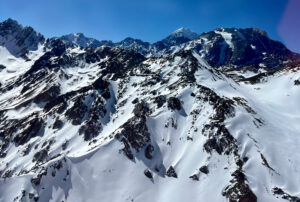 Our first view vast dramatic Andes peaks that divide Chile and Argentina was as our flight descend into Santiago. Towering peaks all around were snowcapped in August, with the most impressive of all – Argentina's Aconcagua at 22,835′, 6860m, the king of these Andes bordering Chile in Argentina.
The Andes are the longest mountain range (4,300 miles) with the second-highest peaks on the planet (1st Everest, Himalayas, China). The Andes Mountains provide not only an adventure of a lifetime, but also a "reverse ski season" that allows northerners, North Americans and Europeans, to escape the heat of summer and keep their "Endless Winter" of skiing alive.
This is why Chile attracts some of the world's best skiers, and why it should be on your ski bucket list! Not to mention, Chile and Argentine are producing some of the BEST wines in the world, so you can round out your powder palate with a wine tour to Colchagua, Maipo or Mendoza, for après ski.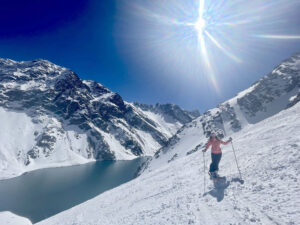 Our 1st trip to South America, we skied Portillo in central Chile, flying in to Santiago. We love Ski Portillo  – for its spectacular scenery, the steep exciting terrain, the Heli-ski opportunity, and the fellow skiers we met skiing and staying at Hotel Portillo. Ski Portillo is a remote, seemingly-private ski resort that's hard to get to, and hard to leave. Unless of course, you are adding a trip to Chilean wine country to your South America adventure. See our review on Ski Portillo.
Latin America is home to 12 countries, only 2 countries host ski resorts worth visiting: Chile and Argentina. Bolivia and Peru ski resorts no longer operate. We have yet to ski other Latin America ski resorts. Some of Chile's other ski slopes include Valle Nevado, La Parva, El Colorado, Nevados de Chillán, Antillanca – Los Lagos, Corralco – Araucanía, and Pillán – Villarrica.
Argentina's best known ski resorts include Cathedral Alta Patagonia – 20 minutes from Bariloche, Las Leñas in the Mendoza region, Chapelco and Cerro Wayle near Neuquén, and La Hoya in Chubut.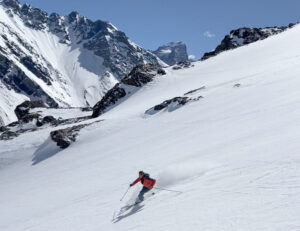 Culturally, South America, Chile, is a 2nd world nation, with "emerging markets" – a huge copper and lithium mining industry, and production and exportation of some of the best wines in the world. About 10% of the population speaks English, however at resorts and top hotels, the percentage is much higher. Speaking a few Spanish expressions is gracious – like "gracias". Chileans are friendly enough, but not overly. Roads around Santiago region, wine country, cities, are well-developed, however urban South America you witness serious poverty, so stick to upper-end touristy areas, and be mindful.
Chile Ski Resorts:
Ski Portillo is the oldest and most well-known South American ski resort, 2.5 hours from Santiago, the last hour is up a crazy canyon – often impassable. Portillo feels like an exclusive ski resort, with 1,252 acres, from 9,000 to 11,000' elevation, 13 unique lifts and 35 slopes, plus tremendous side-country easy-to-reach extreme skiing. All this high alpine, super scenic terrain is shared by about 400 hotel guests, and only 100-or-so lift tickets sold daily. It's a magical place you'll want to stay and play for several days – ideally a ski week. The best skiers in the world converge on Portillo, including national ski teams and famous freeskiers. The main attraction, besides the steep amazing terrain, is arguably the iconic Hotel Portillo, where all-inclusive stays harken back to classic Club Med style ski weeks of the Alps, with skiing, activities, and 4 delicious meals daily served in a cruise ship style grand dining room – elegant, with planned seating. While Portillo's 300 inches of annual snowfall provides good coverage in a typical snow year, its usually sunny with incredible views of Lake of the Inca and the surrounding high peaks of the Andes.  When its dumping snow, Portillo is a white out and you may get stuck here as the road closes.
Heli skiing at Portillo is an amazing opportunity to add-on to your Ski Portillo adventure once you arrive at the resort. An A-star, 4-passenger copter with a guide and pilot, your helicopter whisks you to terrain on the Chilean Argentinian border, comparable to descents of Alaska – remote, big-mountain terrain from and ear popping 14,000 feet. What's so cool is all this high-alpine adventure is only a few minutes heli ride away from the comfort of the hotel.
Chile ski resorts we have yet to ski:
Valle Nevado, Chile is known for its terrain variety, skier amenities, and easy access just 90 minutes from Santiago. You can even see the capital city from the summit on clear days. Valle Nevado is the most modern in South America, lots of hotels, busier with day trippers, and IKON pass holders ski free here. Valle Nevado offers 7,000 acres of ski terrain from mellow groomers to glades, easier less challenging terrain than Portillo. A new lift connects Valle Nevado to La Parva and El Colorado – now Chile's Tres Valles ski area, which is how they tally 7,000 acres of skiing. Valle Nevado was recently acquired by Purgatory owners in Durango Colorado, so stay tuned for changes.
La Parva is one of the easiest resorts to get to from Chile's capital city of Santiago, which also makes it busy. Still you have Andes scenery of the neighboring high peaks, up to 15,000 feet. La Parva is an intermediate's paradise, connected to Valle Nevado and El Colorado. Ski friends of ours recommend staying in Farellones near all three ski areas.
Nevados de Chillán offers 35 km of slopes and 14 ski lifts situated between 1,530 and 2,400 m.
Argentina Skiing:
Las Leñas, Argentina is known for its off-piste terrain, convenient lodging and remote location.  Les Leñas boasts ski acreage of 39,000 officially, but most of that is off-piste.  The vast majority of terrain and most interesting skiing is accessed by the TS – Marte summit chair. Unfortunately, we have read this high-alpine lift is often closed due to wind and weather. When the summit lift is operating, Las Leñas offers a mile of vertical starting from over 11,000 feet. All of Las Leñas terrain is high-alpine, above treeline. Las Lenas is noted to be very hard to get to and snow can me marginal. If you do make it, you should consider combining a Las Leñas ski trip with a wine country tour of Mendoza.
Cathedral Alta Patagonia near Bariloche Argentina offers 3,000 acres of skiing. This is Argentina's largest ski resort, 12 miles outside San Carlos de Bariloche. Cathedral Alta Patagonia has 38 lifts, accessing incredible backcountry hike-to chutes and bowls. There's also a well-developed little village at the base, making lodging, dining, après, and legendary Latina nightlife a one-stop shop unless you prefer to stay in nearby Bariloche.
See more
Chile's Colchagua Wine Region
Maipo Valley Wineries of Chiles
Top Ski Destinations around the World
Top Wine Destinations in the World