Crystal River is such a special place. Not your typical Florida of beaches and strip malls, located 1.5 hours north of Tampa, this region offers an amazing network of natural springs, interesting waterways, bike paths, parks and preserves, from the origins of Kings Bay all the way to the Gulf of Mexico. Crystal River sports several nicknames including, "Home of the Manatee", "Water Lover's Paradise", "Manatee Capital of the World" and we might add "Boater's Dream".
There is so much to see and explore from popular Crystal River to quieter Homosassa, to inland Floral City and lakeside Inverness, all within Florida's abundant Citrus County. Crystal River is most famed for the hundreds of Manatees that migrate here for the warm spring waters in winter months. This winter 1,100 of the legendary lovable sea-cows spent months lounging around Kings Bay sanctuary. We were told this is the only place in the world you can swim with Manatee. Crystal River is also on the map for its bountiful scallop-harvesting season July to early September.
72 Hours in Crystal River:
Day 1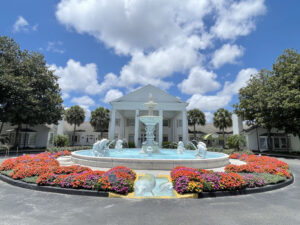 We checked into The Plantation Resort – an old-world hotel located right on Crystal River, a short drive, or bike on the lovely Crosstown bike path, to downtown. More importantly, the Resort property has its own Marina and Adventure Center for manatee adventures, boat rentals, boat cruises, plus a launch ramp if you BYOB (bring your own boat).
You'll know you have arrived when you see the Plantation's stunning grand fountain entry. Resist the urge to jump in the fountain, and instead check-in, then head to the riverfront pool and tiki bar for a relaxing splash and tropical drink. Plantation is family and pet friendly, the rooms are nice – see our review, very adequate, not super fancy, it is an amiable and rather affordable place with beautiful grounds and an ideal location.
We decided to visit Crystal River Preserve State Park for a self-guided tour around this serene waterfront park, where ceremonial mounds date back to 2000 A.D. Then we explored historic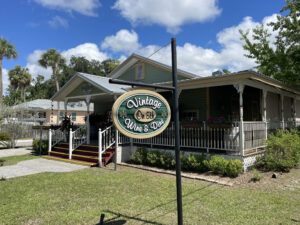 downtown Crystal River, walking a couple of blocks of unique boutiques on Citrus Ave like Amys on the Ave, Salty Girls Beach Shop, and Fishhook Outfitters. Not surprisingly, Crystal River hosts year-round festivals. Interesting hand-painted murals capture the colorful village on buildings, along with manatee sculptures along sidewalks.
Vintage on 5th was the perfect choice for our first dinner in town. Its 1940s church setting is distinctive, cozy. We were fortunate to have Michael as our server, he was fantastic and so was our food. We loved the She Crab Soup, creative fresh fish and beef dishes, accompanied by an impressive wine selection – hence the restaurant name. We sat on the veranda and enjoyed local music wafting from next door's not-so-classy Norton's, capped off with a to-die-for crème Brule. On our return to the resort, we passed by the fascinating turquoise Mermaid house, Crystal Blue Lagoon BnB. Back at The Plantation, we strolled out to the gazebo to end our day with a sunset over the River.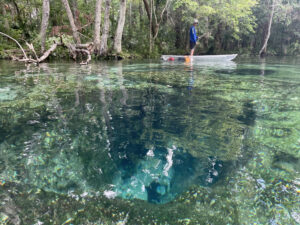 Day 2
Get Up and Go Kayaking in nearby Homosassa was our planned morning adventure. Our guide Connor toured us up the "Chaz" in clear bottom kayaks. We paddled a maze of moss-tree-shaded canals to glittering Seven Sisters Spring and onward to the deep blue "Crack" where we swam in a sparkling spring-made pool. The Chassahowitzka River is teeming with waterbirds, fish, manatee, turtle, and an occasional alligator. Keep paddling, hence the name Get Up & Go Kayaking.
Homosassa is best known for Ellie Schiller Homosassa Springs Wildlife State Park, our next stop. Boarding a boat at Pepper Creek, our Park Guide plied the peaceful waters into the park grounds where we discovered an extensive wildlife park devoted to rehabilitating Florida animals and mammals with various injuries in this protected preserve. From the huge old hippo "Lu" to a panther, bear, deer, fox, owl, otter, and manatee, this rescue center is the kindest example of a "zoo" we have witnessed.
Wallace's at the Greenhouse in Homosassa was the apropos choice for dinner, this scratch kitchen is chef-owned and the cuisine shows his love of fresh local ingredients. The smoky fish dip with homemade chips was a delicious kick-off to our creative, bountiful fresh-cooked seafood dinners in this cheerful greenhouse. Wow, don't miss Wallace's!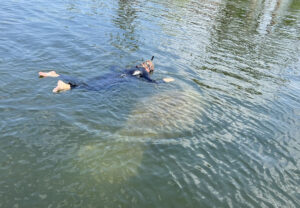 Day 3
Time to swim with Manatees. From Plantation's Adventure Center, steps from our hotel room, we suited up in wet suits (which provide buoyancy) and excitedly boarded our pontoon tour boat. In moments we were trained on how to be still, calm, and manatee-approachable. Soon we were in the water floating with these gentle giants. I was so close to an 8-foot manatee, making eye contact with this sweet sea creature just inches from me, I am certain she (according to our Guide) winked and smiled in that kinda-pathetic-please-be-nice manatee grimace resembling Eeyore from Winnie the Pooh.
Our manatee snorkel excursion included several stops within Kings Bay at various springs, including Three Sisters, where manatees huddle by the warm water all winter before they swim to Alabama in summer. About 90 manatee "locals" stay in Crystal Springs year-round. Why do manatee migrate to Crystal River? To stay warm! There are over 70 springs pumping millions of gallons of warm water in this 600-acre shallow bay of verdant healthy sea grass. And the manatee help by doing their part, grazing and spreading seeds – circle of life in full effect. This was an amazing manatee encounter, truly up close and personal, and we learned so much about these important keepers-of-healthy-rivers, no longer endangered thanks to manatee protection and education, and vital seagrass resurgence.
For a most scenic special lunch, we drove out to Ozello Keys, to Peck's Old Port Cove. The scenic swerving ride past dunes and inlets led us to this funky fun crab shack at land's end. Delicious crab cakes, blackened fresh fish, shrimp, were all outstanding at this humble happy place. We were entertained by the awesome team of gal servers who share decades of experience here– that says a lot, doesn't it?! I'll just hint – order the fresh thinly sliced onion rings too.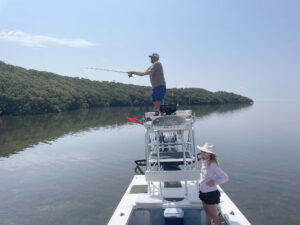 Fishing seemed like our next must-do in these plentiful waters. So Captain Gary Bartell was the guy to take us on a charter from his family-owned Ozello Keys Marina. Captain Gary is humble, talented, fun, and hosts his own show – "Fish Talk Live." He expertly sped us across calm sparkling blue bays in no time, to his spot. He hooked us up for success, literally. After a bit of bait, chat, then wait, we were reeling in redfish – including Greg's 30-inch trophy fish – too big to keep. So we only "caught the photo" before releasing, proof it wasn't just a fish tale. Captain Gary swiftly cleaned and fileted our "keeper fish" back at the dock, and recommended we go to Seafood Seller, where they'd cooked our catch.
We found Seafood Seller and Café in an unassuming strip mall, but the place was jamming with locals, people lining up for their delicious mom-and-pop affordable, fresh seafood. Folks were enjoying piles of shrimp, crawfish, oysters. But we BOOF, brought our own fish, and the Chef prepared our fresh-caught redfish perfectly, blackened, served with their ample tasty homemade sides. Great day, winner-winner and dinner!
Day 4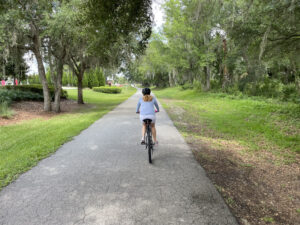 Our final day in Citrus County, we ventured inland to Inverness, a pretty lakeside town with its impressive Court House square and Depot Park. A wonderful Cattle Dog Roasters coffee along with their yummy fresh-baked baguette breakfast sandwich was the ideal fuel for our bike ride.
Withlacoochee State Trail is a 46-mile-long paved designated pedestrian and bike path that stretches the entire East Citrus County, mostly tree-draped from the Depot at Inverness, across the Tsala Apopka chain of lakes, through Floral City, by historic Ferris Groves produce stand. It was a beautiful bike ride, flat and peaceful passing farms and ranches, and calm shorelines. What an invigorating way to end our visit. See our review of where to stay in Crystal River, and Crystal River's best dining.
We vowed next time to trailer our boat to explore more of Crystal River's vast inland waterways.
It's life-affirming to visit these Florida inland waterways teeming with fish and aquatic birds, seeing manatees thriving, thankfully no-longer-endangered. To witness lush, healthy seagrass and rich moss-draped-tree-canopied parks instills hope and tremendous respect for nature, especially in these days of doom and gloom with "the world's on-fire" mentality.
Definitely discover Crystal River! Go to fish, swim, kayak, paddle, pedal, explore, and while you're having so much Gulf Coast fun, you may find you refuel your senses amid old-Florida's authentic towns and abundant waterways.
More Florida Luxury Vacation reviews:
Amelia Island- Fernandina Beach
Anna Maria Island
Boynton Beach
Crystal River, Homosassa & Inverness Things to Do
Delray Beach Things to Do
Fort Lauderdale's Top Things to Do
Fort Lauderdale Port Everglade
Key West's Best
Miami Luxury Hotels
Mount Dora
Marathon Top Things to Do
St Augustine Top Things to Do
Sarasota, Siesta Key and Venice
"Not all who wander are lost." – J.R.R. Tolkien, Lord of the Rings