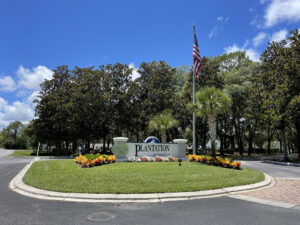 Crystal River is a nature lover's gem. On Florida's Gulf Coast, 90-minutes above Tampa Bay, you will discover the "Home of the Manatee" – the only place you can actually swim with these gentle giants. Part of Citrus County, it is also a boater's paradise and full of recreational parks, and nature preserves to explore. Crystal River is a truly special place to visit, to boat, bike, swim, paddle, pedal, explore, fish, scallop, and dine on the freshest local seafood.
The place to stay in Plantation Resort on Crystal River. Located directly on protected Kings Bay, it is a gracious old-world resort perfectly situated on the riverbank. The Plantation is a hub unto itself, but it's also just a short drive or bike to Crystal River's cute downtown and nearby sightseeing.
You know you have arrived entering The Planation's tree-canopied drive when you're greeted by a grand fountain. Spouting manatee, mythical water gods and cherubs are everyone's first stop for a selfie.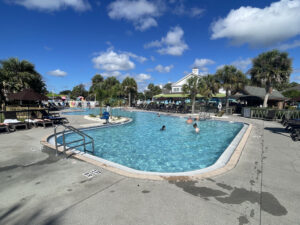 The Plantation is family and pet-friendly, amiable and quite affordable, with its own riverfront pool and tiki bar, and a sprawling riverside lawn. The property is full-service with waterfront dining, an Aveda Spa, and lots of events and activities. Across the street from the entry, The Plantation has its own 18-hole championship Golf Course as well.
Plantation's lagoon-shaped pool area is a cheerful, colorful, happy place to swim, relax, socialize in chaise lounges or at the Tiki Bar. There's a hot tub with river views, an animated kids pool zone, lawn and board games, croquet and volleyball. It's a great resort to chill, relax by the pool after a day exploring Crystal River's many sights, or just stay here and play all day.
The Plantation's Marina and Adventure Center also sets the Planation apart from a mere waterfront hotel, resort and spa. As a guest, you have effortless access to daily manatee adventures, sunset cruises, even a fleet of pontoon boat rentals, or a launch ramp if you tow your own vessel. You can rent kayaks and paddleboards right here to paddle the bay too!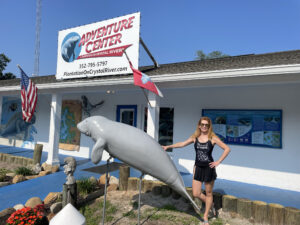 We loved our Snorkel with Manatee Semi-Private Tour, getting up close with our encounter at numerous snorkel stops in Kings Bay sanctuary. Honestly, we wished we had either trailered our boat or had more time to rent one of Plantation's pontoon boats to cruise more of these fascinating spring-fed waterways. Next trip! And there will be a next, as there is just so much to see and do here!
Our riverside room was more than adequate, and we loved that we could walk out our patio slider and be at the pool in no time. Other rooms have a shady garden view on the parking side, pleasant in the afternoons to sit out by the fountain. Rooms by the Marina have the best waterfront views and partial shade, perfect if you BYOB – bring your own boat – as you overlook the docks. It's a big property with 196 classic hotel rooms, 11 suites, and 12 golf villas.
For dining on Plantation at Crystal River, there's the casual West 82⁰ Bar & Grill – breakfast is served buffet-style daily here. There is also the "Manatee Coffee" shop serving Starbucks just off the Lobby. We didn't have a spare evening to dine at The Plantation as there are so many great local restaurants like the old-school Crab Plant, Vintage on 5th in town, Sellers Seafood & Café, Wallace's in nearby Homosassa, and Peck's Old Port Cove in Ozello Keys. Plantation's chef will prepare your own fresh fish or scallops, Sellers Seafood & Cafe in town also offers "cook your catch." See our Top Places to dine in Crystal River, Homosassa, Ozello Keys.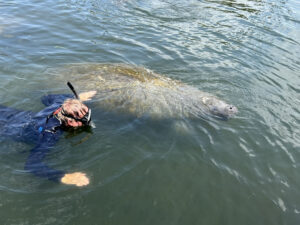 Afternoons at The Plantation, the Tiki Bar is the fun festive place for a frosty concoction served in a cheerful little bucket. Parents sip drinks while watching their kids play in the big pool. Sunsets by the Gazebo over the river are special too. The Plantation often hosts weddings on their pretty riverfront grounds too.
Evenings at The Plantation, there is often live entertainment in West 82⁰ Bar just off the lobby.
Your days at The Plantation can be as fun and filled, or restful and relaxing, as you wish! Did we mention the Aveda Spa? There is so much to see and explore from boating Crystal River and Kings Bay, hitting the beach at Fort Island Beach, or nearby Hunter Springs Park. There is kayaking in Kings Bay and nearby Homosassa, visiting State Parks, to biking inland Floral City and lakeside Inverness, all part of abundant Citrus County and Discover Crystal River.
The Plantation is bustling from July to mid-September for prime scalloping season when guests can hop on a tour boat to harvest their own, maybe find a pearl. In winter season, more than 1100 manatees make Crystal River their home, the weather is cooler, 50F to 70s in the day, but the manatees are most plentiful.
See our Top Things to Do in Crystal River, 72 hours to explore!
More Florida Luxury Vacation reviews:
Amelia Island- Fernandina Beach
Anna Maria Island
Boynton Beach
Crystal River, Homosassa & Inverness Things to Do
Delray Beach Things to Do
Fort Lauderdale's Top Things to Do
Fort Lauderdale Port Everglade
Key West's Best
Miami Luxury Hotels
Mount Dora
Marathon Top Things to Do
St Augustine Top Things to Do
Sarasota, Siesta Key and Venice
"We travel not to escape life, but for life not to escape us."