Boynton Beach is a residential community in Palm Beach County, Florida with a population of about 70,000.  Poised between Palm Beach to the north and Delray Beach just south, Boynton Beach is quieter and more residential than its touristy neighbors. That's what makes Boynton a gem for relaxing, beach walks, boating, with just enough fun bars to entertain you.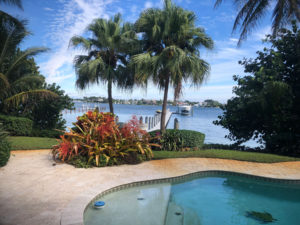 What's cool about Boynton Beach is its primarily a residential community, not a touristy town. The downtown and the beach area are authentic, locals frequent the waterfront bars like Two Georges and Banana Boat. Hurricane Alley in town is popular as is fishing off the jetty and the beach. Bicycle clubs go for daily rides enjoying the bike lanes and paths.
Boynton is  easy to reach via Fort Lauderdale and Palm Beach airports, Boynton Beach is 37 miles north of Ft Lauderdale – Hollywood International Airport and 14 miles south of Palm Beach International Airport. Miami  is 59 miles south via I-95 or by Tri- Rail Brightline Commuter rail train service – which has made a resurgence as Virgin Train.
Boynton Beach is a long beautiful stretch of soft white sand, and surf. If you love combing the sand in search of sea shells, Boynton is loaded with treasures. Boynton Beach easily earns its reputation as one of South Florida's most attractive beaches for its soft sand and plethora of sea shells, the surf can range from gentle to big curlers for surfers.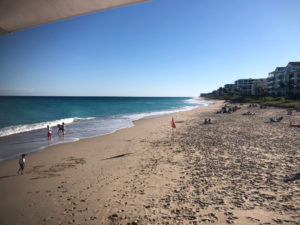 Boynton Beach's Ocean Front Park is an expansive waterfront land preserve, with plentiful beach parking, facilities and showers, and lifeguards on duty. The park ($10 parking in season) provides easy access to the beautiful stretch of soft sand on Ocean Ridge island, part of Boynton, reached by the Ocean Ave bridge.
Driving along the A1A, Ocean Boulevard on Ocean Ridge Island you see the sea, the waterfront parks and the magnificent waterfront mansions of Boynton Beach and further south to Delray.
Boynton Harbor Marina is home to boat charters and tours, if you want to get out on the water, tour the intracoastal or head out to sea via Boynton Inlet for fishing. Also Boynton Harbor Marina has two fantastic fun waterfront bars, Two Georges and Banana Boat, great places to have a drink and watch the intercoastal boat activity, with happy hours, fresh fish on the menu, and occasional live music.
Rent a boat from Gulfstream Boat Club at Palm Beach Yacht Center and tour up and down the intracoastal channel – admiring the beautiful waterfront homes down to Marina Del Ray, and heading out the Boynton Inlet to Beer Can Island for sand bar relaxing and swimming.  Another popular sand bar destination is Peanut Island, but its further toward Palm Beach – almost two hours each way by boat.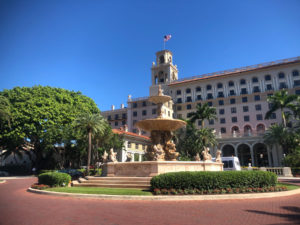 Visit Palm Beach just 20-minutes' drive north. This sophisticated beach community is glamorous, with gorgeous mansions, glitzy boutiques, and grand landmarks like The Breakers.
Flagler Museum in Palm Beach is a must visit. This lavish home of Henry Flagler, one of the grandest palaces in the US, called Whitehall, is open for self-guided audio tours or narrated with a docent. Imagine life here in 1902, with the high society that would summer in Newport Rhode Island and winter in Palm Beach. The Whitehall mansion is perfectly preserved, though it was almost destroyed in 1960. This mansion would cost an estimated $500 million to build today, Whitehall pays wonderful homage to the ingenious industrialist Flagler who brought wealth and vision to Florida, "The Man who invented Florida." Henry Flagler died in the mansion he built for his third wife, he tumbled down the grand marble staircase at Whitehall, he was 83.
Go to The Breakers Palm Beach Hotel – the magnificent turn-of-the-century beach front resort built in 1896, by Flagler as well. Your $35 valet charge can be credited toward drinks or dining. The Breakers' Seafood Bar is THE place to have an ocean view cocktail at the glass aquarium bar. Drinks – pricy, the view – priceless. Finding Nemo swimming under your drink – perfection. The Breakers is opulent, from its spa to its beach club and 534 luxury rooms on 140-acre oceanfront grounds. If you love Flagler's amazing architecture, be sure to visit sister city St Augustine where he built his first luxury hotel, Ponce de Leon, and the Alcazar at the turn of the century!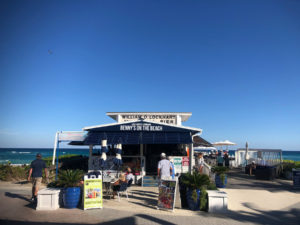 Benny's on the Beach in Lake Worth, between Palm Beach and Boynton, is a good old fashioned waterfront dive restaurant, located right on the Pier. The beachfront location can't be beat, albeit a bit touristy. Share some fried calamari and a rum concoction served in a pineapple while you watch para-surfers launch off waves and fishermen reel from the Pier. Benny's Bar offers karaoke during the day, and wow the freaks come out before night.
Happy Hour in Boynton Beach – go to Two Georges for drink deals and live music at Boynton Harbor Marina. This casual deck bar hangs over the water, fills with friendly locals and offers cheap drinks and yummy fish tacos, plus live music many nights. Next door, Banana Boat has an equally great intracoastal view and fun atmosphere.
Day trips, its a short drive to Delray Beach for shopping, a plethora of fantastic fun restaurants lining the main street to the beach – Atlantic Ave. Delray has a vibrant art scene, and Art Walks First Friday of the month.
For shopping, Boynton Beach has a mall, or drive south from Boynton to Delray on Route 1, you'll see lots of shopping. Be sure to stop at The Heart of Delray Gallery on Route 1 south – one of the most engaging collections in a cool setting.
Boynton Beach's great annual events on the calendar include Boynton Beach Haunted Pirate Fest & Mermaid Splash Tales of the Sea around Halloween, Boynton Del Ray Holiday Boat before Christmas, Blarney Bash at St Patty's, May Boynton Food & Wine Festival, and Rock The Marina concerts and live music in summer.
See more Florida Reviews:
Amelia Island- Fernandina Beach
Anna Maria Island
Boynton Beach
Crystal River, Homosassa & Inverness Things to Do
Delray Beach Things to Do
Fort Lauderdale's Top Things to Do
Fort Lauderdale Port Everglade
Key West's Best
Miami Luxury Hotels
Mount Dora
Marathon Top Things to Do
St Augustine Top Things to Do
Sarasota, Siesta Key and Venice