The midcoast of Maine is where this beautiful state becomes really special. Miles of coastline tuck up in to small harbor towns like Newcastle and Damariscotta, Rockland, Rockport, Camden, and Belfast. Dramatic peninsulas stretch out to spectacular points like Boothbay Harbor, Pemaquid and Port Clyde. Too many visitors to Maine's Vacationland speed past this beautiful stretch of coast on a mad dash for MDI – Mount Desert Island, Bar Harbor and Acadia National Park. We suggest you explore these closer, quieter, quintessential Maine regions.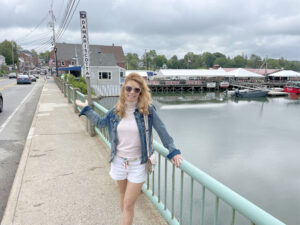 As you travel "downeast," which is really northeast from Portland, in less than an hour you are in pretty coastal towns like Bath, Wiscasset and Damariscotta. From here you can drop south to the peninsula of Boothbay Harbor or continue east toward seafaring Rockland.
On your drive through Newcastle and Damariscotta, make a stop in these sweet little bordering towns on good-ole Route 1. Damariscotta in particular is happy and homespun as Maine blueberry pie, with inviting seaside shops and eateries. Meandering along Main Street through Damariscotta's riverside village, you will find tour boats leaving from the docks at Schooner Landing, a few cozy restaurants, and bakeries. Pop in the original Reny's store – a "Maine adventure" says their slogan. This Maine institution dates to 1949, a fun store for that Maine shirt at "wicked good" value.  Poke into "Kingfisher and The Queen" for a more upscale Maine shopping experience. Then continue on up the coast toward Rockland.
Rockland was for years a true working village, a quarry for massive granite stones – hence the name – that were shipped to create landmark buildings in NYC and DC. Rockland was also a hub for shipbuilding and fishing, with remnants of that heritage and industry still evident along the waterfront today including an active cement factory. Rockland has transformed into a visitors' delight as Maine's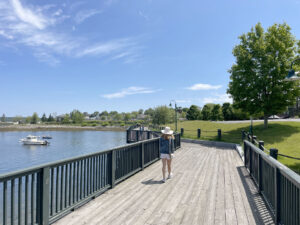 Art Capital, with numerous galleries, both lighthouse and art museums, including the famous Farnsworth Museum on Main Street that features generations of Wyeth artwork. Just strolling the brick streets is a treat, and there are some outstanding dining spots too.
Rockland's waterfront has a an easily accessible Rockland Harbor Trail, a gravel path along the shorefront. Starting on a wide wooden boardwalk, your seaside stroll brings you to sculptures, and plaques, and amazing views out to The Breakwater Headlight, with bold granite shores marking the passage out to the Atlantic.
For a yummy breakfast or lunch, go to Rockland's Home Kitchen Café, just walk north of Town beyond the Ferry Terminal. Be prepared to wait for a table, it's that popular, at this old-school eggs & home fries eatery. My BLT was amazing and ample on their freshly-baked bread. Service is swift and friendly at this family-run place.
Rockland Café is another happy humble diner right in town. My husband said the Eggs Benedict were some of the best ever. I suggest you order the best fish cakes on the planet for $5! Fluffy bountiful egg dishes, and seafood specialties, are served at great prices by salty Maine waitresses. This place in Rockland rocks – since 1992. The décor hasn't changed… nor have their recipes thankfully. Nothing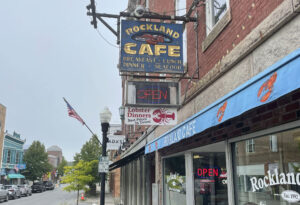 bougie here, just basic and delish – breakfast, lunch & dinner.
In Good Company is a more upscale bistro next door, right on Rockland's brick Main Street. Sit at the bar to enjoy local banter while savoring their delicious small bites and crusty fresh bread. We had an amazing peak into the tiny busy kitchen from our barstool perch. The salmon cakes appetizer was amazing, along with entrées skillfully prepared and very shareable. You also have a great view of Main Street and Rockland's comings and goings, we happened upon a Summer Solstice parade.
This seaside town is very festive, with Rockland's annual North Atlantic Blues Fest, Lobster Fest, weekly Art Walks, Farmers Markets, and more.
Of any place to stay near Rockland, Samoset Resort offers the best views, and resort amenities. On a prominent point technically in Rockport, overlooking Rockland Harbor, Samoset has a grand entry and sweeping lawn down to the sea, framed by gorgeous oceanfront golf course greens. Whether you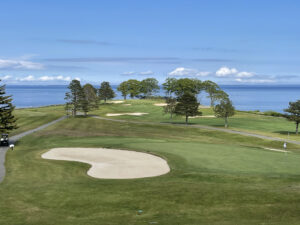 lodge here or not, you should walk out to the historic 1881 Rockland Lighthouse and Breakwater accessed from the resort grounds. This dramatic pier made of massive granite blocks stacked stories high, to surpass Maine's 10-11 foot tides, is impressive, and the Lighthouse at the end is incredibly photogenic.
Most of Samoset's lodging is uniquely designed to offer views of the water, golf course, Rockland Lighthouse and Breakwater. Samoset is pretty perfectly laid out, a top-shelf resort that also offers guests a Spa, an outdoor pool and bar, lawn games, tennis, pickleball, fitness center and several restaurants. See our review of Rockport's Samoset Resort.
From Rockland you can day trip to Maine seaside towns of Camden for boat tours and shopping, Lincolnville for a wine-tasting at Cellardoor Winery, nearby Rockport to see Andre the Seal, and the peaceful peninsula of Port Clyde to view Marshall Point Lighthouse and enjoy a McLoons' lobster roll. See our review of a day trip to Port Clyde, and also nearby Belfast Searsport.
Rockland and Rockport Maine are ideal stop-overs for a few nights as you travel down east, up Maine's beautiful coastline towards Bar Harbor, or wherever your Maine travels tempt you.
More Luxury Vacation Travel to:
Kennebunkport Maine
Boothbay Harbor
Belfast Searsport
Camden
Port Clyde
Rockland
Best of Boston
Newburyport Things to Do 
Provincetown Things to Sea and Do
Rhode Island's Newport and Block Island
New York to Maine boat voyage
New York City's best things to see and do
Sailing the Chesapeake Bay