Prague is the capital and the largest city in the Czech Republic, home to 1.3 million people. Prague, or Praha in Czech, is the famed center of the Bohemia empire and its one of the world's most spectacular cities architecturally. There is so much to see and do in Prague, known as the "city of 100 spires", there are actually over 500 historic spires and towers – many open to visit.
Prague should be on every traveler's bucket list to see the amazing architecture, to witness the rich history and view the spectacular skyline of churches and palaces. Just walking Prague's eye-appealing cobblestone streets lined with highly adorned buildings is like stepping into a fairy tale – Prague is a place like no other. We visited Prague, just 3-hours from Vienna by car, following our 400-km Danube bike ride through the Wachau wine region of Austria.
Located on the Vltava River, Prague City has endured centuries of change, and flaunts its proud endurance. With towers and churches built in 900 A.D. that are still open to today, Prague is a story book and a spectacle of gold, copper, tile and marble with magnificent cathedrals, opulent palaces, and grand concert halls. There's also a treasured lifestyle in Prague, an elegance to just enjoying coffee or sipping wine at a café overlooking the river or an ancient pedestrian plaza.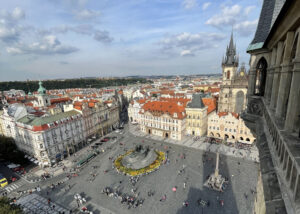 Top things to see and do in Prague:
Stroll Prague's Old Town – it's a fantastic pastime just walking and gawking at the Medieval, Gothic, Renaissance and Neo-classic monuments, then enjoy a Viennese coffee in Krizonicky Square in the shadows of statues, towers and cathedrals.
Watch the Astronomical Clock at Prague's Old Town Hall. This mind boggling 1410 timepiece is one of three in the world and the oldest still in continuous operation. It tells time, seasons, horoscopes, and more. Be here at the top of the hour for "The Walk of the Apostles".
Tip: For a view of The Clock and the plaza, away from the crowds, go upstairs at Hotel U Prince or Grand Hotel Praha for a drink.
Walk the Charles Bridge, a stone arch bridge that crosses the Vltava River, constructed in 1357. The medieval Bridge is lined with amazing statues – most notably the "Dream of Saint Lutgardis" on the south side. Charles Bridge bustles during the day and into the night with performing musician, peddling artists, and selfie-snapping tourists.
Climb each of Prague's Seven Towers with the all-inclusive tower ticket from Prague City Tourism.
Each is unique and worth climbing for the panorama alone. These fabled towers tell their owns story of endurance through wars, fires, and espionage.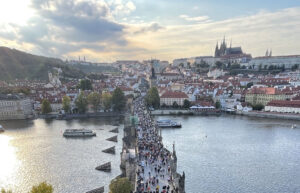 The 1380 Old Town Bridge Tower is the gateway to the Charles Bridge, while the Lesser Town Bridge Towers sit on opposite sides of the Vlatka River.
St Nicholas Tower is attached to its namesake church and offers great views of Prague's red tile roofs.
The Old Town Hall Tower is home to the famed astrological clock in Prague's main square. Nearby, the ominously black Powder Gate Tower offers a great overlook on the pedestrian streets and city.
The 17th century Water Tower, and The Petrin Tower atop the hill, are slightly more "modern" but equally intriguing.
The 1891 Petrin Tower at 318m (requiring a climb up 298 steps or an elevator which costs extra) is the "newest." It's a lovely walk up the hill overlooking the city, or take a Tram toward the Monastery. Petrin Tower resembles the 1889 Eiffel Tower, but Petrin is higher than Paris ' in elevation due to its perch on the hill. You can see "all of Bohemia" on a clear day. While here, visit the Mirror Maze and the pretty old painted Carousel.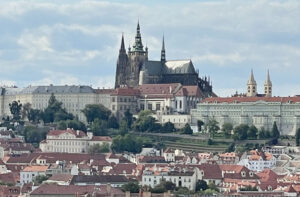 Go to Prague Palace early, also on the hillside of New Town (which is not new – just newer than the Old Town across the Vlatka River). The 9th Century Palace is very popular, and there's so much to tour from the two cathedrals – the gothic St. Vitus Cathedral and the Romanesque Basilica of St. George, to the interior of the vast Palace, to Golden Row of authentic servants' quarters, humble shops of local artisans, and a medieval armory and torture chamber.
Take Old Trolley # 42 for a scenic tour around town on their hop on hop off ticket in an historic open-air streetcar. You can disembark at any of the highlights, just pull the conductor's bell string. Take Tram #41 which prattles on to a more peaceful part of Prague with parks, the planetarium, and the soccer stadium.
Shop Prague's Panziska Boulevard which is lined with chic expensive boutiques, all the finest – Valentino and Balenciaga to Prada, Louis Vuitton, Yves Saint Laurent, Patek, Dior and more. Sundays all stores are closed, so you can only "Czech out" the bougie window displays.  Continued below gallery…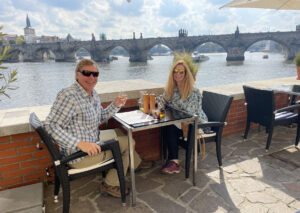 Places to dine in Prague (reservations recommended):
Café Savoy for breakfast or lunch is historic and fabulous inside this 1880 café. Make reservations and enjoy their delicious pastries, Eggs Benedict served on freshly made croissants, and the best Viennese coffee in Prague. Be sure to go downstairs and see where pastry is made daily in this famous bakery, has been for centuries.
Bricks is a fabulous spot for a tremendously scenic lunch on the patio along the river! Enjoy views from New Town across the Vlatka River, of the Charles Bridge, Prague's towers and spires, and beyond. Our salad Niçoise was fresh and delish, a nice break from heavier Bavarian and Czech food
Kampa Park is sophisticated and spectacular at sunset, ask for a downstairs window table or upstairs' outside deck. This Michelin gem on the Vlatka River in New Town is special, so dress accordingly for the pricey prix-fixe multi-course menu or you can order à la carte. Watch Prague's stunning skyline glow at twilight with an aperitif and observe the parade of tour boats circle under the Charles Bridge. We suggest the Chef's prawns and the veal among the diverse and delicious local creations. Czech please.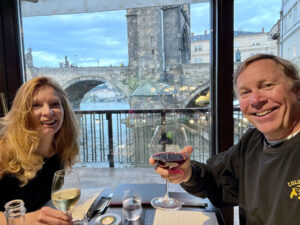 Mlynec by the Charles Bridge on Prague's Old Town side is contemporary inside, with a cool atmosphere and wonderful cuisine. Request a window table for a neat perspective looking up at the Bridge, or a table near the open-kitchen to watch the gastronomy team. With a four or five course menu, or à la carte, their offerings of wagyu beef, local veal, duck, and seafood are overwhelming. The Chef's beetroot soup amuse bouche was truly delicious My octopus risotto was superb.
U Modre Kachinsky is a charming hole in the wall, inside reveals an historic café with a gorgeous old-world interior and excellent food. Whether you order à la carte or the menu degustation, it's a very special dining experience. We dined on grilled duck and pheasant wrapped in bacon. You'll enjoy attentive service and piano entertainment certain nights. "Czech" to make reservations.
U Maleho Glena Jazz Bar nearby is ideal for a nightcap with live music, or the neighboring Irish Pub is fun for a pint and a session of Celt tunes!
Trdelník is a Prague treat – their decadent fried dough is stuffed with ice cream cone then covered in sugar, and topped with whipped cream. Trdelník is served to-go at many stands and shops throughout town. We witnessed so many wide tourists chowing on this Czech funnel cake of calories, morning, midday and night. I decided I didn't tread on 400-kilomteres on my bike along the Danube only to pack pounds back on with one Trdelník.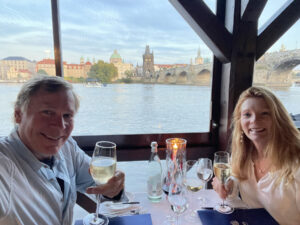 Stay at Old Royal Post Hotel for a modern clean spacious suite in the heart of New Town just steps to the Charles Bridge. Our two bedroom, two bath suite had a spacious balcony overlooking their pretty inner courtyard. With a full kitchen and living room, plus laundry, this was a lovely place for our Prague 3-night stay. The best part is the location in a quieter part of Prague, near several embassies, highly-rated restaurants, plus tram stops. While breakfast at Old Royal Post is not offered, you have coffee in your suite, and there's Mondieu café downstairs or Cukrkávalimonáda steps away by the Church of Our Lady Victorious.
Good news, Prague offers so many sights and beautiful monuments open to the public (all pay to play).
Not so good news, Prague has become overrun with tourists in the past few decades, and it's unfortunately caused congestion at sites throughout the beautiful city. This mad crush has also caused some of the locals to "Czech" their friendly attitude. I found myself thinking, I wish I had "czech'd out" this magnificent city much sooner.
See more on historic Czech towns to visit with castles and palaces, day trips from Prague to Karlovy Vary, also Telc and České Budejovice on the way to Vienna.
See our reviews of:
Vienna Austria
Danube Bike Tour
Austria's Wachau Wine Region
Czech Tour from Prague to Vienna