The Alps possess lure and legend for every alpine skier. Zermatt, St Anton, Kitzbuhel, Courchevel, Chamonix… all these ski resorts conjure visions of grand vertical, soaring skiable peaks, picture perfect chalets, and the best ski scenery in the world. But modern progress in the US Rockies, in Japan, have perhaps eclipsed the traditional alpine skiing of Europe. Are The Alps still the best, with the deepest snow, the greatest lifts, attracting the greatest skiers? Here's our take on why you must ski the Aps in your lifetime, and why you should be wary of the flurry of folklore ….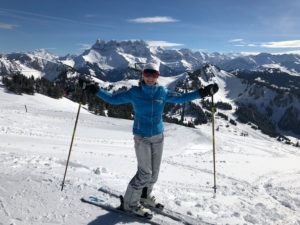 Reasons to Ski The Alps
The Scenery – the amazing Alps – the superlatives aren't super enough – breathtaking, jaw dropping, dramatic, otherworldly, blah blah blah… The Matterhorn of Zermatt is the most iconic peak and most photographed in the world. The Jungfrau trio – The Eiger, The Monch and Jungfrau are inimitable. From atop Lenzerheide's Rothorn you can see 1001 peaks. Verbier's Mont Fort is spectacular… I could go on…you just need to go and see for yourself these majestic snow-capped sky scrapers of nature.
The History – The Alps are where the tradition of skiing was born. Medieval villages like Kitzbuhel spawned the sport of skiing down a snow covered hill with wooden boards strapped to one's feet with leather thong strappings. Just as devout Catholics are drawn to Rome and Vatican city, so should skiers be called to St Anton – the cradle of alpine skiing. Spain's Pyrenees are dramatic, the Val D'Aran in the heart of this mountainous region holds 33 authentic villages and the biggest skiing in Spain at Baqueira Beret.
The Terrain – Skiing the Alps is so much bigger than most US or Canadian ski resorts. "Ski Arenas" they're called as several villages connect their snowy slopes via cable cars and trams to create huge ski regions and circuits. You can ski for miles, from town to town, peak to valley to peak and so on.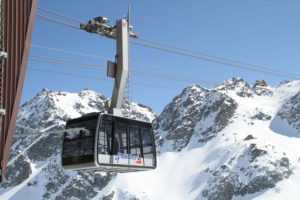 Austria's Arlberg, Aletsch Arena in Switzerland, The Dolomites in Italy, Les Trois Vallees of France – these vast conglomerates of ski lifts and long trails connecting villages are impressive, complicated on a trail map, and exciting to conquer during your visit.
The Lifestyle – Skiing is a tradition, a revered pastime and a lifestyle in Europe's Alps. Its not just making laps, or an activity on the occasional weekend or holiday. Alpine enthusiasts in the Alps love their mountains, make their homes here, and revere this terrain all year round – from hiking to biking to skiing and sledding. The Swiss and The Austrian are particularly outdoorsy and just love being in the mountains. From a young age with their parents, to old age, you see people engaging in mountain exploring, walking and adventuring in the Alps.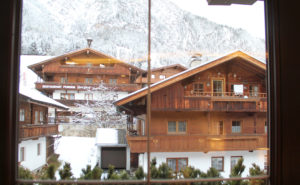 The Lifts – Switzerland is home to Garaventa, Austria – Doppelmayr. The Alps showcase their lift engineering with amazing trams, cable cars and bubble-covered heated six and eight person chairs. Where they place these marvelous lift is also mind blowing, landing large trams on craggy peaks with huge glass lodges at 3,000 meters. The 3-minute Tram connection Lenzerheide to Arosa is fascinating with its two independent 150 person trams and moving loading platforms. Zermatt's Swarovski crystal bedazzled gondolas are a sight to behold.
The Chalets – modest wooden huts with beautiful balconies, shuttered windows, and large overhanging roofs loaded with snow, these are not postcards of yore but true building styles used to this day. Staying in a chalet, you will find wood burning stoves, native stone and usually a down duvet fluffed atop your simple neat bed, and a hearty breakfast, of yogurt, farm cheese, ham and bread, is served early before you hit the slopes. Often ski hotels have a ski and boot room – with a boot dryer which make me and my feet happy. See Top Swiss Ski Hotels, Top Ski Hotels in Austria, Top Ski Hotels in France, and Top Ski Hotels in Italy.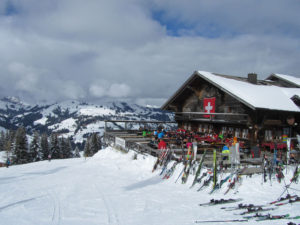 The Cuisine – You can ski to a mountainside hut, step inside and be greeted by the owner, the very farmer who grazes his sheep here in summer. Their often simple menu is homemade fare with cheese from the cows, and crops from local fields. Hearty plates include Rösti- grated potato baked with cheese, bacon and egg on top, Fondue or Raclette! While the cuisine is not complex, its filling, delicious and wholesome – typically made from scratch. Coffee is a tradition, cappuccino or expresso served with a little something sweet as you ski in mid morning, or following your big  lunch. Schnapps and Grappa are "digestives" –moonshine made from juniper, apples, berries, picked from the hillside flora and fauna. Its wicked strong, often tasty but sometimes resembles lighter fluid…but its made with love, so toast "prost" and drink and smile!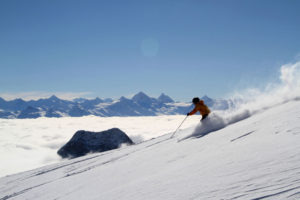 The Après Ski – The Austrians love to party after skiing, with drinks and music and dancing often at a bar by the slopes (still; in ski boots) – like the Moosewirt at St Anton, or a sun terrace in the ski village at the base of the slopes. The French like their disco dance parties like La Folie Douce on the slopes at Val D'Isère and Meribel. The Swiss love their Glühwein and sunning themselves at a mountain chalet. The Italians like to sip their Aperol Spritz in their chic ski attire while admiring the scene and themselves – so good to see and to be seen.
Why not to ski the Alps …
The Weather -Skiing is a weather dependent sport, and The Alps create a dramatic environment of every changing conditions. You can have blinding snow, or scorching sun, wind or rain, perhaps all in one day. Much of the skiing is above tree line, so visibility can be a white out with fog or snow. Some years the Alps are blessed with bountiful snow, with huge snowbanks, or there can be snow draught years, where ski resorts with snowmaking survive, but others are extremely limited in their operation.
The Terrain  – In the US, ski resort mountains were carefully selected for their northern exposure and natural contours inherent to skiing. Ski industry leaders developed the mountains with the best slopes and aspects, then cut the trails. Take Vail for an example where they designed the mountai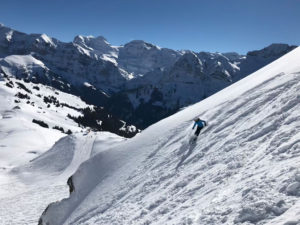 n and the resort village simultaneously to accommodate the skiers. In some cases, the resulting resort villages in the US came out charming, others, not so much. In the Alps, they had summer tourist towns and villages for hiking and summer escapes long before ski terrain and lifts. Alps towns then placed ski lifts up the nearest mountains, sometimes regardless of the viability or fall line of the ski terrain. Then they started connecting neighboring village with long cable cars or steep T-bars – whatever worked. So the terrain is vast, spread out, sometimes huge, not always ideal, with long traverses (hence snowboarding is less popular in Europe) and crazy lifts spanning deep steep valleys. And there are cliffs, big cliffs, if you venture "off piste" – you are on your own. There is rarely, if ever, a "danger cliffs" sign. Hire a Guide to safely explore off-piste and truly maximize your time on skis – it's worth it!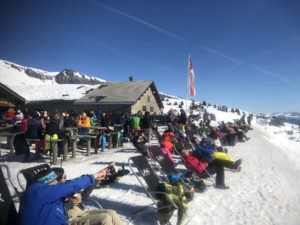 The Trails – In Europe, ski trails don't really have names, just a number, and a delineation of poles marking each side, short colored stripes to the left, longer colored stripes to the right (this becomes important in white out conditions).
Blue is easy, Red is intermediate, Black is expert, Yellow is ungroomed.
The prepared pistes lack the character a trail name brings to its run… White Heat and Forever sound more tantalizing, unique and memorable than #5 or 23. North American mountains also have more trails, where in The Alps one lift serves maybe 2 or 3 pistes.
The Skis – The Europeans are traditional alpinist, racing and carving turns are revered. The Swiss all ski on Stockli's and carve their perfect little turns, so you might look ridiculous on your fat pow skis asking about the off-piste. Interestingly more and more European are finding interest in "free riding" – their term for skiing beyond the prepared groomed pistes… so the shaped ski revolution may change to rocker.. stay tuned. You see far fewer snowboarders in Europe, like 10% or less, it's just not the rage given that ski touring and traversing on big mountain terrain is just more convenient on two planks than one.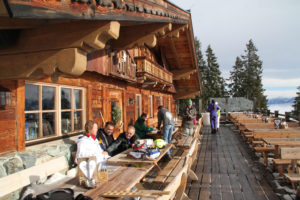 Reservations for lunch – Dining in the Alps is a pastime, and the most reputed huts and chalet reserve their lunch tables in the advance. Mind you, its more than a cafeteria tray, burger and cold fries. So scout at the best lunch huts, most trail maps have a whole section on mountain restaurants, and call ahead for your spot. Lunch menus average about $20 per person, so bring your wallet too, and don't be in a rush if you want to take part in this authentic alpine experience.
Lift Queues – Lift lines in The Alps can be chaotic, with no controlled corrals or lift attendants.  You are frequently riding high capacity trams, 100-150 passengers, with a crush to get in, or six to eight passenger high speed chairs with little order as you enter the lift terminal. European lift attendants don't bother to pair people up or manage the lift lines, they do manage time for their cigarettes however, even while loading chairs or dispensing T-Bars.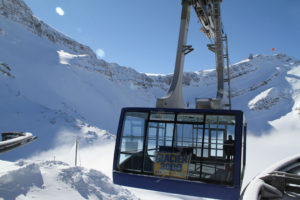 The Chairlift Conversations – maybe its just me ("chatty chair cathy") but I find the Swiss in particular to be not overly friendly in lift lines and on the lifts. I love a good ski conversation on my ride up. The Europeans can be downright quiet during their uploads. They are very quick to put down the safety bar however, so be ready immediately upon loading, its not optional, and they raise the bar at the very last moment, not before… it's the law, and they're serious and punctual about it.
The Expense – this may surprise you but a lift ticket in the Alps is oft less than in the US. Ski day passes in Switzerland, Austria and France average around $50-70 a day, that's far less than stateside, for much more terrain, and a mix of historic and futuristic lifts. A Magic Pass costs $549 for unlimited skiing at 69 Swiss & French ski areas for the season when purchased early! The Tyrol Snow Card ski pass in Austria offers similar big value for 90+ ski areas, $1050.
Swiss Ski Hotel lodging runs the gamut, with better deals for weeklong stays, and half board (or "garni") which is typically great value as it includes a full breakfast and dinner with your lodging.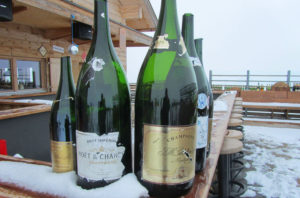 See more of Skiing in Europe
Guide to Skiing The Alps
Top Ski Hotels in The  World 
Top Austrian Ski Resorts
Top French Ski Resorts
Top Swiss Ski Hotels
Top Ski Hotels in Italy