Baha Sur's luxury resort Gran Sueño
Looking for a romantic, exclusive Mexico hideaway? A posh resort with its own beach, infinity pools, outdoor lounge spaces, on site restaurant, tequila bar, movie theatre and more? Gran Sueño is your dream come true. In fact, its name means big dreams in Spanish, as its located on the Bay of Dream – Bahia de los Sueños.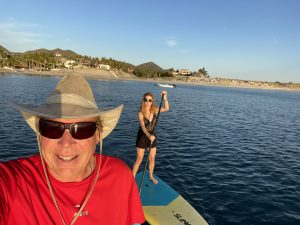 This unique oceanfront resort accommodates just 40 people in splendid villas and suites, perfect for a take-over corporate retreat, destination wedding or reunion. Gran Sueño has gorgeous outdoor spaces, an open air lobby with sweeping view of the bay, and the quiet beach and crystal bay below. With numerous pools, cascading waterfalls and hot tubs, a gorgeous semi-private beach with palapas (straw-thatched porticos for shade) on a beautiful mile beach, it's a very special place.
Located just 35 miles southeast of La Paz, and two hours north of Cabo San Lucas airport, the approach to Gran Sueños' secluded resort is along a long bumpy dirt road leaving a cactus field, delivering you to the resort compound gate, where the adventure and true beauty begins.
Lush cactus, palms and flowers drape the entry, complete with water features and an extraordinary view of the Bay of Dream. Your valet whisks your bags and shows you to your private casa, most with an ocean view, steps down to the beach.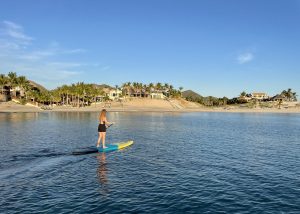 Top Things to Do at Gran Sueno
Wake to the glorious sunrise over the Bay of Dreams daily. Walk down to the soft sand to greet the day, then enjoy fresh coffee brewed in the oversized communal kitchen, take a seat by the infinity pool.
Go fishing, with a charter or excursion out of the bay to catch Mahi, grouper, whatever you hook up – its fresh catch of the day, and an exciting day on the water.
Kayak or SUP the bay, enjoying the crystal clear waters below including coral reefs and sea life.
Lunch and dinner at Centro de Trenes, the onsite restaurant features wonderful fresh fish or traditional Mexican fare… made to order for you. The Shrimp Diablo is spicy and delish, or the arrachera meat is perfectly seasoned and tender.  Margaritas freshly made are extraordinary too. Don't miss the train – hence the name Trenes, upstairs in the open-air restaurant.  Christiano, the manager, is fabulous and so accommodating for any special request or event, even cocktail hour on the beach with appetizers served from a beached boat.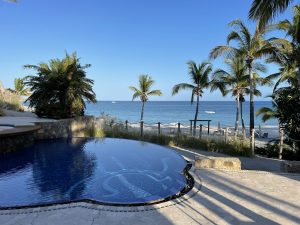 Relax in the hot tub with an ocean view, or swim up to the pool bar in the main swimming pool with its infinity edge and underwater bar stools.
Snorkle the coral reef just a short swim to the right of the resort from the beach, just beware of jellyfish and don't touch the precious, fragile coral. Diving trips are available by charter too.
Lounge on the beach under a palapa – the delightfully local straw-thatched porticos on the sandy beach that provide shade.
Hike up the hillside to the most dramatic Chapel with its grand white cross overlooking the bay. The 360 degree views from this mountaintop shrine are awe-inspiring. It's splendid and spiritual, regardless of your denomination – and a beautiful setting for an intimate wedding or other-worldly celebration.
Play billiards at Trenes around happy hour with a beer or margarita in hand. The spacious bar area of Trenes restaurant offers a lovely lounge area to stay, sip and play, inside or out on the grand patio.
Take in a movie in the Resort's private cinema theater room with recliners and a big screen, a perfect place to chill and relax if you had too much sun and fun that day.
Tennis courts and a fitness room with weights await if you wish a more rigorous work-out then beach strolls and swims.
Walk the mile-stretch of beach to the left, to 1535 – an authentic Mexican restaurant frequented by visitors and locals alike, since 1535! Strolling back to the resort as the sun sets, you will pass local families enjoying campfires, tailgating, on the beach.
Dramatic development plans for Gran Sueño Resort included an equestrian center and championship golf, but the resort has lost rights to water to irrigate the golf course, and its now wild land. Still the "Big Dreams" resort is serene and special, maybe even more so given its upscale, hide away aspect in Mexico.
More on Mexico…
"The spirit of Mexico lives in the weathered hard-working faces of the people, in the spicy flavorful food, in the relaxed attire, in the lively soulful music, in the salty sweet taste of tequila." – Heather Burke, travel journalist