The Alps are getting big snow this season! Are you dreaming of a ski trip to the Alps? Wondering what to expect, and where to go skiing in France, Switzerland, Austria or Italy?  Here are some tips to help you plan your first ski trip to the Alps.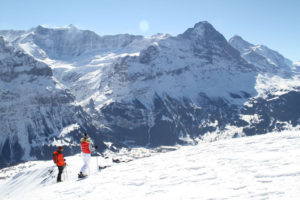 What's the Ski Terrain like?
The Alps terrain is vast, extreme, rugged and abrupt compared to the ski mountains in North America. Often lifts and trails in the Alps connect towns and you can literally ski for miles – the ultimate alpine touring adventure. The Alpine terrain is so immense and extreme, with unmarked cliffs, glaciers and crevasses, so you need to be cautious if you leave the prepared trails – which you can easily do. The Alps are very different from skiing in the Rockies in terms of trails and what's on a trail map.
Typically,  a ski lift in Switzerland or Austria will serve just one or two "prepared" pistes (groomed runs) from the above tree-line summit, these are usually marked simply by colored poles on each side, with colors – Blue is easy, Red is intermediate, Black is expert, Yellow is ungroomed.
Trail names are often just numbers. Unlike in the Rockies, where skiers tend to ski all over the mountain, in the Alps due to the dangers of crevasses and cliffs, everyone is encouraged to stay on piste (on the trails) unless you hire a Mountain Guide or Bergführer.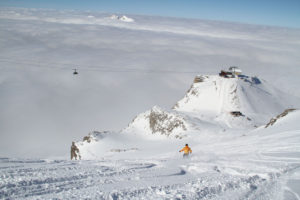 The Alps are so huge that my husband has likened them to skiing the Rockies on top of a Vermont peak, meaning the first 3,000-4,000 vertical feet are above tree-line with lighter snow and the lower mountain 1,000-2,000 vertical is in the trees with wetter heavier, aka Eastern, snow. You can easily garner 5,000- 6,000 vertical foot runs at larger resorts in the Alps, starting at elevations of about 10,000′ (over 3,000 meters), skiing to the base villages miles below. Overall, the snow quality of the Rockies tends to be lighter and dryer – better quality, where in the Alps with such tremendously long vertical you can encounter various snow conditions from light powder to heavier or wet granular snow all in one long run. See Why you should ski the Alps, and why you should not.
The Ambiance of the Alps
One of the most notable and enjoyable differences of European skiing is the ambiance and on mountain dining. Skiing the Alps is  a lifestyle, at a Swiss or Austrian resort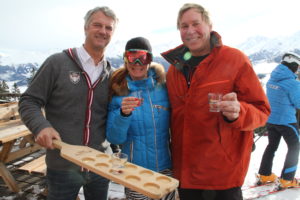 , you will see 10-50 ski huts and chalets scattered across the ski mountain, flying their national flag as a welcome sign that they are open and serving lunch and drinks. Some of these huts and chalets are hundreds of years old, in summer they serve as farms and a respite for hikers.  You can ski in for hearty homemade mountain fare like fondue, raclette, rösti, spatzle, and schnitzel, with a course – local beer and wine. In Europe, lunch is an alpine event starting between 1 and 2pm and lasting the rest of the ski day – though you still have to ski down the mountain.
"Après ski" is huge, starting before skiing is done ironically. But hey, the Europeans invented après ski – so they can modify and improve on the concept, even if drinking at high altitudes seems a bit crazy – it's part of the culture of the Alps and speaks to their ski stamina. Sun terraces and umbrella bars are also popular around the mountains and towns offering scenic spots to enjoy the scenery and sunshine of the high alpine with a drink (or "aperitif ") especially during spring skiing in the Alps. See our Guide to the Best Après Ski Bars!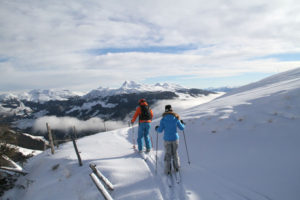 Hiring a Ski Guide in the Alps
Because most everyone skiing the Alps stays on piste (on the marked groomed trails), there is often powder and untracked snow at ski resorts beyond the marked controlled runs, including open bowls and back-country. But you must hire a Guide to explore this wild un-managed terrain safely. We cannot stress this enough – it's just too risky with glacial crevasses, unmarked cliffs and rocks, and ever-changing avalanche danger. Hiring a guide range in price from $200-500 per person per day, which sounds pricey but the rewards can be huge. and the risk of danger is dramatically reduced with your guide's knowledge, experience of the terrain, and avalanche updates. Venturing off piste with a guide, you can score heli ski or cat skiing type terrain, deep powder and long back-country adventure runs virtually to yourselves. Mountain Guides can provide you with beacons – this is either included in your ski guides service fee or available for an extra rental of peeps, avalanche air bags, shovels, etc.
Ski Lodging in The Alps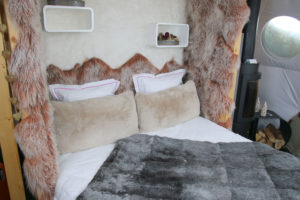 The best lodging is "ski in ski out", with breakfast included so you can be out on the slopes first thing. Often dinner is served too in a European plan – half board indicates breakfast and dinner are included in your room rate, hotel garni means breakfast is included. Ski chalets and mountain hotels can range from luxurious to hostel-like, 5 star to 1. Most ski hotels have a ski room with a boot dryer – a nice amenity. Hot tubs however are not typical – occasionally a sauna or steam room.  See our Top Ski Hotels in Europe and you'll have a great ski trip to Europe!
Lift Tickets in the Alps
Lift tickets in Europe are typically a little less expensive than in the US, $30-70 versus Vail's $250 a day, but tickets do not include ski patrol, medical or emergency service. You need to spend an extra $5-15 a day for insurance, when you purchase your lift ticket, that includes on site medical care, helicopter or ambulance transport. European ski resorts have very few ski patrol, and their idea of a mountain rescue is to fly in a helicopter for a med evac which can easily result in a $5,000+ dollar rescue fee that would have been covered with the $10 +/- purchase of insurance (assurance) also called snow care or ski care. Ski resorts in the Alps accept no liability for your safety… which we applaud on principle.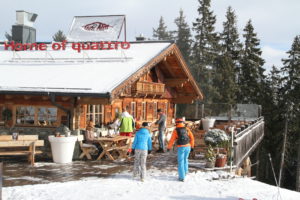 Traveling to Europe for your Ski Trip
Depending upon where in Switzerland, Austria, France, Italy or Germany, you plan to ski, your gateway cities will likely be Geneva, Zurich, Munich, or Milan. Our recent experiences traveling to Austria and Switzerland have proven public transportation (trains and buses) to be so efficient that you do not need to rent a car. Additionally, car rentals in Europe are considerably more expensive than the US, and driving directions and signage are challenging at best.
If you decide to rent a car for you ski trip, be sure to purchase or rent a GPS and download appropriate European maps in advance as they will prove invaluable. Also confirm your credit card includes full car rental insurance in Europe.
Zurich airport tip: Flying into Zurich, after you get your luggage, walk across the airport and go down two sets of escalators to catch the 10-minute metro train to Zurich Train Station (they run about every 10 minutes). From here you can catch all major train connections to outlying ski destination across Switzerland and into Austria.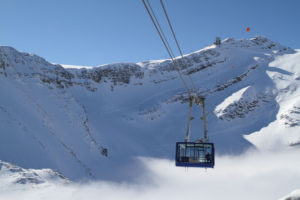 Swiss Pass
Our recent ski trips to Switzerland, we purchased a 15-day Swiss Pass with unlimited trains and buses. While 1st class is not necessary since all the trains are clean and prompt, the 1st class upgrade is a nice luxury, these compartments are less crowded, with more room for your luggage and to stretch out and enjoy the scenery. We found ski resorts with direct train access, like St Anton, Zermatt and Aletsch Arena, with train connections right into the ski village to be most convenient. Other ski resorts are connected by train followed by  bus service.  We found the Swiss Train Schedule site immensely helpful in planning our ski trip using Swiss trains and buses.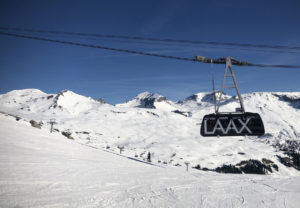 Money for your Ski Trip to the Alps
There is no need or benefit to exchange your money in advance or at the airport (you will pay huge fees both at your local bank, your departing or arrival airport. Once you are in your first town, train station or city, find an ATM in Europe (do notify your US bank and credit card companies of your travel in advance). Credit cards (MasterCard and Visa) are widely accepted as well, be sure you have a chip card. When your bill arrives and they ask if you wish to pay in US or the Euro, (or Swiss Francs), opt to pay in the local currency for the best exchange rates.
Languages spoken in the Alps
Skiing in the Alps you will be exposed to several cultures and languages, however most people in tourist areas speak English and welcome Americans and English. The Swiss Alps for example are almost quadri lingual, some ski resorts are German Swiss like Zermatt, while Verbier is predominately French speaking, and St Moritz is German Italian. Skiing in Zermatt, you can ski to Cervinia Italy, order lunch in Italian and return to speaking German at dinner back on the Swiss side. Austria is German speaking, but most in the ski hospitality speak English. Portes Du Soliel you ski in both France and Switzerland. So, it's polite and appreciated to learn the basics – Bitte, Danke, Merci, Grazie!
Packing for a Ski Trip in the Alps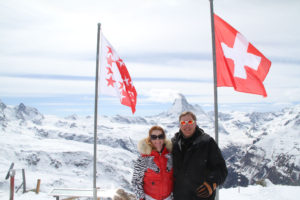 When traveling to the Alps for skiing, we highly recommend you travel as light as possible, since you will be transporting your ski gear and luggage from planes to trains to buses, and even taking trams to alpine villages that are completely car free. See  ski packing tips. We recommend boot and ski bags with wheels, rolling luggage through airports, train and bus stations takes some of the weight off your shoulders – and allows you to make quick connections between trains that are timed efficiently often within 5-15 minutes for swift travel.
Adaptors
You will need adaptors/converters (110-220v) for any US electronics, shavers, blower dryers, boot dryers, etc., that you bring to Europe. Most laptops have built in converters. Check with your ski hotel to see if they provide a ski boot drying room (most do) and hair dryers to save having to pack these oversees, then you don't have worry about blowing a fuse or appliance (says the ski writer who melted her boot dryer sticks – but fortunately her ski boots were not nuked).
See our Guide to the Best Ski Resorts in Switzerland, The French Alps, Austria, Spain and Italy!