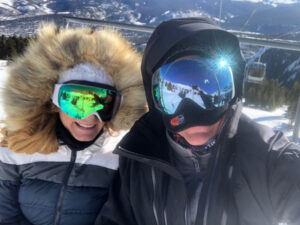 Skiing is different now… wear a mask, travel restrictions, proof of vax to enter a ski lodge…  but Covid WILL NOT prevent me from my favorite pastime. Now more than ever …I NEED to ski!
Good news, I'm onsnow, enjoying my favorite sport, with a gorgeous sunny fun week on the ski slopes skiing Breckenridge, Vail and Beaver Creek in Colorado. Thanks to my Epic Pass, this is all possible with unlimited ski days. No need to quarantine upon arriving in Colorado either!
There is nothing that gives me as much joy as skiing – the pure exhilaration of carving my name into the mountain. I'm addicted to the winter dance, the magical rhythm of skiing, arcing back-and-forth. I love skiing. I love being outdoors in the fresh air amid the grand mountain scape. I'm no epidemiologist, but I can't think of a healthier pastime, especially now. I find the pull of gravity thrilling as I charge down a well-groomed slope, or floating through an untouched powder field.
My love for skiing remains, though this ski season is different.
What I love about ski ski season?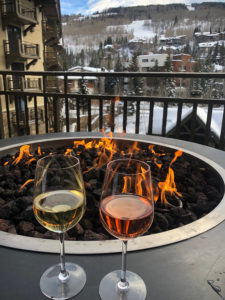 The social… riding a chairlift with a brand new friend, chatting about best places we have every skied… I am probably annoying on this topic since I have had privilege of skiing over 200 resorts around the Globe. Masks and social distancing may curtail this a bit inside, but outdoor socializing is cooler than ever. I love hearing from other avid skiers about the places they've been, and what's on their ski bucket list for future travels.
Ski friends tell me they missed booting up in the lodge last ski season, seeing ski friends with the shared anticipation of getting out on snow. This season, I suggest you continue to boot up and tailgate party in the parking lot.
I love après ski, slopeside bars, dancing and drinks with live music, and lively banter about our best runs and funniest moments on the mountains. Especially I love apres ski at Vail  and downtown Breck. Props to town officials allowing to-go drinks (in appropriately labels cups) in designated areas of ski villages. Hopefully we'll get back to shot skis… on second thought… perhaps those were "never a prudent choice" in my mom voice.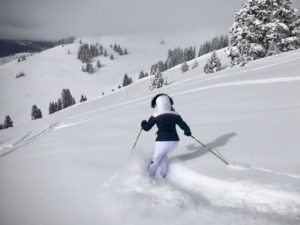 Skiing this season reaffirms what's amazing about the snow sport… it's truly about the getting outdoors, social distancing in the best possible way, getting away from society, breaking away from the rigors of work and politics, and every day rituals and routine. Once you are on the ski slopes, it feels like the fabulous familiar sport, so refreshing, life-affirming and exhilarating – like always!
I'm grateful to ski during a global pandemic. Skiing fuels me, like nothing else. I am not naïve to the fact that travel is risky, but you have to live life. Life is for the now and there are safe places to enjoy your favorite passion and spark! Vail Resorts has taken safety protocols seriously, from signage and some mask requirements, vax proof for indoor dining, spacing and distancing around the lodges.
How naïve of me to have stated a few years back that we should ski our age in days, a feat I had accomplished up until last season when our Canadian Rockies ski trip ended with shutdowns mid March 2020 for Corona virus. Last season I only reached 40 during a very restricted 2021. This ski season…stay tuned!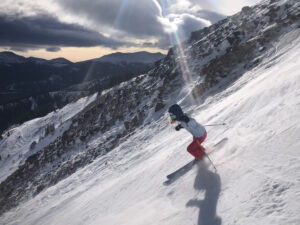 So let's just say "ski when you can"
Be grateful for every minute outdoors, skiing!
"Wear a Mask" when asked, no hardship in an inherently cold weather sport.
While I may not see your big powder grin, and you can't see my big ski smile, I bet you can see the joy in my eyes when I am skiing.
I look forward to seeing you on the slopes ski friends. Be well, ski often ! Heather