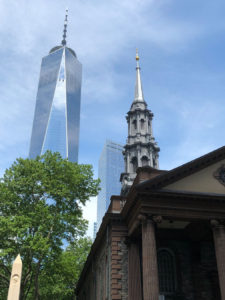 NYC Top Things to See and Do
Stroll down 5th Ave… this iconic New York City street is fancy, fabulous, busy, and brimming with high end boutiques, shops… it's a sight to see. Fifth Ave slices the Big Apple in half West to East from North to South. Start at Central Park, 59th Street. You pass the iconic Fairmont Plaza Hotel – go inside this fairytale hotel to see the most gilded gorgeous place to stay in Manhattan. Continue south passing Versace, Bergdorfs, Sax Fifth Ave, Chanel, Dior, Tiffany's and Cartier, you will pass Rockefeller Center, where grand golden statues and water features line the ice rink and 30 Rock – home of the Today Show.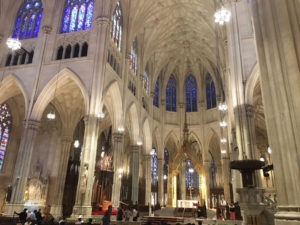 St Patrick's Cathedral is the monumental 1879 church where heads of state, authors and celebs have been married, and buried.
Grand Central Station is the world's largest railway station (covering 76 acres inside), it's also a magnificent marble and stone building, with glimmering 1871 chandeliers, and a constellation mural soaring above on the ceiling of the vast grand concourse. Grand Central is always bustling, the busiest train station in the country with over 700,000 visitors and commuters passing through these historic halls daily to grab their ride. I suggest you grab a drink at a café, the swank Campbell Bar or Cipriani, and be transported to another era, while humanity rushes here, there and everywhere. 89 East 42nd Street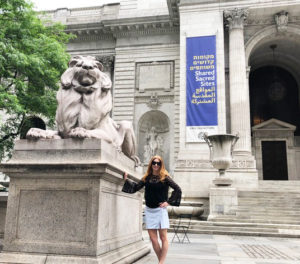 NY Public Library is an amazing landmark and testament to NY's literary society – the highbrow, highly talented individuals who have studied here, educated themselves, to read and write about New York and its extraordinary evolution from 1624 to 8 million people today. Also called the Stephen A. Schwarzman Building, this 1897 library project opened in 1911. Go to The Library Hotel's Bookmarks Rooftop Bar for a refreshing beverage with an amazing view. Nearby Bryant Park is one of the prettiest green spaces in Manhattan surrounded by stunning tall buildings and beautiful brownstones, its shady and calm amid the city clamor. 476 5th Ave
The High Line
This old railroad track is now an elevated walking path that spans from Gansevoort Street in the Meatpacking District (at the Whitney Museum of Art) to West 34th Street. Enjoy views of the Hudson River and the Manhattan skyline as you stroll along the curving walkways, stopping at picnic tables and benches, surrounded by plants and public art.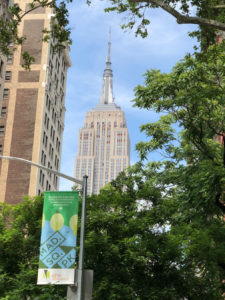 Time Square is an electronic assault to the senses, huge neon billboard signs flash and flicker, the New Year's Eve Waterford Crystal ball hovers high above. Scalpers push tickets for the nearby Theatre District's latest Broadway plays. Beware the costume characters and performers that hustle for tips with their selfie posing tricks. 43rd West and Broadway.
Empire State Building is perhaps the most recognizable skyscraper, an Art Deco monument and symbol for New York City, captured in so many romantic movie scenes. The views from the 86th-floor deck are spectacular, go to the 102nd-floor observatory if you dare for really daring views of NYC. 350 5th Ave. Go to Spyglass Rooftop Bar at The Archer Hotel nearby for a delicious drink and a delightful view of The Empire!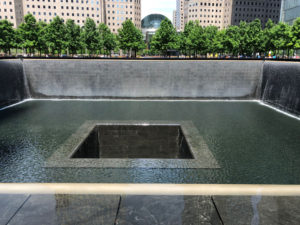 9/11 Memorial is a most somber but sophisticated tribute to the tragic 9/11 terrorist attacks. One World Trade is an awesome reminder of September 11, 2001. Walk up to the North and South pools, revealed on the 10th anniversary of 9/11, deep, dark marble and stone waterfalls cascade 30-feet down into the footprints of both Twin Towers. Each pool is an acre – creating the largest man-made waterfalls in North America. Bronze panels line the pools with the names of the 2,983 people who lost their lives at the World Trade Center site, in Flight 93's crash in Pennsylvania, at the Pentagon, and in the 1993 World Trade Center bombing. There is a museum, the Oculus pavilion, and you can go up the new One World Trade for a panoramic view of Manhattan from the 102nd floor observatory. Don't miss St Paul's Chapel – "the little chapel that stood" from 1766 – the oldest surviving church in NYC that remained unharmed so near to Ground Zero. 209 Broadway and Fulton Street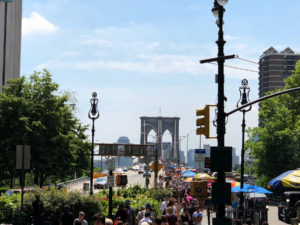 Brooklyn Bridge is one of New York's noblest and most recognized landmarks, the Brooklyn Bridge stretches over the East River, connecting Manhattan to Brooklyn. Walk the mile across the pedestrian boardwalk for spectacular views from the 1883 hybrid cable-stay suspension span. Weekends fairs, markets and entertainers often line the Bridge platforms.
Statue of Liberty and Ellis Island
From Battery Park, the southernmost tip of Manhattan Island, take a ferry and tour the Statue and Ellis Island. For millions of immigrants, this was the entry to the USA. The Statue of Liberty and its surrounding park grounds are spectacular, climbing up the 354 steps into her crown is a rite of passage (strenuous and cramped at the top). Miss Liberty – the copper statue – was gifted to the US from France in 1886, built by Gustav Eiffel (yes the Paris tower guy). Ellis Island nearby on the same package tour, shows the process for admission into the US for immigrants from colonial times to present day in a living museum format.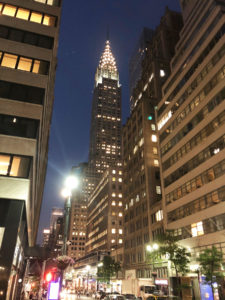 Where to stay in Manhattan
New York's Fairmont Plaza Hotel of course… it's the castle overlooking Central Park, the grand Dame atop 5th Avenue. The Plaza is over a century old, 1907, but still shines like a diamond – the hub of the most sophisticated social style of NYC, and one of the most luxurious hotels in the world. Construction of the 19-story palace of 282 rooms took two years and $12 million with over 1,650 crystal chandeliers back in the day. Recent Fairmont Hotel renovations cost $450 mill (inflation). Go to the Plaza's Palm Court for pricey Champagne or high-tea, if the $800+ a night hotel room is too rich for you to stay the night.
Where to dine in NYC
Spice Symphony offers incredible Indian cuisine midtown, artfully served and deliciously prepared in a cool contemporary atmosphere. It's aromatically authentic if you get my curry drift. Lunch is the best value, for ample Kashmir portions (try the lamb) served by an attentive Indian wait staff. 150 East 50th Street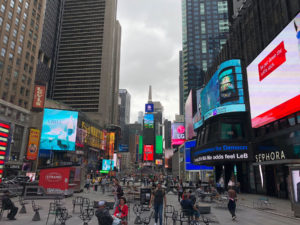 ABC Kitchen
ABC has a very cool vibe, concrete, washed wood, a grand bar, and hip setting. This Jean-Georges dining spot offers a diverse farm to table menu, fresh ingredients, and a full bar. Above SoHo, between Madison and Union Square. 35 East 18th Street
Momosan Ramen Saki Bar
Dine at Iron Chef Morimoto's hip happening Japanese noodle joint. Enjoy delicious brothy bowls – the Peking Duck is supreme – in this fresh vibrant café with an animated wait staff. 342 Lexington Ave near the Chrysler Building.
Best Rooftop Bars in NYC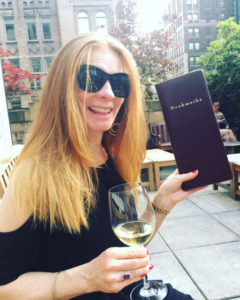 The best place to relax after exploring NYC is up on a roof, with a grand view, cool breeze and craft cocktail in hand.
Spyglass Rooftop Bar has a towering view of the Empire State building, a chic environment and cool drinks like the Frozé 17 – rosé, vodka and frozen citrus served in a vintage crystal glass. Spyglass is on the 22nd floor of the Archer Hotel. 47 W 38th Street
Bookmark Bar at the Library Hotel near the NY Public Library is posh but cozy. On the 14th floor of this lovely hotel is the Writer's Den and Poetry Garden & Terrace. It's literally cool, with shade out on the deck amid plants, but grand views, clever cocktails and an inspiring setting. 299 Madison Ave, at East 41st Street
NYC Tip
Bring comfy walking shoes to tackle Manhattan Island, 14 miles long and over 2 miles wide. Central Park alone is 843 acres.
See more of our favorite US Travel Destinations:
Boston's Best
Top Things to Sea and Do in Provincetown
Best of Kennebunkport Maine
Charleston South Carolina
Key West Florida
Savannah Georgia
Seattle Washington
San Francisco and Napa Valley California
"Life is all about the journey not the destination, but choose a fantastic destination and it will be a better journey." – Heather Burke