Portillo means Gateway, and this oldest, highest, most well-known South American ski resort is your gateway to amazing Chilean skiing, phenomenal Andes Mountain sun and scenery, and one of the most unique ski resort experiences on the planet. It is also located at the high mountain pass that connects Chile to Argentina.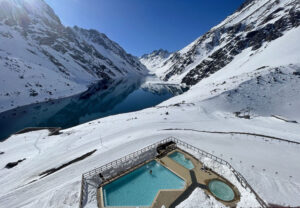 Ski Portillo feels like a semi-private exclusive resort, with 1,252 acres, from 9,000 to 11,000' elevation, 13 unique lifts and 35 slopes, plus seemingly limitless side-country easy-to-reach extreme skiing. The views of the surrounding peaks that divide Chile from bordering Argentina are awe-inspiring, and the shimmering Lake of the Inca is the turquoise centerpiece of this remote resort. Portillo is reached by driving up a crazy canyon road of over 30 switchbacks, or flying in by helicopter – which we did – as they had just received 6 feet of snow and the road was closed. We loved this exciting, highly scenic arrival for an extra $300 per person!
Yes, Ski Portillo is legendary, and the world's best skiers congregate here to escape summer and extend their winter ski season at this cool historic place. Our ski week coincided with Mikaela Shiffrin and the US Ski team training on the slopes, among other famous world champion skiers. We heli-skied with speed-skier Franz Weber, we missed Daron Rahlves by a day, the list goes on. Pinch me!
Portillo's unique high-alpine super-scenic terrain is shared by only about 400 hotel guests, and an equal number of attentive staff that soon feel like family. It's a magical place, akin to a cruise ship on snow – only with fit, fun, passionate skiers. You want to stay and play for at least several days – ideally a ski week at Portillo.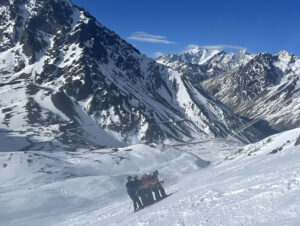 While Portillo ski area doesn't seem very big at first, on both sides of the Lake, the potential for fresh tracks and steep skiing is abundant. We traversed out from the Condor and Caracara sling shot lifts for big bowls and exciting chutes like Lake Run.
Sling Shot Lifts: Portillo's unique slingshot lifts are exclusive only to Portillo. These unique drag lifts called to V to V ("Va et Vient" – go and come back) whip four to five skiers up steep terrain where a traditional lift would be at the mercy of avalanches. The lift stops at the base where 4 or 5 skiers/boarders load the lift. Then it rockets you up the slope. At the top, the lift stops on a steep pitch, and you disembark from the sides first. Great time to work on your backwards wedge turn on steep terrain. This design was invented by the French – Poma – in 1966 before Portillo hosted the Alpine Championships. The Slingshot lifts cables can be removed before large storms and the top bull wheels tucks into the summit rocks. It takes nearly a day after the storm for a team to fly the cable back in with helicopter and string the line again.
What you won't find at Portillo are crowds, lift lines, or very many inexperienced skiers. Ski Portillo is not inexpensive, nor easy to get to. It also attracts the best ski instructors and guides in the world, who winter in the Alps and Rockies, and summer here in Chile to continue their profession, from teaching kids ski camps to extreme ski guiding.  Portillo's add-on heli-skiing exclusive for guests is reasonably priced – an oxymoron I realize, but we found it was great value for incredible terrain and first descents from 14,000′.
Ski Portillo's main attraction is the iconic 1949 Hotel Portillo, where stays harken back to classic Club Med style ski week. Its all-inclusive, skiing, lodging, and 4 delicious multi-course meals daily (including high tea) served in a grand dining room – elegant, with planned seating, and exceptional Chilean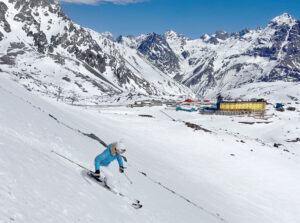 wines. After skiing, there's a spa, fitness room, indoor game courts, and a huge outdoor heated pool with two hot tubs which becomes the après ski social hub with lake views. There's even a cinema, late-night live bands, and a disco. For kids, daily activities are organized. See our review of staying at Hotel Portillo and all there is to do here in addition to skiing.
Portillo is reputed for its 80% sunny days, and we were lucky enough to enjoy 5 glorious ski days during our week – bring sunscreen and layers. But it can also dump snow, then it's a white-out with no tree definition, and you may get stuck here for days as the road often closes. Skier problems, though not ideal if high winds and avalanche danger prevent lifts from spinning.
Wine Country, if you are flying all the way to South America, we highly recommend you spend a few days exploring one of the amazing Chilean wine regions while you are here!
Our Portillo Ski Tips
1. Fly into Santiago a day early, and take advantage of a free night in your Ski Portillo package at The Ritz, or Mandarin Oriental, available during regular season. We stayed at both, lovely – Mandarin is more mod chic, but we preferred the Ritz' old-world elegance and better in-town location to Santiago attractions and topnotch restaurants.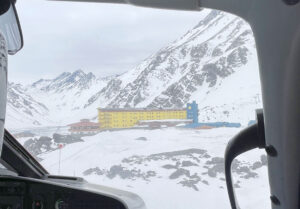 2. Book your transport with Portillo Tours, this is a must! P Tours will organize your transfers shuttle (2-3 hours) to the ski resort. It's the only company that can get you on a last-minute helicopter, if the crazy mountain road (29 switchback to 9,000') is closed for snow which happens regularly. This road is also the main border-crossing Chile to Argentina, often lined with trucks, and can be slow-going diesel-infused traffic.
3. Splurge the extra Pesos for a 6th floor (top) balcony room at Portillo Hotel – the lake view is amazing. And stay for a week to truly embrace the beating heart and soul of Portillo – it's a special ski place like no other in the world.
4. Sign up for Heli skiing, upon arrival, it's great value (2023: $360 for the first run, plus $230 each additional) for an epic day skiing in the soaring snow-filled Andes skiing, 2- 3,000′ descents from a staggering 14,000'.
5. Ski Portillo's west side – Roca – in the morning in the sun. Runs are technically short, but ski very long, and many are steep, ungroomed and challenging. The slingshot lifts are yet another unusual feature. Head over to Plateau side to the east around 11:30 as the sun starts to light up the slopes on east side.
6. Pack your swimsuit for Portillo's amazing outdoor hot tubs where everyone enjoys Après ski, its social, scenic and a soothing muscle soak.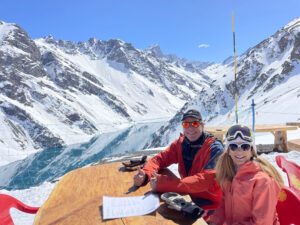 7. Have lunch on the mountain at Tio Bobs, on a sunny day outside overlooking Lake Inca and the ski terrain. The Lomo a lo pobre is an amazing hearty Chilean steak dish. Bob's is also great for an "almost après ski" drink in the sunshine. It's just one Gargantuan ski run down to the hotel – literally a black-diamond called Gargantuan, or it is a short climb back up to the groomed Plateau slope for intermediates.
8. Take a lesson – Portillo attracts the best ski instructors from top resorts all over the world who "summer" here because they are passionate professionals. Portillo's lesson prices are surprisingly reasonable, as are their excellent ski tuning services. You can rent ski equipment at Portillo, or BYOB – bring your own boards.
9. See Portillo's daily special activities, and meet the exuberant social director Felipe who creates fun events, movies, a Thursday ski race, even an evening at Tio Bobs under moonlight. Yoga, Zumba, pickleball, basketball are revolving sports in the playroom downstairs… there is always something to do at Portillo. I never made it to the fitness room, cinema or spa, lol. I did visit the clinic – altitude adjustment is real sleeping at 9,300'. Portillo's medics are kind and helpful.
10. Get to know the Portillo team, the staff, and the characters. From the impeccable waitstaff in the grand dining room, to the ski instructors, patrol, liftees, and heli-ski guides, to bartenders and the ever-present Purcell family owners, these people are enthusiastic, full of stories, and rightfully proud of their ski paradise.
See our Review of Hotel Portillo l Helicopter Skiing Portillo
More on South America Skiing in Chile and Argentina