Austria's Wachau Wine Region along the Danube River is legendary for more than just great grapes. During our 9-day un-assisted bike tour along the Danube, from Passau Germany to Vienna, we slowed our pace and spent 3-days in this stunning UNESCO World Heritage region!
This lush Austrian valley is beautiful, with rolling hillsides loaded with perfectly planted vineyards amid active farmlands, towering churches and stone ruins. Cycling or touring this beautiful region, you will pass centuries old castles on hilltops, and working wine chalets. The Wachau is highly scenic, with the greenish blue Danube River leading you from one historic village to the next, all on designated bike paths if you are cycling.
Wachau villages like Spitz, Melk, Durnstein and Krems each have their own stories and stunning landmarks, and they are proximate so you can cycle easily between, even stop for wine tasting, or a relaxing night's lodging along your Austrian wine journey.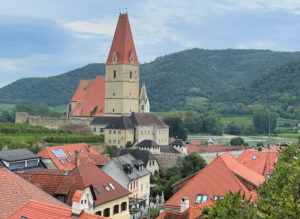 The Wachau wine is as delicious as the countryside is spectacular. Another local gem is the liquor made from fermented apricots. In fact, Wachau folk make many treats from apricot (which are trademarked in this region). You'll find jams, candies, pastries, and cakes, even soaps, candles, lotions.
Biking from west to east with the current of the Danube, here are the Wachau villages:
Spitz is furthest west of the Wachau villages and wine region. Here grape-loaded vineyards cling to the hills in tidy rows, particularly in late September at harvest time. Its called the Hills of a Thousand Buckets due to its fertile grape growing.
Up the hill from Spitz's quiet compact village is the luxury Wein Spitz Donabaum Boutique Hotel. This is the place to stay in Spitz – four-star. A lobby wine bar opens to a beautiful terrace and vines, with an infinity pool and private spa building. Our gorgeous room had a lovely balcony I'd have been content to sit and rest my bike legs, but there were Ruins to hike and wineries to visit.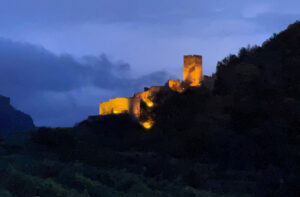 Climbing to the Ruins Hinterhaus in Spitz is a rite of passage. It's a steep rugged path at times, wear hiking shoes, but the big view of the Danube below is worth the hike. Its impressive this was built from stone centuries ago without today's machinery, and portions of this fort still stand today.
Lunch at Hick`s Heurigenstadl by the river of Goulash soup is friendly and filling, paired well with local wine. The highly rated Goldenes Schiff was closed the day of our visit – for a town funeral in this close-knit community.
Josef Hofinger Weingut on the river is an excellent stop for tastings of their extensive collection of wine – not just Wachau wines. The views from their upstairs tasting deck of the ever-flowing Danube with a glass in your hand – precious!
Following quiet streets to the Church in the village of Spitz, we enjoyed a late afternoon coffee at Maraindle in the church square.  And we found the funeral, as townspeople poured out of the church to the cadence of an Austrian marching band. The funeral procession continued up the street and the church bells rang in honor of their fallen fellow villager – a poignant Australian tradition.                continued below…
Just above Spitz on the "Wien Wanderweg" we biked up to Johann Donabaum Estate. Our scheduled tasting at this family farm was in a cool wine cave, with the wine-maker's lovely wife Andrea. We tasted several of their award-winning Gruner Veltliner wines – which were complex, crisp, dry, delicious. The rest of the family was busy harvesting their prideful wines, an all-hands-on grapes production.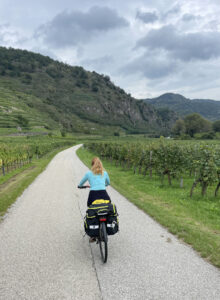 Dinner at Gruber Heuriger was Austrian style tapas "heuriger" just a short walk up from Donabaum Hotel. Our delicious alpine meat and cheese plate with local wine was livened up with music from a visiting Austrian Oompah band who'd had plenty of local beer – cheers!
A bountiful breakfast buffet the next morning, in Donabaum Hotel's old house, fortified us for our bike ride to Weissenkurcher where we passed the so-named "White Church", considered the oldest Austrian church (987). This town of WeissenKurcher has several cute cafés and wine-tasting rooms, we arrived too early to start drinking on our ride to the heart of wine country – Dȕrnstein.
Pedaling along undulating verdant vineyards, and golden sunflower fields, we soon spied the towering blue steeple of Dȕrnstein and its hilltop castle ruins high above the Danube.
Dȕrnstein is the most popular village in the Wauchau Danube Region for its architecture, and the history of Richard the Lionheart among other nobles. It's a UNESCO world heritage site, so Viking cruise boats, buses and cycling trips all descend on Dȕrnstein daily. After leaving our bikes and bags at Hotel Richard Lowenherz, we climbed the rugged steep rocky path to the Ruins – 30 minutes up to 1083' elevation, to a dramatic panorama of the Danube. We imagined Richard the Lionheart being held captive here high on the hilltop in the 1100s. We escaped… for wine in town!
Lunch and several wine tastings ($2-3 euro a glass) at Dȕrnstein's vinoteks along with samples of their Wachau-famed apricot liquor were a yummy reward and fun afternoon following our bike and hike.
Durnstein's medieval Abbey and blue baroque church tower is a must visit as well. After the crush of river boat cruisers and bikers during the day, the town quiets down early evening and mornings for those staying in the beautiful village. Our dinner at Richard Lionheart overlooking the powerful Danube was perfect, enhanced by the lights and music of the big outdoor rock concert StarNacht across the river.
Durnstein to Krems is an easy cycle to a more contemporary university town on the Danube, the eastern-most of Wachau's wine region. After we off-loaded our bags at our modern lodging – Steigenberger Hotel, we biked 11 kilometers across the bridge toward Gottweig Abbey, which we'd seen for miles perched on the mountain in Mauturn. Our steepest hardest bike yet, 3 kilometers up, brought us to Gottweig's magnificent church and monastery with an outstanding view of the Wachau valley! The bike ride down was thrilling too!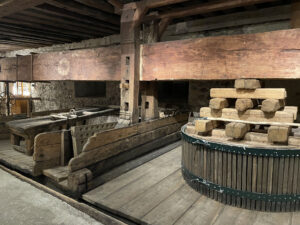 Lunch at Nikolaihof, a 2000-year-old winery and family estate was incredible. Our Wachau pot soup was wonderful, and their moist chocolatey apricot cake was the best, accompanied by a haus-made walnut liquor. Our Hostess Christine insisted we visit her family's ancient wine cellar for a Salon tasting amid oak barrels from 469AD and the oldest wooden wine press (in the world)! The Vienna papers were signed here in 1075 by the Bishop. Fascinating that Nikolaifhof has been making "bio-dynamic" wines for centuries – long before "organic" became trendy! It's a family-affair as Christine's son is now making anti-aging cosmetics from the crushed grapes & seed residual.
A truly special 3-course dinner in Krems, at Kaiser Vom Ostrreich, on our 34th anniversary was extraordinary, celebrating cycling about 34 miles a day (for each year married?). Chef Herman and his wife Sylvie have a small culinary gem here, just eight tables, reserve ahead. Our nighttime bike ride uphill to our beautiful room at Steigenberger Hotel & Spa was "exciting."
Leaving Krems, the eastern end of the Wachau valley, we were melancholy that our wonderful wine tour time had come to a close. Its beautiful bike country – with designated bike paths all along the Danube. The local wines are extraordinary, as is the scenery and hospitality among the proud wine-producing Austrians. But we still had Vienna to explore, and Prague. We highly recommend you bike the Danube, see our tips for un-assisted cycling along the Donau, how to pack for cycling in Europe, and our reviews of Passau Germany where we began our independent bike tour, Melk and Linz, among other pretty river cities in Austria, on our ride to Vienna.
More on:
Danube River Bike Tour
Passau Germany
Vienna Top Things to Do
Prague Czechia Travel Guide
More Luxury Wine Vacations:
California's Napa Valley
Washington's Woodinville near Seattle
Austria's Wachau Wine Region
Chile's Colchagua Wine Region
Chile's Maipo Valley Wineries
Italy's Wine Region
France Burgundy Valley
Portugal's Douro River