We love to ski Vail! So much terrain, over 5,000 acres, 7 back bowls of above tree line skiing, 31 lifts, and gorgeous Gore Range mountain views. We also like to take a lunch break from all this epic ski terrain, and high speed lifts.
Here are our favorite ski to lunch spots at Vail, and see also our favorite apres ski at Vail!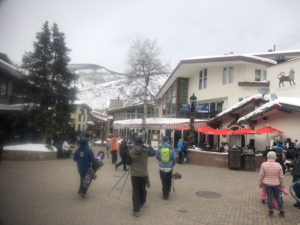 Vail village best  lunch restaurants:
Los Amigos is perfectly situated, just steps from Gondola One in Vail Village. Los Amigos menu is classic yummy affordable Mexican fare, with a view of the slopes and the gondola. Enjoy a margarita and relax the afternoon away from here, or chow and go ski so more (promising to come back for après ski slopeside). You can see the Epic Time waits at each lift from the board at the Gondola.
Vendetta's just a short stroll from Gondola One in Vail village on Bridge Street is where the locals go- for good reason. Its casual comfort food served swiftly with a smile – pizza, burgers, and pasta – and typically a delicious daily special for under $12. You can sit at the bar, or by a sunny window or the patio on classic warm Colorado days. Be sure to come back for après ski at Vendettas's – when  Ski Patrol slides in for beers after sweep.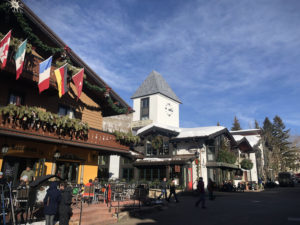 Almresi is a delightful chalet style restaurant, Vails' best dining according to many,. Go upstairs for views of Vail village and the fountain from its second floor perch, The cozy interior is plucked from the Alps. Settle into a cow chair and enjoy fondue, bratwurst, soups and Austrian fare, served by waiter in lederhosen.  This is a more romantic setting for a Vail village lunch, or come for après ski at the bar, or a candlelight dinner. If you ski more than 27,000 vertical in a day at Vail, show your Epic Mix app for a free beer 3-5pm.
Pepi's is another classic Austrian pub and guesthouse, home to one of Vail's original settlers Pepi Gramschammer. Pepi's serves traditional fare for lunch and dinner, from its great venue overlooking Bridge Street.  Pepi's rocks après ski in the cozy pub with live music.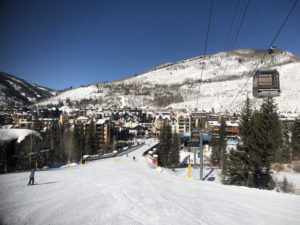 Lions Head Vail Best Lunch

El Sabor in Lions Head Village, just over the skiers bridge, immediate skier's right, is a great Mexican themed restaurant and bar, actually open for breakfast, lunch and dinner. The view of Simba and the Eagle Bahn Gondola is amazing, and the menu is loaded with delicious filling burritos, enchiladas, and tacos! Great margaritas specials at happy hour for après ski with chips and salsa and taco deals!
Garfinkle's at Lions Head, just steps to the Eagle Bahn Gondola and Born Free lift, is a big homey bar and pub with a great lunch menu – sandwiches, salads, burgers, nachos- filling fare! Garfinkle's team is friendly and fast, and the bar is big if you just want to grab a bar stool for a quick bite and a beer. Garfinkle's has a big deck for sunny days, a casual ski bar vibe and up close views of faves Simba, Bwana and Born Free – classic Vail trails. The food is pleasantly affordable and plentiful, not fancy,  in this otherwise pricey ski town.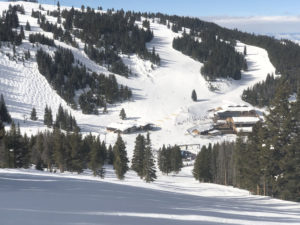 On Vail Mountain:
The 10th Mountain Lodge at Mid Vail is posh, from the hostess who escorts you to a beautiful locker room where you store your ski gear and slide into slippers, to sitting in the grand dining hall of this palatial lodge overlooking the slopes. The 10th Bar is lovely too– with an extensive cocktail and wine menu. The 10th is pricey but special, like soup for the super price of $28!
Wildwood Smokehouse atop Chair #4 & 7 – Wildwood and Game Creek lifts, offers barbeque style fare – cafeteria style – but the food and view is amazing. You can even share an ample portion brisket plate with plentiful two sides, and  all Vail's lodges provide free water. The view of the Back Bowls from Wildwood is amazing!
Bistro 14 at the summit of Lions Head, Eagle's' Nest atop the Eagle Bahn gondola has nice sit down table service restaurant with mountain views toward Game Creek and Beaver Creek. If you enjoy your meal and drinks too much you can always download in the Gondi!  Adventure Ridge here is open at night, so you can take the family up via gondola, go tubing, ride the Mountain Coaster, have dinner and drinks, then download under the stars.
Lunch at Beaver Creek: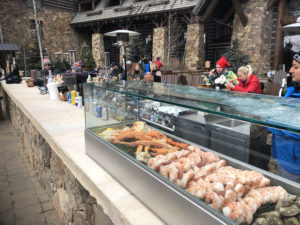 C Bar and The Chop House have great lunches and après ski right at the base of The Beav's Centennial lift. Burgers, steaks, salads, even oysters are on the menu at these sister restaurants. the view of the slopes will have you wanting to get back out and ski, or maybe just content to sit in the lap of luxury, sip Champagne and watch skiers make laps.
Bachelor Gulch Ritz Carlton is a super swank and massive mountain lodge at Beaver Creek for lunch or après ski.  The Great Room of the magnificent Timber Lodge is the perfect place to meet your ski party. Buffalos is a more casual lunch spot, Sakaba is Asian fusion, and Wyld is the upscale culinary dining. On sunny days, the Ritz offers an outdoor barbecue on the gorgeous fireside patio. Ski to Arrowhead or back to Beaver Creek's base from here in just one high-speed lift ride.
See more reviews
Vail Colorado Ski Resort
Beaver Creek Ski Resort
Breckenridge Ski Review
Breckenridge Best Après Ski & Happy Hours