Boothbay Harbor is a classic seaside Maine town, a must visit for boaters and landlubbers alike. While Bar Harbor and Acadia vacations receive much of the Maine accolades, Camden and Kennebunkport swell with well-to do summer crowds, oft overlooked Boothbay is a "wicked cool" coastal harbor (that's Maine-speak). BBH is a bit more humble, with its compact cluster of local shops, fun cafes, homey inns, and a bunch of boat excursions leaving from the convenient in-town Piers.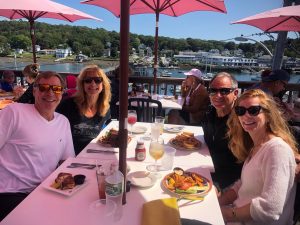 Boothbay is super foot-friendly – entirely walk-able, albeit a bit hilly amid its curvy colorful streets. With its historic and happening vibe, just strolling the waterfront village is pleasure enough, boutiques' flower boxes and local shops' welcome flags wave you in. Pop into Maine art galleries, craft and nautical lofts, then hop down to the Bar-muda Triangle where three popular watering holes converge on the wharf, there's often live music in season.
Boothbay's 1901 Footbridge spanning 1,000' across the inner harbor provides fantastic views out the harbor, where many boats are moored, especially visiting mega-yachts. Fascinating fact, this wooden wharf Bridge cost $1500 to build in 1901, the town is considering a redesign at $2.8 million.
Boat Boothbay! The best way to see Boothbay is by boat. If you can't BYOB – bring your own boat, then rent a kayak or paddleboard from Maine Kayak or Tidal Transit to paddle around the bay, passing lobster boats and magnificent pleasure yachts in the harbor, around McFarland Island and out to Tumbler Island. Boothbay is considered the best kayaking in Maine, you'll soon "sea" why!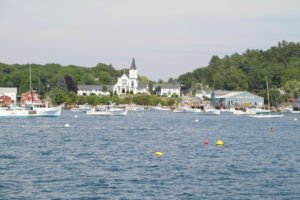 Set sail on a charter from Piers 8-1 (let us know if you find Piers 5-2?). Departing daily from these docks are Balmy Days Cruises, Schooners East Wind or Lazy Jack, and more, all offering harbor cruises,  daily tours and sunset excursions out to see Boothbay's three lighthouses– Burnt Island Light, Ram Island Light and the Cuckholds Light. You will also likely glimpse harbor seals, dolphin and Maine birds on your boat tour.  A trip to Monhegan Island via Ferry is an unforgettable experience, but a long day. The trip takes you 90 minutes out to sea, to Mohegan, and back, visiting this remote rustic dramatic isle. Monhegan resembles Ireland as much as Maine, be sure to hike the perimeter and prominent stop at the 1824 Monhegan Lighthouse.
Shop BBH! Don't miss Boothbay's most unique Maine shops and art galleries … Enchantments is otherworldly, a magical mystical tour through levels and layers of mystical items in a spirited old red barn. It's like Halloween meets holistic healing, with wizards and witchcraft, wind chimes and crystals, dragons amidst Buddhist fountains and tarot cards. Across Boothbay House Hill Road, you'll find Sue – a lively Maine gal selling jams, jellies and pickled yummies, with a helping of her local commentary. Finest Kind in town is another gem- a veritable museum of fabulous retro costume clothes and décor for sale with Brenda Lee happy to assist. Too many great BBH shops to name – Sweet Bay, Smiling Cow, Tidepools, Eventide, Dirty Bird Pottery, Coastal Maine Popcorn are a few…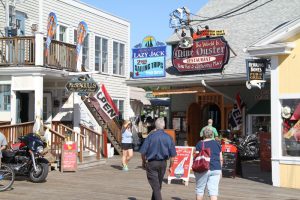 Marine life and garden lovers, Boothbay is also home to Coastal Maine Botanical Gardens, and also the Maine State Aquarium, if you crave more sightseeing just outside of town!
Rock the docks with cocktails at the Bar-muda Triangle – Boothbay is super chill around happy hour time, grab a drink at the end of Wharf Street, where 3 of Boothbay's best bars meet, and where the locals do too. Mine Oyster, Pier Pub and McSeagulls make up the social circuit. There's often live music at one. Take your pick, or pub crawl 'em all, maybe even take your picture with Bartender and former Maine Governor Paul Le Page at McSeagulls while enjoying waterfront views, fresh lobster and cool drinks, with boat passing by.
Where to Dine! Boothbay is loaded with great cafes, bars and dining spots… many with a water view!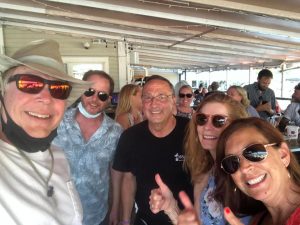 McSeagull's is a Boothbay classic, serving up Maine seafood, yes lobster, in a casual waterfront setting. "Eat, drink and flounder – just for the halibut" is their cheerful slogan. Former Maine Governor Paul LePage may be your congenial bartender. McSeagull's is part of the "Bar-muda Triangle", three local bars on Wharf Street, within stumbling distance of Mine Oyster and Pier Pub – one of which typically has live music.
Ports of Italy is the place for delicious northern Italian cuisine in a cute cozy restaurant.
Where to Stay! Boothaby Harbor has so many cute inns, BnBs, and charming waterfront lodges …
Bluebird Ocean Point Inn, is out of town and out of this world for sunsets and seafood! This cool Maine inn – part of Lark Hotels – is so special – on a glorious East Boothbay peninsula.  Enjoy only the freshest seafood, with a view, at OPK. Arrive by boat at their limited docks, or take the scenic 6-mile drive beyond Linekin Bay to this dramatic point. Stay here for modern New England cottage style lodging.
Tugboat Inn and Marina, in town at 80 Commercial Street, is ideally situated to walk to everything in downtown Boothbay. You can lodge at the Tugboat Inn in a room overlooking the marina. If you arrive by boat, this well-protected marina accommodates yachts up to 100', plus moorings.  Tugboat has a namesake on-site restaurant, lounge and a fantastic Roof Top Deck overlooking the entire harbor with firepits.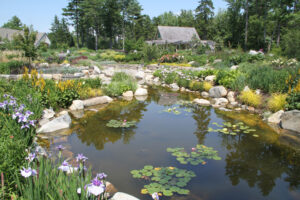 Topside Inn is up the hill like it sounds (we call it Buzz-kill hill after a few drinks at the Bar-muda Triangle) with a grand view of town and the harbor. Chic rooms are well appointed, breakfast is bountiful, and your hosts Mark & Buzz are absolutely charming.
Boothbay Harbor is in "Mid-Coast" Maine, an hour drive north east from Portland, or 30 nautical miles, tucked between the Sheepscot and Damariscotta Rivers in a spectacular coastal scape. This is where Maine becomes magical, as chilly blue sea waters are dotted with pine canopied islands and dramatic granite peninsulas. Boothbay's deep-water harbor is well-protected, and picture-perfect, guarded by three lighthouses, it's been dubbed the "Boating Capital of New England."
Boothbay is a gem, a bustling harbor in peak season, quieter in the shoulders of spring and fall, with quaint waterfront lodging, friendly locals, and fun festivals, as abundant as Maine lobstah in summah upta Bah Harbah.

More Luxury Vacation Travel to:
Kennebunkport Maine
Boothbay Harbor
Belfast Searsport
Port Clyde
Rockland
Best of Boston
Newburyport Things to Do 
Provincetown Things to Sea and Do
Rhode Island's Newport and Block Island
New York to Maine boat voyage
New York City's best things to see and do
Sailing the Chesapeake Bay