Sample true southern luxury life on Hilton Head Island, South Carolina. Here this beautiful barrier island offers long sandy beaches on the Atlantic, calm scenic riverfronts, and intracoastal bays on its western shores. Hilton Head Island offers so much outdoor adventure, biking the beach and the miles of bike paths, golf and tennis at the finest Hilton Head resorts and clubs, go boating and fishing. Enjoy a dolphin tour or go shrimp fishing like Bubba Gump, or just enjoy the broad sand beach. We love the Hilton Head lifestyle, play all day in the sun, then go to happy hour at one of the great waterfront bars.  Here are a few of our favorite things on Hilton Head Island vacation:
Ride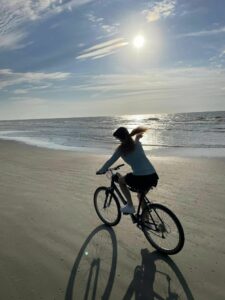 Hilton Head has 300 miles of paved designated bike paths, much of them shaded under a splendid tree-canopy. You can even ride bikes on the 12 miles of hard packed sand beach on Hilton Head's South Beach, along the sole of the shoe. HHI is shaped like a tennis shoe, appropriately as tennis is another top pastime here, with the sneaker toe pointing down to the west toward Georgia.
Golf
Hilton Head is legendary for its golf. The Heritage Classic Golf Tournament occurs in May on the Harbour Town PGA course just prior to the Masters. Heritage Golf Course has its iconic Hilton Head lighthouse looming near the 18th green and a beautiful Links Club House- go here for lunch. There are 17 other gorgeous green golf courses and top country clubs on Hilton Head Island including Oyster Reef, Golden Bear, Atlantic Dunes, Port Royal, Palmetto Dunes and Plantation.
Tennis
Hilton Head is a very sporty tennis community, considered in the top 8 of the world's best tennis destinations. Courts are everywhere on island and tennis lessons are offered at most resorts, like Sea Pines and Port Royal, and the many Hilton Head luxury retirement gated communities.
Beach
Hilton Head's South Beach is the antithesis of Miami's South Beach. This long under-developed stretch of sand, some powdery – some packed, on the south eastern shore of the island is lined with just a few spectacular mansions, but its mostly wide open sand and beach dunes. Hilton Head's beachfront continues 12 miles up island along the Atlantic. You can ride your bike on the beach, or walk for miles, wade in the warm water, or just lounge in a beach chair and watch dolphins just off shore swim in the surf.
Boat
Get out on a boat tour, a shrimp and crabbing expedition, or a dolphin tour. On our shrimp boat tour with Vagabonds Cruises from Harbour Town, I felt like Forrest Gump as Captain Spike and crew cast out shrimp nets in the bay. As we trawled the calm warm waters, I pondered the many ways we'd cook our catch– popcorn shrimp, BBQ shrimp, shrimp cocktail. Like Forrest, I was overly optimistic, we caught three shrimpy shrimp, but the unexpected bounty was the pod of dolphins we discovered. Over 500 dolphins reside in Calibogue Sound off Hilton Head Island.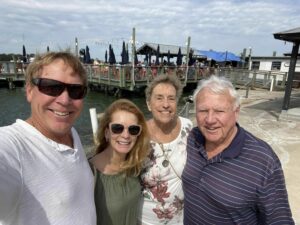 Happy Hour on HHI
HHI may be an acronym for Happy Hour Island. So many waterfront bars and restaurants offer early bird dining and drink specials. Skull Creek Café and The Salty Dog are two favorites. Hudson's has a great happy hour too out on the deck, with a sunset view. HHI is in the Low Country for its obvious sea level and lack of hills, warning: it can be humid and buggy. We nicknamed it Slow Country as the majority of HHI residents are retired, drive slowly, drink and eat early, and are in no particular rush. Even the roads on Hilton Head meander and swerve, with the exception of the faster Cross Island Parkway.
Continued below…
Don't Bluff at Bridge
Given Hilton Head's majority of retirees, Bridge is a serious pastime. You can pick up a game at many a strip mall open bridge club. Or if that's not your speed, take the bridge to Bluffton – this authentic seaside town is so cool, named a top retirement community. Take in the art, the local crafts, then grab a brew and some fried shrimp or crab at the Old Town Dispensary.
Sea Food and Eat It!
Hilton Head has superb seafood, served southern style. Crab cakes, she crab soup, oysters, shrimp served with grits or in gumbo – the ocean's abundance will fill your plate. Hudsons on the Water is THE Best for fresh seafod – not fancy but fun, and on the waterfront.
Best BBQ on HHI! One Hot Mama
This modest restaurant in Reilly Plaza serves THE best BBQ – brisket, pork, chicken…you name it. Good value, great portions! Not surprisingly Mama Orchid, the Chef, was a top contender on Food Network Stars. Bring your appetite to One Hot Mama's!
Early Bird Special @ Hilton Head
Nunzio is a fantastic dining experience on Island. Chef Nunzio is amazingly clever with his Italian inspired cuisine… and the early bird deal is not to beat. $35 for a starter, entree and dessert – excellent portions, delicious flavors, a chic interior, and $9 glasses of wine too if you go for Nunzio's early seating!
All That Jazz
Go to Hilton Head's Jazz Corner for outstanding live jazz. Jazz Corner's unassuming location in a strip mall offers surprisingly top shelf entertainers each evening. Coast at the Beach Club at Sea Pines also has jazz select evening on the top deck overlooking the beach, by firepits.
Other Southern Belles – Charleston & Savannah
Hilton Head is just 20 miles northeast of Savannah, Georgia, and 95 miles southwest of historic charming Charleston to round out your vacation with a little southern history, haunt, happenings and education. Nearby Bluffton and Beaufort are fabulous hamlets as well for tours and sightseeing.
Hilton Head Island is named after Captain William Hilton, who in 1663 identified this headland near the entrance to Port Royal Sound, which he named "Hilton's Head" after himself – pompous perhaps, but the man had taste. Today, 70% of HHI is gated with well-planned communities, so it's recommended to stay within a resort like Sea Pines or Port Royal so you can access the best beaches and activities.
Be sure to visit charming Charleston South Carolina and sister city Savannah Georgia during your trip to Hilton Head Island, as well as Beaufort South Carolina and sister city Beaufort North Carolina.
More of our favorite US Travel Destinations:
New York City's best
Top Things to Sea and Do in Provincetown
Best of Kennebunkport Maine
Jekyll Island Georgia
Amelia Island Florida
Key West Florida
Miami Luxury Travel
Fort Lauderdale
Gulf Coast – Sarasota, Siesta Key and Venice
Charleston South Carolina
Savannah Georgia
Seattle Washington
San Francisco and Napa Valley California
"Do not follow where the path may lead. Go instead where there is no path and leave a trail." –Ralph Waldo Emerson