Maine's midcoast is where the real magic of Vacationland starts… where this beautiful state offers dramatic granite shores, majestic lighthouses, lots of lobster, and miles of coastline connecting small harbor towns like Rockland, Rockport, Camden, and Belfast. Dramatic peninsulas stretch out to spectacular points like Boothbay Harbor, Pemaquid and Port Clyde.
Port Clyde is a Mid-Coast Maine must-visit day trip to see a truly classic coastal town. On St George Peninsula, just south of Rockland and Camden, many visitors skip over this beautiful spit of land, another reason it's so special. We recommend you check out Port Clyde, while staying a few nights in Rockland or Belfast Searsport.
Enjoy the scenic drive out peaceful St George peninsula, through Thomaston, all the way to the southern tip of Port Clyde surrounded by pastoral fields of wildflowers, salty air and seascapes. Our June visit brought abundant purple and pink lupine, Miss Rumphius' legend, which was a photographer's dream set against the deep blue water, towering pines and sparkly granite boulders.
Start your Port Clyde exploration with a Squid Ink Coffee on Port Clyde's wharf, watching the Monhegan Ferry Boat loading and unloading, bringing people out to that magical remote Maine island.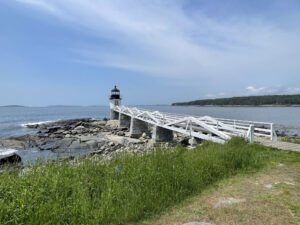 Visit the Wyeth Gallery above the funky old Port Clyde General Store right by the docks, this art collection was more enjoyable than the Farnsworth Museum in Rockland, no admission fee, and beautiful harbor views from the upper floor gallery as a bonus.
Port Clyde Kayak is a great outfitter located here to get out on the water for a guided Maine SUP or kayak excursion. Tamara expertly guides you around pristine bays, with her wealth of knowledge about this region. What a fun way to see the shores, maybe some seals, plentiful varieties of seabirds, and places you just can't reach otherwise.
While in Port Clyde, drive to Marshall Point Lighthouse which dates to 1858. It's one of Maine's prettiest lighthouses, there are over 70 grand Maine beacons – so that's a list for another day. Marshall Point was more recently famed in 1993 when Forrest Gump was filmed here. Remember the celebratory scene of Forrest (Tom Hanks) jogging out the lighthouse ramp after running all the way across the country from California (Run Forest, Run!)?
Definitely walk Clark Island Preserve, a serene 2.9-mile loop of nature trails overlooking Penobscot Bay on Spruce Head, midway up St George Peninsula. Park behind the Craignair Inn in the few designated parking spots and walk this beautiful seacoast trail managed by Maine Coast Heritage Trust. Enjoy lunch or just a drink at the Craignair out on their cove view deck after your invigorating walk. Maybe you want to spend the night at the Craignair too. Craignair's food is sophisticated for such a small Maine inn. Or if you are hankering for a Maine lobster roll…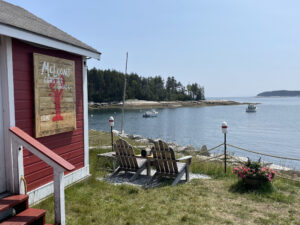 Drive out to Spruce Head Island – a spectacular route – to McLoon's Lobster Pound for a classic casual setting and THE best lobster roll – as it should be… McLoon's delicious lobster roll is perfectly made, simply with a buttered toasted hotdog bun, and just a hint of mayo brushed on plentiful fresh chunks of lobster meat, served with a side of drawn butter. Enjoy your lobster picnic "the way life should be" overlooking Penobscot Bay and a few of the fishing boats bobbing in the picturesque harbor.
In Owls Head, just east of Thomaston, Birch Point State Park is a beautiful beach at low tide where you can hike over gorgeous granite boulders along the shore with incredible views of the start of Penobscot Bay. Continue north to another beautiful beach – Crescent Beach State Park, then up to Owls Head Light in the same-named State Park. This Lighthouse is dramatically perched on a point navigating boats into the south end of Rockland Harbor. Rockland Breakwater Light marks the harbor to the north entry, where Samoset Resort is located.
Samoset Resort in Rockland is a beautiful seaside destination, and an ideal full-service resort with Golf, spa, and harbor views, a perfect place to stay a few nights while you explore the MidCoast. See our Samoset review.
Definitely discover Maine's midcoast, it's a gem for lovers of art, lighthouses, lobster and gorgeous granite scenery along the magical seemingly-endless coastline that is Maine. Also venture a wee-bit north of Rockland to Camden, Belfast and Searsport – more fun Maine coast towns.
More on:
Kennebunkport Maine
Boothbay Harbor
Belfast Searsport
Port Clyde
Rockland
Best of Boston
Newburyport Things to Do 
Provincetown Things to Sea and Do
Rhode Island's Newport and Block Island
New York to Maine boat voyage
New York City's best things to see and do
Sailing the Chesapeake Bay