Dijon France 47°19'0.01″ N 5°01'0.01″ E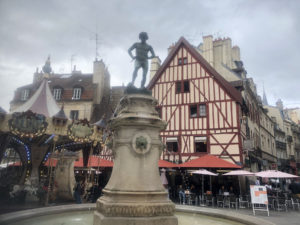 Dijon is among the most delightful small cities we visited in France. Surprisingly charming for hosting 150,000 citizens, Dijon offers grand pedestrian zones and historic sights – only Paris has more monuments and museums in France. Dijon is oft-referred to as little Paris, this is where Parisians go on holiday. Dijon's old city is very walkable and vibrant, just contemporary enough with modern shops along pedestrian Rue de la Liberté emanating from Port Guillaume, a mini Arc de Triomphe.
Dijon is to Paris as Florence is to Rome, beautiful but smaller – less crowds, more manageable, with much history to explore.
Dijon, the capital of Burgundy – is home to the Duke's Palace which is lavish, grand, and emblazoned with gold, which you can tour, In Roman times, Dijon was a key strategic location between Lyon to Paris, making it a place of tremendous wealth and power since the 11th century. Evidence of Dijon's history remains on every street corner, Gothic to Medieval timber frame buildings, and Burgundian roofs. Of the Renaissance.
Dijon is spicy too, right down to its legendary mustard MAILLE. Yes, world-famous Dijon mustard originated here in 1826, when Jean Naigeon used acidic juice of unripened grapes for vinegar and created this coveted mustard recipe. You can visit the Maille headquarters and boutique for tastings and purchases, and La Moutarderie Edmond Fallot store for Dijon mustard dating to 1840.
Dijon is rich with food and wine, cultural events and art, and city-wide festivals.
Top Things to Do In Dijon: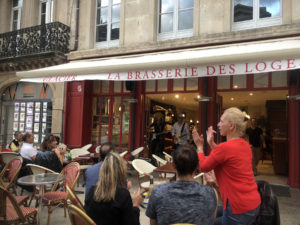 The Owl Tour, "course de la chouette" is a fun guided tour of 22 of Dijon's gems. Buy the $5 Euro map or download the $2 app.
Port Guillaume & Jardin Darcy is the hub (look for the Arc de Triumph replica and fountain), this is a happening park to see and be seen, leading to the pedestrian zone Rue de la Liberté.
Hotel la Cloche is the elegant 5 Star hotel in the heart of Dijon, overlooking Darcy Park. This is THE place to stay, the interior has a very chic décor from the lobby and bar to the outdoor terrasse.
Climb the Tower Phillipe le Bon, the 15th century tower – if you can. You must reserve in advance to ascend 316 steps for a panorama of Dijon's amazing rooftops and bell towers
Tour the Duke of Burgundy Palace dating to 1366 – which also houses the Museum of Beaux Arts.
MAILLE Dijon is a must for mustard, with a perfect location on the pedestrian Rue de la Liberté. Learn about this classic condiment and taste their many flavors.
Notre Dame is a 13th century church, worth a visit, a masterpiece in the center of the old city of Dijon, near the Duke's Palace.
Cathedral St Benigne, an 11th century church now housing an archeological museum in the Abbaye's crypt.
Hôtel de Vogue is a fabulous palace in this mustard-famed town, this 17th century family home tucked behind Notre Dame on Rue de la Chouette (owl street) is a grand renaissance building.
Gerard Depardieu's movie "Cyrano de Bergerac" setting is at 10 rue de la Chouette in a typical humble timber frame Maison Millière of 1483, next door to the House of Vogue.
Place Francois Rude is the place for Happy Hour and people-watching at a sidewalk cafe by the carousel.
Between Dijon and Paris– some cool villages, cathedrals and châteaux along your journey: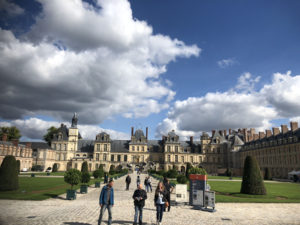 Semur-en-Auxois is an authentic medieval walled settlement perched on a pink granite bluff, worth a photo from your approach (note the cracked tower), best explored by foot once inside the fort. Stroll the cobblestone pedestrian streets, through stone archways passing vintage cafés and shops.
Flavigny-sur-Ozeraim is a quiet medieval fortified village, considered one of the most beautiful in France. This is where the sensual movie "Chocolat" was filmed with Johnny Depp & Juliette Binoche, and home to the famous Anise candy shop.
L'Abbaye de Fontenay near Montbard is an expansive Cistercian abbey from 1118, one of the oldest monasteries in France. The monks here were totally self-sufficient, and the abbey is incredibly well preserved considering it was turned into a factory at one time.
Le Château Ancy le Franc is a beautiful 16th century château with immaculate grounds, gardens and a masterful interior of Italian renaissance style from the decadent times of the Dukes of Burgundy. The murals, distinctive woodwork and rich décor capture the height of aristocracy and flamboyance.
Château de Tanlay is another impressive French castle, in the tiny tree-lined town of Tanlay. This perfect scale moated château features a large courtyard and encompassing grand halls with authentic décor, plus peaceful gardens and horse stables.
Château Fontainebleau an hour south of Paris, is arguably France's most opulent palace, in the league of Versailles. This sprawling castle of French royalty dates back to the 1100's, and spans the decadent procession of Kings and Queens, Marie Antoinette to Napoleon slept here. The décor and grand scale of every imperial hall and gorgeous salon is jaw dropping. This Chateau and its 130 acres of gardens and fountains takes time to explore and a lifetime to fathom the finances.
See our France Travel Reviews:
France luxury vacations
Burgundy Valley
Beaune
Dijon
Auxerre
Boating the Burgundy Valley
Skiing The French Alps
Courchevel, Meribel, Vale Thorens of Les Trois Vallees
Avoriaz, Les Gets, Morzine of Portes Du Soleil