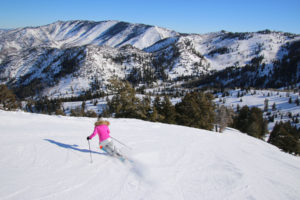 Powder Mountain at a Glance:
8,464 Total ski able acres
Lift served acres: 2,876 with 164 runs
507 acres Cat Skiing and 5,081 acres accessed by a hike or shuttle
9 lifts, 4 chairlifts including 1 high speed quad
2,500′ vertical drop
500 inches of snow annually
Since 1972
Powder Mountain is a very impressive ski area, and a cool concept- the ski area is managed by The Summit Group – an elite ski group of tech wizards and web wonders. Majority owner is Reed Hastings, founder of Netflix, as of 2023. But, good news – Powder is open to the public… unlike Yellowstone Club for example.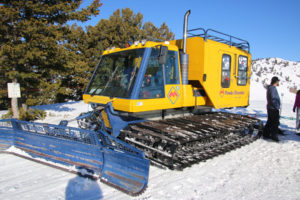 Powder is in Eden Utah, a kind of paradise of its own, not far from Salt Lake City but worlds away too, up a black diamond access road. Powder is near Snowbasin Ski Resort, with vast terrain and stunning views within its 8,000 acre mountain haven.
Powder's base looks homespun and humble, with old alpine lodges and mostly fixed grip lifts, and skiing in all directions on 2,876-acres lift-serviced by 9 lifts total including a high speed Hidden Lake Express quad as the centerpiece.
Powder's methodical Paradise fixed grip serves great chutes and fun trails like our favorite Snowchaser. Mary's Bowl on the backside of the Summit Village has wide-open cruisers and beautiful aspen glades, as does the mellow Village Lift.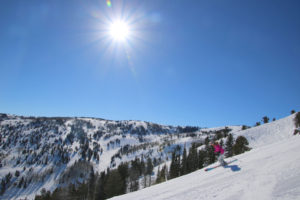 But there's much more to Powder than the dozens of maintained groomed trails, including two in-bounds cat ski operations – just $25 a ride in Lightning Ridge and Rain Tree areas, for untracked powder turns in steeper chutes or wide-open bowls even the day or two after a snow storm. Powder also has guided sidecountry tours amid 5,081 acres of  all-natural terrain. Its a big playground for skiers on privately owned land. 
Powder is 100% natural snow, and totally authentic. The pace is slower, the vibe is health, outdoorsy and friendly.
Powder limits ticket sales to 1,500 skiers a day to the public, still under a $100 a day. Ski instructors offer all day kids camps, and ski guides are available to tour mom and dad around beyond the groomed boulevards.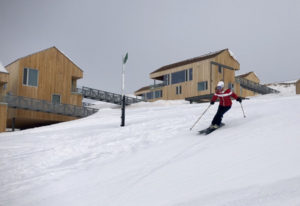 Lunch at Powder, go to the Powder Keg  in the lower mountain Timberline Lodge. Order a steamy noodle bowl, made from scratch and delicious from this open-concept kitchen. This humble pub is a where Powder's apres ski happens many nights of the week with live bands, or Tuesday Trivia night. At Hidden Lake Lodge up on the mountain, its burritos and tacos made to order, take your tray upstairs for the best Utah view.
Cofounders purchased Powder Mountain Ski Resort in 2013 for a reported $40 million for the vast ski acres and six peaks in the Wasatch Mountains near Snowbasin, including Elliott Bisnow, Brett Leve, Jeff Rosenthal and Jeremy Schwartz.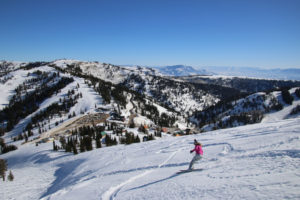 Summit Powder Mountain Village is in the works, at the "summit" – a cluster of 400 modern alpine boxy homes, all ski in-ski out in a podular minimalist design are popping up, plus The Sky Lodge is for social events including their annual Summit Series that gathers 1,000 genius minds at Powder several tiems a year, the movers and shakers for "new media platforms and old-school conversation," particpating in activities from "ropes courses to robots".
Nicknamed ClubTed, Summit members aim to "build community, catalyze entrepreneurship, address global issues, and support artistic achievement, in an effort to make our world a more joyful place," according to their Facebook page. Yes Mark Zuckerberg is on the list, along with Richard Branson.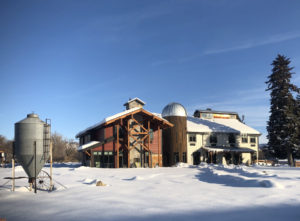 Powder has remained real and rustic, and open to the public, despite the influx of yuppies and power-execs with their private pod homes and manses being built around the mountain.
Lodging at Powder, there are modern homes being built on the slopes, and vintage Powder Ridge condos, and you can stay in nearby Eden or Huntsville (both small Utah towns) at the lovely boutique Compass Rose Lodge, or 20-minutes away in historic Ogden where there are all the major hotels.
Check out Powder Mountain – its authentic, fun, friendly – with amazing alpine terrain, and a very cool semi-private business model. A Powder Snowbasin ski trip would be an ideal mix as both Utah resorts are proximate to each other, very unique, and each super fun to ski!
See More Utah Ski Reviews:
Alta
Deer Valley
Park City
Powder Mountain 
Snowbasin
Snowbird
"Every risk is worth taking as long as its for a good cause, and contributes to a good life." – Richard Branson