Passau Germany is a charming Bavarian village, near the Austrian border which serves as the perfect starting point for a Danube bike tour to Vienna.
Once part of the Roman empire, then the Habsberg family's Austrian empire, Passau is now German. It's a 3-hour train from Vienna, literally 20-minutes from the Austrian border. A couple of days in Passau is well spent.
Passau is called the City of Three Rivers – where the River Inns from Switzerland, the Danube and the Ilz from the north all merge dramatically. You can actually see the three different water colors where they meet from Passau's shores – the blue Danube, the green Inn and the black Ilz. Because of the confluence of waterways, Passau's other nickname is "Bavarian Venice ."
Here are a few fun things to do in Passau:
Climb up to the 1219 Oberhaus Fortress – the crowning glory of Passau. The Fortress "Oberhaus" overlooks the rivers and village, especially from the newly renovated panoramic observation tower. The collection of B.C. to Roman, medieval to renaissance relics in the old Castlemuseum is amazing, particularly the vast armament – coats of arm, steel helmets, spears, guns and various medieval weaponry that demonstrate mankind's long history of warfare.  Walk the Fortress grounds to see perhaps the best views of the three rivers meeting.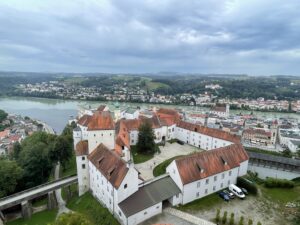 St Stephens Church is the centerpiece of Passau. Enter this 1688 cathedral (though there's been a church here since the 8th century) to view the largest church organ in Europe, it rivals the massive organ at the Annapolis Academy's Chapel. It would be a treat to attend a concert or mass here to hear the music from these legendary 17,774 pipes and 233 registers.
Exploring Passau's beautiful cobblestone streets is pastime enough here. Follow the colorful Artist Stroll which leads you past galleries and workshops along brightly painted bricks in the old town.
St. Michael Church and the Mariahilf Monastery is a magnificent hilltop pilgrimage site overlooking Passau's old town from the south side, offering a different perspective on Passau and the rivers' convergence.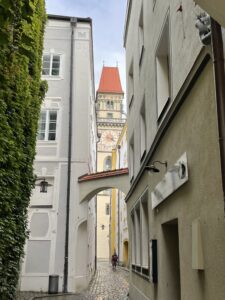 Sip local wine, or Viennese coffee at Ludwigstrasse, Passau's pedestrian square, and just watch the world go by as people have been doing for centuries. A glass of Gruner Veltliner (a crisp clean Austrian white wine) is perfect at a café in the popular square late afternoon. Of note: Passau village (population 50,000) is so pleasant once the throngs of daily bus and boat tour groups depart.
The Donaupromenade, along Passau's riverfront, is another square where you can watch the riverboats come and go and enjoy a cool view of the Oberhaus on the hilltop. Grab a bar table for a wine or beer from the outdoor Brauhaus beer garden, by the Rathaus – the old Town Hall. How humorous that they called the political offices rat-houses in German
Passau's authentic boutiques in the Old Town down cobblestone streets and alleyways sell Bavarian goods. Shop for Lederhosen or a Dirndl, handmade crafts, lace, and local food like Bavarian cheese and meats, and liquors made from fermented fruit.
Dining In Passau:
Anton is a delightful bistro for a homemade breakfast or lunch in an enchanting setting. It's a veritable tea salon with a Viennese cafe vibe. Sit out in the intimate courtyard terrace out back or in the cozy bustling bistro interior. Egg dishes, homemade soups and Bavarian cheese sandwiches, plus flaky pastries and desserts are a few of the temptations, with rich coffee or local wines.
Bouillabaisses Fischrestaurant is so special, this very small five-star family-owned place serves delicious fish cooked on a rustic grill. We sat at the cozy bar to watch the Chef season and serve our local parrotfish fish after our starter of their signature Bouillabaisse. The fresh-grilled garlic bread, the local suggested wine, everything was delectable – one of our best meals on our bike trip. Reserve ahead!
Heilig Giest is a classic dining spot, the oldest restaurant in Passau – over 1000 years. You will be seated in a traditional old Stiftskeller dining room and served Austrian and Bavarian dishes of deer, beef, pork, or fish, with local mushrooms and Spatzle. Specialties include grilled pork knuckle, the best potato salad ever – Kartoffelsalat, and of course Cordon Bleu and Weiner Schnitzel.
Café Stephan's Dom is the prettiest tea house ever. All donned in pink, it's a magical spot for a spot of tea or coffee and an afternoon sweet treat of freshly baked pastry, cake or strudel. You'll feel like you have arrived in Barbie's Dreamhouse, only much more historic on the hallowed ground of St Stephan's Church. Their Greindl Passau homemade praline and gingerbread are legendary, made right here in their workshop and available to take away in beautiful pink packaging.
Lodging in Passau, we loved Passau Suites for its perfect location in the historic district right near the riverfront too. Our lovely Caroline studio had a balcony with a limited view of the Danube. Our suite was modern, quiet, clean, with a luxurious bed and bath, plus a fridge stocked with complimentary wines – Red Blaufränkisch and White Grȕner Veltliner, soft drinks and cold beer, plus a coffee maker and snacks. Stephanie checked us in and gladly gave us tips of where to go and dine in Passau. Plus she gave us access to their private storage for our bikes, as we planned to bike from here to Vienna.
You can rent bikes from Fahrradladen Passau or Fahrradklinik in Passau for a day, week or a one-way trip to Vienna if you wish to cycle the Danube. We found Fahrradladen to be very service oriented with a nice selection of sturdy reliable bikes and bikes for our journey. Our trustworthy bikes came with bells, integrated locks, and a rack for our pannier bike luggage we had packed for our unassisted bike tour.
See our review of cycling the Danube.
Danube River Bike Tour
Wachau Wine Region of Spitz, Dȕrnstein and Krems
Vienna Top Things to Do
Top Things to Do in Prague