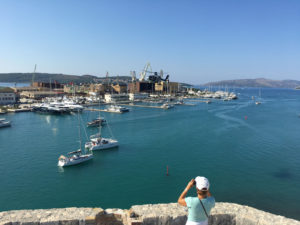 Split is the largest port city on the Dalmatian coast of Croatia. This Mediterranean city bustles with over 400,000 people, anchored by a busy harbor, surrounded by spectacular mountains as backdrop.
Tour Split's Roman ruins dating to the 7th century, and the 15th century People's Square, Diocletian's Palace – the heart of the city. Split is noted for its museums, especially those featuring famed Croatian sculptor Ivan Mestrovic.
"Split" from Split (pun), and go to Trogir. We chose to charter a boat with Argola Charters, to cruise to the charming island village of Trogir to explore the Medieval fort, Roman Gothic churches and palaces. St Lawrence Cathedral bell tower is worth every step for the panoramic view. Marble alleys lead back to the beautiful waterfront Piazza of this Greek and Roman cultural epicenter. The village of 10,000 was celebrating during our visit, school children paraded along the waterfront, local music and laughter filled the air – a most pleasant scene.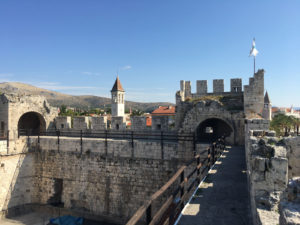 From Trogir's ancient city walls, Captain Mario brought us along spectacular coastline, dotted with deep caves carved into limestone cliffs.
At the Blue Lagoon, we anchored and swam in the crystal clear turquoise waters, buoyant as can be in the salty Adriatic sea. The setting is Caribbean meets the Mediterranean… so picturesque, tranquil, true blue.
Stomorska Harbor is a quaint fishing village on Solta Island in Split Dalmatian county. Steps from our boat dock, we sat at beautiful table hanging over the water at Restaurant Turanj. Carafes of local wine were the perfect accompaniment to shared plates of fresh octopus, marinated tuna, charred local fish, and shrimp risotto. The al fresco setting and incredibly fresh seafood were as authentic as the Croatian hospitality. Strolling the island shops along the harbor after our repast was idyllic before boarding our charter boat for a scenic boat ride back to Split.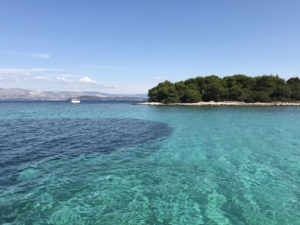 In Split, the Games of Thrones tour is popular, especially for fans of Daenerys Targaryen. This Game of Thrones excursion explores season 4 and 5 locations in a 6 hour adventure from Split. The GOT tours takes visitors to The Klis fortress which is "Meereen ", and Kaštel Gomilica which is "Braavos", and to see Split's Diocletian's Palace and the Vestibule and Golden Gate – all recognizable landmarks from the HBO series GOT.
Krka waterfalls is another spectacular park near Split, an hour and a half ride to the beautiful countryside of Croatia to see Skradinski Buk – the largest waterfall.
Split a bottle of Zinfandel, another split pun, at a café near People's Square. "Crljenak Kaštelanski" also known as Zinfandel is a plentiful Croatian grape grown, plentiful and rich in body – harvested in wineries near Split. Cheers… or "živjeli" in Croatian!
Split is a UNESCO World Heritage Site, since 1979, as is nearby Trogir. This tourism award is a blessing and a curse to travel destinations, for attracting throngs of selfie-taking crowds on summer days.
Split is north of Dubrovnik, and south of Hvar, Trogir, and Zadar – all beautiful historic ports of call on Croatia's coast.