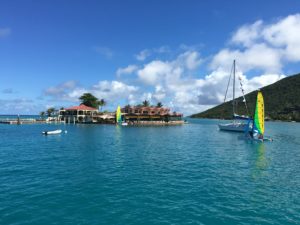 British Virgin Islands offer the best sailing in the world. With over three dozen islands and sparkling Caribbean waters to explore in the BVI, the four largest British Virgin Islands are Tortola, Anegada, Virgin Gorda and Jost Van Dyke, its prime for a luxury yacht vacation.
NOTE: Some BVI anchorages and resorts were impacted during the September 2017 Hurricane Irma, recovery efforts are slow in some parts of the Caribbean.
Located 60 miles east of Puerto Rico, and just east of the US Virgin Islands, the entire British Virgin Islands comprise only 59 square miles, so its ideal cruising territory – close and incredibly scenic.
This Caribbean archipelago of BVI is exceptionally yachtsmen friendly, English speaking, with dozens of secure harbors and gorgeous cays. The best way to explore the BVI is by yacht, you can rent a barefoot boat if you are an experienced sailor or boater, or hire a Captain and crew,  and put your feet up on a fully provisioned yacht for a relaxing luxury week aboard a beautiful boat – power boat, catamaran –  dual hull as they say, or sailboat- aka: mono-hull.
See our Tips for Sailing a Charter in the BVI for the best cruising, or renting, "chartering", a yacht in the BVI for a week's sailing vacation in the spectacular, sunny British Virgin Islands.
Top Anchorages in the BVI
Tips on Chartering a Yacht in the BVI 
"To reach a port we must set sail – sail, not anchor, sail, not drift." ― Franklin D. Roosevelt