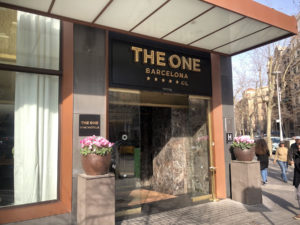 Barcelona is home to hundreds of hotels and thousands of fabulous restaurants. Among the best located hotels, near Barcelona's sights and best tapas, shopping and strolling, with luxury five star to more affordable hotels, and a well-articulated staff, are the H10 hotels (H10 has a total of 15 properties  in Barcelona).
THE ONE BARCELONA is a beautiful 5-stay hotel, this "ONE" is incredibly well-located in the Paseo de Gracia area right next to Gaudi's La Pedrera and an easy stroll to La Rambla. Highlights of this luxury Barcelona hotel, aside from its primo location, and gorgeous suites (automated-blinds from your heavenly soft bed with sumptuous linens, and a spa-like marble bath with robes) is THE ONE rooftop.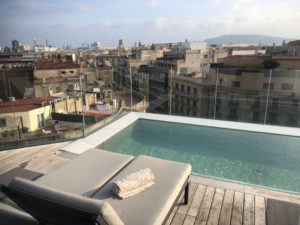 From The One's 9th floor, you step outside to spectacular views of the city – with glass walls as railings so as not to impede your look down. Perhaps not for agoraphobias. A seemingly-infinity swimming pool sits atop this roof oasis, along with chaises and couches by firepits. There's a bar and get this – a Swiss Fondue restaurant serving melty cheese pots! The Swiss chalet inspired eatery is called MOOD. I think that's reference to the chic alpine décor or just the sound of a Swiss cow…moo. To complement the Swiss atmosphere, there's a small "Swiss" ice rink on the rooftop too, next to the swimming pool, how novel. The ice skating is actually synthetic ice  – Barcelona's temperatures are not cold enough for that typically here on the Mediterranean. Still, skating on a roof in Spain is pretty "cool".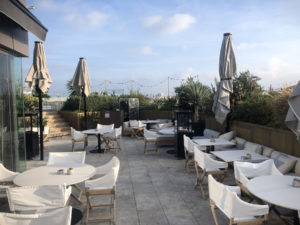 Order a glass of Cava (Spanish bubbly) and toast to your panorama of sights you explored today – the Sagrada Familia and the sparkly glass Agbar Tower in the northern direction, the waterfront Barcelo and W Hotel  – Vela that shimmers like a blue sail by the sea to the east. Most stunning, La Pedrera is just two rooftops away. It's entertaining to watch the tourists taking selfies from Gaudi's otherworldly roof of Casa Mila with its sparkling tile chimneys from the comforts of your posh hotel. At night, all these amazing Barcelona landmarks light up brilliantly. You may even catch a fireworks display as the Spanish are constantly having fiestas to celebrate their many saints, Spanish and Catalunya historical dates, and of course their food – too many foodie holidays to mention.
Need a Spa after walking the network of Gothic streets and grand pedestrian zones of Barcelona? THE ONE DeSPAcio (clever name yes?!) is downstairs. This luxe spa is cool, calm and serene, with warm water soaks, plus massage and beauty treatments available to relax or refresh you. It's that or a Spanish siesta in your beautiful guest room, or both! The Spanish are late night people, dinner is 9 or 10pm, so there's no need to rush.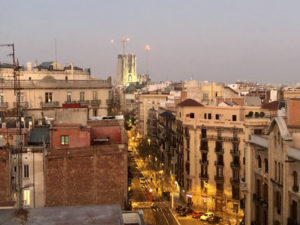 Mornings at THE ONE, a delicious breakfast is served at SOMNI, the inviting lobby bar and restaurant with a view of Barcelona's streets. A complete menu of American, Catalunyan or Spanish breakfast is à, al carte – with eggs, local jamon ham, artisan cheese, tomato, yogurt and fruit, plus a heaping basket of wonderful breads and fresh pastries like warm pain au chocolat. A fresh made cappucino or café  will fortify you for the day exploring Barcelona. The Concierge can hail a cab, share tips and restuarant recommendations, make reservations as well! We loved Cuitat Condal on the pedestrian zone of La Rambla for lunch, and Calle Bruc – Lokal Bar a 5-minute walk away for vino, tapas, black squid ink rice, served by a fantastic friendly staff.
Another lovely H10 Hotel is H10 CUBIK 4* on Via Laietana, 69. This four-star hotel is relatively new (2015) and modern, ideally poised near Passieg de Gracias, near Barcelona Cathedral and the city's historic Gothic quarters, and a short walk along La Ribera to the Arc de Triomf (smaller version of Paris ) and the entrance to Ciutadella Parc. From here, you can walk down to the waterfront, La Barceloneta, to see the 2-kilometers of beach, Fisherman's village with its many seafood restaurants, and Barcelona's yacht club and marinas with the most spectacular international yachts.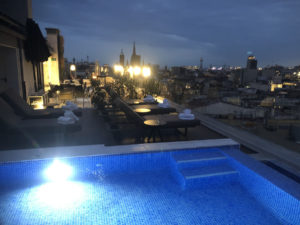 H10 Cubik is more trendy with its mid-century geometric style, and plenty of natural light through the Gaudi-like windows. This Barcelona hotel offers large, bright rooms, the Market restaurant, Robotik Bar and the Atik terrace located on the eighth floor with a plunge pool and spectacular panoramic views of the city.
H10 Cubik is also perfectly positioned near great tapas bars, and also near Gaudi's Casa Bottla  and La Pedrera –  Casa Mila, and a long beautiful walk to Sagrada Familia. Barcelona's streets are wide, with trees and rounded corners at each bock that invites light and creates a park-like atmosphere amid the centuries' old stone architecture.
Our "classic" category suite had a fantastic balcony where we enjoyed watching the sun set over the Barcelona's artistic buidlings. Thoughtful bath amenities, a grand comfy bed and gracious bathroom were the perfect respite after our travel day.
We loved the rooftop Atik of H10 Cubik, this terrace on the 8th floor hotel top with its amazing views has a very trendy bar and tapas style café. Sit outside and sip your vino tinto or blanco, or a Spanish cocktail, and marvel at this 2,000 year old city below. There's the smallest wading pool here too – a fun amenity eight stories above Bareclona's bustling streets.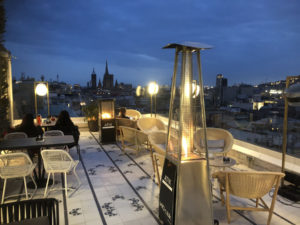 Back in the Hotel's lobby, there's a neat library with a funky circular book case, and a trendy Robotik bar where you can enjoy a cocktail and lite bite and watching the Barcelonans stroll by outside on the sidewalk.
Mornings at H10 Cubik, downstairs a grand buffet breakfast is offered in The Market, a brightly light dining café. Servers bring your coffee and anything you wish from the à la carte menu of made-to-order eggs, ham, bacon, and assorted hot menus items – even sauteed msuhrooms! A delicious fresh roasted café con leche (coffee with steamed milk), fresh baked bread and pastries, smoked salmon, local cheese, and iberico ham, plus fruit from the bountiful buffet were plenty for me.
Barcelona's best shopping is an easy stroll from H10 Cubik hotel, Spanish department story Cortes Inglés, brands like Zara and Womens Secret (the spanish Victoria's Secret)  and boutiques just around the block. You are in the heart of Barcelona's delightful tapas restaurants – from cozy and historic to trendy and neat, and Michelin gastronomique spots.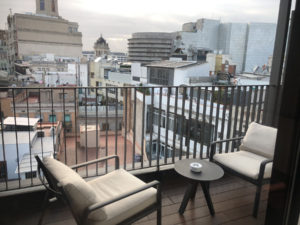 Anita Flow – Carrer del Consell de Cent, 415, is a cool spot for a delicious brunch on morning arrival in Spain. 
La Alcoba Azul – Carrer de Salomo Ben Adret 14, is an authenticly Spanish bar and café with artful and tasty tapas, so many wines by the glass and a friendly team of servers. Our lamb and goat cheese toast, patatos bravas, and several other small plates were too good to describe.
Check out these H10 Hotels in Barcelona, and check in for a refreshing and relaxing stay near Barcelona's best attractions, see our review of top things to do in Barcelona, and don't miss their rooftop bars where you can drink in all of Barcelona with a bird's eye view.
See our reviews of Spain
Top Things to See in Barcelona
Where to Stay in Barcelona