Most skiers do not think of skiing in Spain, opting for the Alps of Austria, France and Switzerland for a luxury ski trip. But Spain is home to 3,000-meter vertical drops off 9,000' mountains (2,610 M), with alpine skiing in the north of Spain along the French border in the Pyrenees. There is also skiing in the south of Spain in the Sierra Nevada's!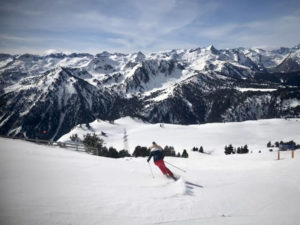 What we love about skiing Spain most, aside from the frequent sunshine and delicious vino, tapas, cheese and jamon (ham) served on mountain, is the friendly people. Spaniards are proud, but not pretentious like the French, the Spanish are more relaxed than the Swiss for example. They wake later (few on first chair), take big ski lunches on the mountain, and siesta après ski. They dine at 9 or 10pm and party late, hence they're not on first chair. Perfect when it's a powder day and they're sleeping.
Baqueira Beret is Spain's biggest and most visited ski resort, with 170 kilometers of pistes. Baqueira Beret with over 5,600 skiable acres is slightly larger than Vail Colorado! Located just two hours from Toulouse France and just over three from Barcelona, Baqueira Beret is in the historic Aran Valley of the Pyrenees. Skiers flock to Baqueira especially at Christmas and holidays because of the resort's typically good snow, sun, scenery and on-mountain restaurants, umbrella bars and sun decks. Modern ski slopes descend to rural villages of stone and wood houses with beautiful Romanesque churches steeples. Baqueira's ski slopes are well-groomed, and with fresh powder – its a playground just off-piste.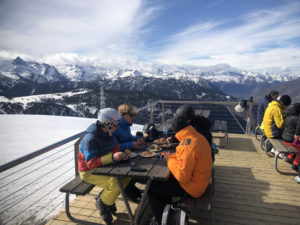 Other Spanish ski resorts include Posets-Maladetas in the Spanish Pyrenees. La Molina – Spain's first ski-lift and ski-school, nearest Barcelona which has 54 runs and the biggest half-pipe in the Pyrenees. Masella is near the French and Andorran borders on Tosa d'Alp with 65 pistes of all levels, just 90 minutes away from Barcelona. Formigal in the Aragon Pyrenees has 90 ski runs with a favorable north west exposure.
Near Madrid, Navacerrada is the closest ski resort to the capital. Sierra Nevada is the most southerly ski resort in Europe, just outside Granada, on the northern slopes of Veleta, Spain's highest skiing and the third highest peak at 3,398m on the peninsula of Spain.
Note: most in the Spanish ski resorts speak English, and they're gracious and helpful with your Spanish, or you can speak Span-glish– a mix of the two.
See our reviews of Spain
Spain's largest ski resort – Baqueira Beret
Spain's Val D'Aran
Lodging in Baqueira Beret
Top Reasons to Ski Spain
Visiting Spain