Where to stay on Anna Maria Island …Compass – check!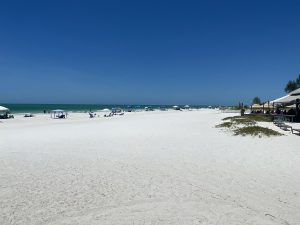 On Florida's friendly Gulf Coast, Anna Maria Island offers vacationers seven miles of talcum powder sand, three fun & funky beach towns, fabulous boating, beach bars, dolphin frolicking just off shore, and fiery sunsets that melt into the sea each eve. That's a vacay in AMI –  local code for Anna Maria Island!
Anna Maria Island is a barrier island, north of Longboat Key, south of Tampa Bay and St Pete, with western views of the Gulf of Mexico, and flanked to the east by the ever scenic ICW – Intracoastal Waterway. The beaches are as soft sand as Bermuda, and far more affordable. The boating is beautiful like Key West, just easier to access!
Where to stay? We loved being just off island, by the Bridge at Compass Hotel by Margaritaville on Anna Maria Sound.  While the island can be busy and trafficky in peak season, this quieter location is so close to everything, especially the waterfront! Thanks to our AMI Concierge for recommending this!
This cool new resort – Compass Hotel Margaritaville – opened in 2020. It's fun, affordable and perfect for families or couples looking to relax.  Boaters can arrive by boat at Safe Harbor Marina Pier 77 – also home to a Freedom Boat Club.
Arriving at The Compass, we immediately felt like we were on "island time" from the Jimmy Buffet Margaritaville music playing throughout the resort, to the salty sea breeze passing through the wide-open lobby doors. Caribbean decor led to a view of the pool and the waterfront – a welcome vibe.  A cheerful team greeted us, and we were quickly checked in and on our way up to our upper floor balcony suite.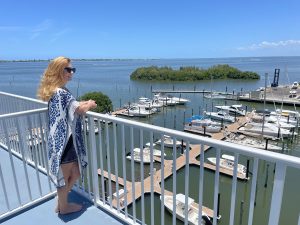 Pulling back our sliding glass door drapery revealed a commanding view of the ICW and the marina below from our grand balcony. I'd have been content sitting here, and enjoying the niceties and amenities in our modern clean beach-chic room. But there was so much to explore on Anna Maria Island.
Bikes are available from the front desk, an easy breezy way to get around the nearby State Park and over to AMI we found. We also signed up to rent kayaks right on property from  AMI Paddleboard on their Eco Tour through the mangroves where we also saw dolphin and many sea birds.
A free island shuttle – Monkey Bus- will pick you up and take you around, even to the beach…"trips for tips"! Afternoons, we returned for happy hour at Compass Bar & Chill – having seen the pool promotion. We sipped and splashed and swayed in a poolside hammock overlooking the coming and going boats in the marina. A few Margaritas and a cheeseburger in paradise was pretty perfect after a day of AMI adventure.  You can also dine at Compass' own Floridays tiki restaurant which offers live music on weekends. Compass has captured the legendary laid-back Margaritaville you picture – casual, chill.
Waking to sunrise over the water from our Compas balcony, we started our island fun day with a complimentary breakfast buffet that we enjoyed poolside, then we set out on resort bikes to the nearby Preserves. Bikes over a snake – but otherwise it was relaxing and so scenic – well the snake was a scene too, for sure!  The rest of the day's agenda included exploring the historic Anna Maria Pier and shopping Pine Ave with a quick trip to Jail, then lunch at Cortez fishing village and happy hour on Bridge Street before a Dolphin sunset cruise. Another AMAzing AMI day!
Plan a getaway to Anna Maria, and stay at Compass Hotel by Margaritaville, then prepare to relax and have fun in the sun!
Top  Things to See, Sea & Do on AMI
Fun Place for Drinks and Dining on Anna Maria Island
Florida Vacation Reviews

"Live in the sunshine, swim the sea, drink the wild air." – Ralph Waldo Emerson
See more Florida Reviews:
Amelia Island- Fernandina Beach
Best of Key West
Delray Beach Things to Do
Boynton Beach
Fort Lauderdale's Top Things to Do
Fort Lauderdale Port Everglade Top Tips
Port of Miami Luxury Hotels
St Augustine Top Things to Do
Sarasota, Siesta Key and Venice- Top Things to Do
Marathon Top Things to Do
"Everyone should believe in something, I believe I shall go to the beach."