When most skiers visit Banff Canada, their goal is to ski Sunshine and Lake Louise and stay at historic iconic Chateau Lake Louise and Banff Spring Hotel. While these grand properties, built by the Canadian Pacific Railway company a century ago, are magnificent, they are not slope side. We suggest you spend a few nights at the only on-mountain ski-in ski-out lodging in Banff National Park – in fact you must ride a gondola to get to this high elevation, ski hotel!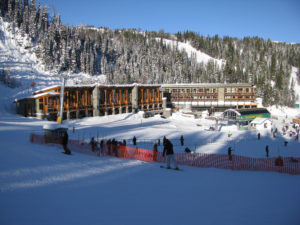 Sunshine Mountain Lodge sits at 7,000', reached by Sunshine Village's swift gondola. You check in at the base, hand your skis and luggage to valet, and ride up the mountain to your on-slope retreat. Sunshine Mountain Lodge is just a  short walk from the gondola platform across the ski trails. It's a beautiful mountain hotel, timbers, stone and glass, with incredible views of Sunshine ski resort. Fortunately we were encouraged to keep our swimsuits handy, so we could hit the beautiful outdoor hot tub upon check in before our luggage arrived to our room. Passing through the Lodge's Spa on our way to the outdoor tub, I'm reminded I can get a massage if I need to be kneaded.
Our view from the oversized hot tub was magnificent, of mountains and Alpen glow as skiers headed down the mountain, and the sun crested on Goat Eye's Mountain trails above. We felt privileged to be remaining at the ski area with the guests of the 84 rooms, and friendly staff of the only hotel. Fellow skiers arrived at the hot tub and reported snowy, white-out conditions from their day on the high-alpine, which promised fresh tracks for us in the morning from our striking distance.
Our alpine chic room was well-appointed, with dramatic floor to ceiling windows, and a picture perfect balcony. Our bags were left neatly in our room, and our skis had been whisked to our ski locker by the slopes.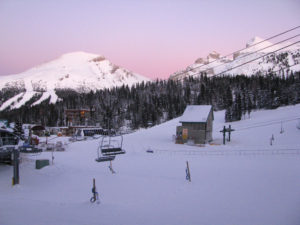 Après ski and evenings, you can take part in family activities like tobogganing or scavenger hunts, or head to the beautiful bar at Chimney Corner – the casual eatery with more stellar scenery and a massive stone fireplace. That was our choice, we found a lovely window high top and toasted with delicious Canadian wines to our good fortune. The attitude at Sunshine is anything but hauty despite its high location. Other dining options are the more formal Eagle's Nest, or Java Lift where we'd go for morning coffee and crepes just off the fireplace lobby. You can also walk across the slopes to Mad Trapper's Smokehouse – the original Sunshine Lodge from 1928. It's a classic, an old wood bar and casual tables, serving après ski poutine, basic burgers and beer kind of place.
Interestingly, the Sunshine Mountain Lodge feels new, but it was a 70's vintage lodge completely redecorated and revamped to its alpine chic with an environmentally friendly status. The West Wing is the newer building, with the perfect floor plan for a family with two story living including a loft for kids, and a showcase cathedral ceiling window.
At night, looking out at Sunshine's jagged snow-capped peaks and stars, watching groomers lights dance around the slopes, we knew we were perfectly poised to be the first on the slopes.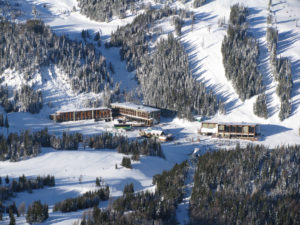 To be first skiing Sunshine's 3,368-acres when you wake and see the lifts start turning from your room is the best part of staying here!  By noon we had skied three mountains, across the Continental Divide from Alberta to B.C. and back again. Sunshine proclaims "best snow in Canada" with its highest elevation, and I would add "best views" as you look out at countless peaks including the pinnacle Mount Assiniboine – the "Matterhorn of the Rockies".
On check out day, we went skiing, while valet promised our luggage would be waiting at the base of the gondola so we could ski the long Banff Ave. trail to the parking lot.
You owe yourself the treat of staying on mountain at Sunshine Mountain Lodge. This intimate mountain hotel has everything you need: amazing views, an attentive staff,  a Spa, dining options, even a ski shop boutique, activities,  and a game room, lovely guest rooms with high thread linens, and location, location, location. Its a Top Ski Hotel in Canada.
During your Banff ski visit, explore historic downtown Banff – its cozy and so Canada! Stroll Banff Ave and pop in some ski shops. Have a drink and apps at the delicious Chef-owned Block. As part of your Alberta ski trip, be sure to ski big beautiful Lake Louise and less famous but fun Norquay – just 7 switchback turns up the hill from Banff village – open for night skiing as well.  These 3 Alberta ski resorts are part of SkiBig3, a Banff cooperative of ski areas sharing ticket deals, and offering diverse skiing at each.
"Never measure the height of a mountain until you reach the top."