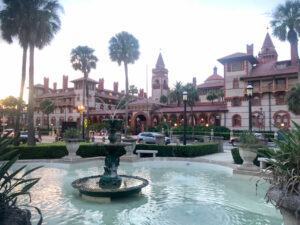 St Augustine is one of the most historical, fun, beautiful coastal communities in the world! This northeastern Florida destination is the oldest continuously-inhabited European-established settlement on the continental U.S. This ancient city of 17,000 is bursting with character, charm and much to explore and experience!
St Augie, as the friendly locals call it, was founded in 1565 by Spanish explorers, which attributes to its stunning architecture and culture, it feels more European than Floridian. For vacationers, its a riviera of beautiful sand beaches and boating opportunities, plus fascinating tours, fantastic culture and global cuisine, we love St Augustine.
Top Attractions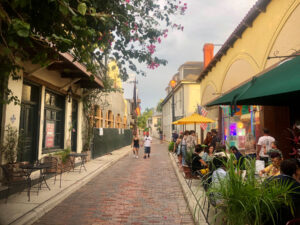 St Augustine Old Town Trolley is a great first stop as a familiarization of the compact but complex setting. Board the open air trolley for a narrated tour of all the highlights of St Augustine. You can hop on hop off all day (for 3 days), or do the 70-minute circuit to witness how St Augustine was founded, fought over by the Spanish and French, and how Henry Flagler created a socially vibrant settlement here at the turn of the century, as he did in West Palm Beach too. If you prefer a private tour, Gold Tours guides will drive you around 450 years of highlights and sights in a private golf cart – great value if there are 5-6 of you.
St George Street is among the top pedestrian streets anywhere, this brick-lined Colonial era avenue leads from historic buildings, passed the country's oldest schoolhouse, to eclectic shops, cafes and lively dining spots. Walk St George's entirety from the Old City Gates and Colonial Quarters to King Street and Plaza de la Constitucion.
Stroll Aviles Street– the oldest street in the nation to see delightful galleries, museums and cafes. The Ximenez Fatio House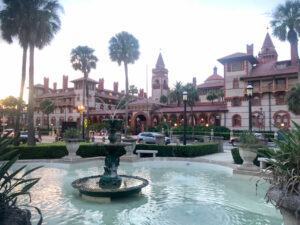 offers fun evening "Heist" events – an old fashioned "who done-it?" murder mystery.
Tour Flagler College – formerly Henry Flagler's bold beautiful 450-room 1888 Ponce De Leon Hotel, with extravagant glass by Tiffany, and electricity by Edison. Fortunate students on this stellar luxury campus.
Lightner Museum across King Street is another hotel built by Henry Flagler – The 1889 Alcazar Hotel. Skip the eclectic potpourri of antiques and collectibles and just have lunch in the world's grandest indoor swimming pool, back in St. Augustine's heyday. No swimsuit required now – its no longer filled with water, dive in for dining instead at Café Alcazar.
Castillo de San Marcos is a must for exploring. This 1672 stronghold fort that protected the city, with cannons, is now a National Park that offers a fascinating tour. You can explore the Fort's peaceful park-like setting and enjoy spectacular views out the inlet to the Atlantic for free, its a picture-perfect scene of the beautiful Bridge of Lions and Matanzas Bay.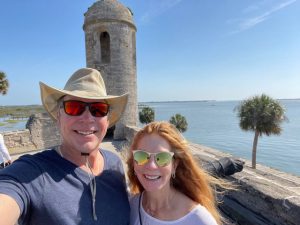 City Gates Spirits offers tastings of their brilliant boozie concoctions, just off St George. Tours and tastes are free and the pour-tenders are super energetic and conversant at every sipping station. Sample your way from shots of Salted Caramel Bourbon and Sweet Tea Vodka, to spicy Rum drinks, and my favorite – the Apple Pie Moonshine – no need for pastry in this delectable dessert-in-a-glass. Keep the taste train going across town at San Sebastian Winery and nearby St Augustine Distillery, all free tastings & tours! Sailbird Distilling at 229 W. King Street has a cool new tasting room for craft Vodka, Gin, Whiskey, Run and liquors.
Meet Faithful and Firm, the magnificent marble cats guarding the aptly-named Bridge of Lions. These grand beasts replicate Romanelli's lions of Florence Italy that guard the Uffizi, and mark the approach to this most beautiful 1927 bridge – particularly stunning at sunset and when the bridge is drawn up to let local pirate ships and tall-masted sailboats pass along the ICW. Walk the beautiful Bridge to Anastasia Island to meet lions – Peace and Happiness – on the Eastern side.
Light up St Augustine, by climbing the 165-foot-tall St Augustine lighthouse on Anastasia Island. This stunning black and white striped headlight was constructed 1871-1874, its the oldest surviving brick monument in St. Augustine. 219 steps take you to "breathtaking views" of downtown St Augustine's landmarks, the surrounding beaches, islands, river and sea. Fascinating that it took 3 lighthouse keepers at a time to tend this towering light. Tales of lighthouse keepers still spiriting the place, along with two young girls who all died here in the 1800's are hauntingly familiar.
St. Augustine Beach is 2 miles of white-sand beach and clear water on Anastasia, south of the Lighthouse. St. Johns Fishing Pier sits at the north end of the beach, often the sight of farmers markets and free concerts. Another great island beach is to the north east – Vilano Beach and Ponte Vedra.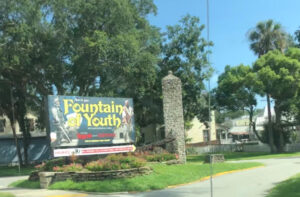 The Fountain of Youth was discovered here in 1565 by Spanish explorer Ponce de Leon, long before the Pilgrims arrived at Provincetown or Plymouth Rock by the way. This is indeed the oldest settlement in our nation, and you can drink the spring water derived from the aquafer that Timucua native Americans believed had tremendous health, healing and anti-aging properties. Clearly Ponce and Pedro Menendez did too, since they established the colony of St Augustine.
Visit Castle Warden, aka Ripley's Believe It Not. Yes, this quirky "odditorium" is full of freaky fun facts, but the 1887 Moorish castle is the real attraction here. William G. Warden of Philadelphia was a buddy of Henry Flagler and John D. Rockefeller in the Standard Oil Company, and built this dramatic winter home, later to be the Warden Castle Hotel. In 1950 it became Ripley Museum, after extravagant explorer Robert Ripley's demise, and now hosts his bizarre, exotic, private collection of curiosities. Don't miss Michelangelo's "David" in the front courtyard – one of only two marvelous marble replicas in the world.  David's now tucked away in the bushes, not because of his nudity, but because distractingly tall, well-endowed Dave was causing auto accidents.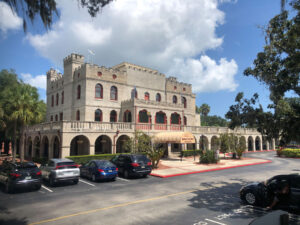 Sights we don't recommend… St Augustine Alligator Farm Zoological Park… unless you love reptiles, prepare yourself for a real "zoo" of people, creepy crawlies, an abundance of bird poo, and lazy fat alligators on parade. Note: it is historic like so many sights in St Augie, founded in 1893.
Other Top St Augie Sights: Villa Zorayda, St Augustine Basilica, Memorial Presbyterian Church, and Grace United Methodist Church, Fort Mose State Park, The Spanish Military Hospital, The Old Jail, Potter's Wax Museum, St. Augustine Pirate & Treasure, Marineland Dolphin Adventures.
See our St Augustine Top Places to Dine
St Augustine Lodging:
The Collector offers boutique luxury lodging in a hidden courtyard, with private cottages and a courtyard pool oasis. Walk to historic downtown and dining, then return to your 5-star sanctuary.
Casa Monica Resort & Spa is a 4-star Marriott Autograph Collection, an historic landmark in the heart of St. Augustine, steps to Flagler College, St. George Street sights, dining and shopping.
St George Inn is in the heart of town, many rooms overlook the fort, ours' had a wonderful balcony. A delicious complimentary breakfast is served in a fountain courtyard at Bin 39.
Luxury Private Home Rental on Anastasia Island, just a mile walk to downtown St Augustine, on the water, Salt Run Inlet. Beautiful 3 bedroom 3 bath waterfront home, with magnificent sunrises and sunsets, dolphins and manatee just off the private dock.
Conch House Marina Resort is a fun funky, casual waterfront resort with poolside suites, on site dining and a popular Tiki  Bar, relaxed laid back island vibe – on Anastasia Island across the Bridge of Lions, just a mile from downtown St Augustine.
Arriving by Boat:
St Augustine Municipal Marina has dock space right in the heart of downtown, steps to sights and dining, just south of the Bridge of Lions. Reasonable fees and fuel pumps.
Marker 8 Hotel & Marina on Anastasia Island just south of the Bridge of Lions on the Matanzas River and ICW offers boaters spectacular sunsets from its docks and a full-service marina stay.
Conch House Marina on Anastasia Island is a fun friendly marina and hotel just off the ICW, on Salt Run Inlet, with views of St Augustine Lighthouse, and of deserted Conch Island barrier reef across the bay – reached only by boat. The Conch is a full-service marina, with a classic casual beachy restaurant plus a dock bar, and often live music. Lots of fishing charter boats dock at the Conch and go out early, so its a lively place,  may not be the quietest boat stay.
How to get to St Augustine, Florida:
1 hour drive from Jacksonville (JAX) International Airport
1 hour drive from Daytona Beach (DAB) International Airport
1 1/2 Hours to Sanford Orlando Airport (SFB)
2 Hours to Orlando International Airport (MCO)
By Train – Amtrak services to St Augustine, Palatka Station, 40 minutes drive north east to St A.
By Boat – GPS 29.896004° N, -81.31671° E
"People of accomplishment rarely sit back and let things happen to them. They go out and happen to things."– Leonardo Da Vinci
See more Florida Reviews:
Amelia Island- Fernandina Beach
Anna Maria Island
Boynton Beach
Crystal River, Homosassa & Inverness Things to Do
Delray Beach Things to Do
Fort Lauderdale's Top Things to Do
Fort Lauderdale Port Everglade
Key West's Best
Miami Luxury Hotels
Mount Dora
Marathon Top Things to Do
St Augustine Top Things to Do
Sarasota, Siesta Key and Venice