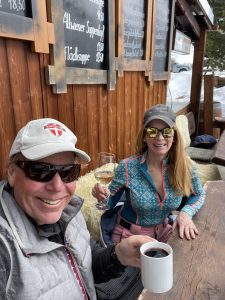 Davos Klosters Top Mountain Chalets
Davos Klosters is a top luxury Swiss ski resort, with extraordinarily scenic Alps skiing at not one – but 6 ski areas!
Davos Klosters vast ski region inlcudes 54 lifts, 280 km of ski slopes spread across six ski areas of Parsenn – Gotschna, Madrisa, Jakobshorn, Rinerhorn, and Pischa. Davos is a winter sports metropolis for ski and snowboard fans from all over the world. Klosters was Hollywood on the ski slopes in the 1950s and still, especially Chesa Bar or the Dancing Casa Antica. Klosters is where the British royal family goes on ski holiday – Prince Charles is a legend here.
Finding a Swiss ski chalet for on mountain dining, après ski drinks, or just a coffee and strudel is easy. Finding the best on mountain chalet in Davos Klosters is our pleasure. Here are our favorite ski huts at Parsenn, Gotschna, Jakobshorn, Pischa, Madrisa and Rinerhorn.
Top Mountain Restaurants at Parsenn :
Weissfluhgipfel- Berghaus is the highest restaurant in the skiing area, 2844 meters fantastic view, since 1932. Fantastic panorama from its window tables- you can see as far as the ski slopes of Arosa Lenzerhiede. Try the Cordon Blue with a view – yummy pork stuffed with ham and cheese with a side of pomme frites (fries) and a side of housemade berry sauce. Its a long way down, 6,800' vertical if you ski the entire Nostalgia Run to Kublis,  so think about what you drink at this elevation. Lots more skiing to do.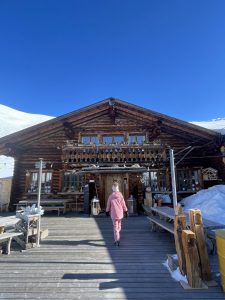 Alte Schwendi is a charming chalet sitting along side the Trail 24 – one of our favorites from the top of Parsenn. Schwendi is family operated by Josefin and Nici and their fun swift team. They specialize in local recipes, highly coveted secrets. A beautiful sun terrace looks up at the slopes, plus there's a cozy wood interior if you prefer to be out of the strong sun, or if its a cold snowy day. Savor the filling flavorful alp-macaroni – Älplermagronen – and finish with a house-made pear schnapps or elder flower liquor! Schwendi is in Parsenn, Conters  Prattigua, at the end of Trail 24 (there are several huts in this region – also Chesetta, Berghaus Shifer) just above the Schiffer gondola base which will take you back to toward to Parsenn summit.
Totalp is a perfectly positioned chalet, in the middle of everything below Parsenn Gondola and tram top station. This very cool chalet received a redux recently – adding a beautiful bar inside with big panoramic windows or you can sit on the grand deck outside.
Höhenweg offers ski in ski out visit the last sun before you are head down the ski slopes, and very popular stone fired pizza.
Madrisa Restaurants–the sunny ski area of Davos Klosters:
Madrisahof is just above Madrisa gondola unload area. You can hike up or ski down from the Schaffurgli 6-pack on Trail 1 or 2. This beautiful big beamy chalet offers fantastic views, and a cozy ambiance inside at large, often shared, wooden tables. Outside is a huge sun terrace and bar. There is also a private club at Madrisahof. Their alpine fare offerings include a delicious forest pork schnitzel with Rosti and local mushrooms, its perfectly yummy, and filling. Wood fire pizza is also a specialty of the house, as is risotto
 Zuggenhutte atop the double chair at Madrisa is charming and tight inside with sheepskin seats. You can enjoy raclette, or a simple sandwich or homemade soups. Their desserts looked gorgeous. The deck is fabulous for an aperitif, or just a Swiss wine or cold beer with a view.
Chalet Berhaus Erika on Madrisa's Trail 10, from 9,  overlooks the Schlappin Lake. Ski in for goulash soup or house made rosti, pasta, or a last drink before you finish your descent. Its just one more mile to Madrisa's base on a gentle run-out trail.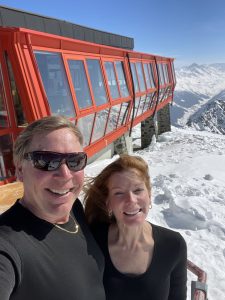 Rinerhorn's on mountain chalet dining :
Hubelhütte offers a panoramic view from its mountaintop spot at 2281-meters at Rinerhorn. Hubelhutte has a cosy ambiance in the Swiss wood interior and a big outdoor deck and bar for dining and drinking. Ask to see the "shot ski" and you will know this place is popular and lively! Hubel's goulashsouppe and homemade bread is delicious, while their charcuterie board is a work of art!
Jatzmeder is in the middle of the mountain, top of the gondi provides hearty self service food in the lodge, a healthy salad bar, and a Wunderbar outside with sheepskin bar stools for ski in ski out drinks and snacks.
Spina Hutte is down Trail 2 or 4 to the base. This authentic mountain chalet in the countryside is a delight for lunch or a drink on the sun deck with views of farms surrounding. Its a short ski from here down to the gondola base.
Blockhuss is a happy little bar at the base by Rinerhorn's gondola, and the parking lot and train station of Glaris. Grab a Gluhwein, beer or Aperol if you are boarding the train back to Davos or Klosters.
Jakobshorn On Mountain Chalets:
The Jatzhutte at the summit of Jakobshorn, at 2682-meteres, rocks from midday on with music, palm trees, balloons, a blow up hot tub and a DJ – it's a crazy Swiss sun terrace party vibe. The views of neighboring ski ara Rinerhorn and the fun park are fabulous! Try the famous drink of the hut – Kafi Sex. Mind you its not après ski as you still have to ski down! And from atop Jatz you are still 3,900 vertical feet to the base, or a shorter ski to the mid mountain tram to download.

Chalet Güggel at Jakobshorn offers a cozy ambiance for Swiss lunch or a drink stop with a great atmosphere just below the summit tram. In fact Chalet Guggel has its own lift for non-skeirs. Guggel means male chicken, or rooster, and you can strut your stuff at the big sun area and outdoor bar with chaise for rent by the hour or the entire day.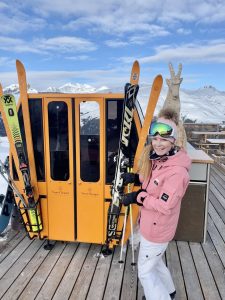 Fuxägufer hutte  further down Jakobshorn's slopes 7 & 8 is a classic Swiss chalet setting. Try their delicious Spaetzli or venture afar with Asian wok specialties – incongruous and cool! You'll love the Veuve Cliquot gondi for après ski, or a Swiss photo opp, the furry lounge chairs are sweet too!
The Jakobshorn Tram Summit Station has another an amazing rooftop deck – the Sky Lounge – with a disco ball and phenomenal panoramas from this round pink mountaintop castle. From here you can download both trams if skiing becomes complex for you after a drink or two! Or stay the night in the modest mountaintop hotel here.
Bolgenplaza, at Jakobshorn gondola ase, is big for après-ski, fun and music and you are back in Davos village – read : done skiing – so drink up. Bolgenplaza rocks into the evening with live concerts too, walking distance in Davos village.
Pischa On Mountain Chalet
Pischa's mid-mountain chalet – the Mäderbeiz is a must on your descent, ski, sled, hike or bike, on Trail 2 or 6. The goats will great you at this classic hut. Otto will make you a delicious house specialty coffee with whip cream and Baileys. Enjoy a homemade nut pastry in the perfectly cozy wood interior as a morning treat. Afternoons, Maderbeiz's deck fills with revelers having drinks and rustic yummy chalet food. Its the last sunshine at mid mountain before your remaining descent to the base of Pischa.
See our Top Reasons to Ski The Swiss Alps
Top Ski Resorts in the Swiss Alps
More Switzerland Ski Reviews