Aspen at a Glance:
Vertical 4,406′ at Snowmass
Summit Elevation 12,500′ at Snowmass
Acres 3,332 Snowmass, 1,040 Highlands, 675 Ajax, 470 Buttermilk
Trails 333 total among 4 mountains
Birth 1946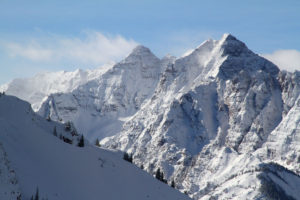 Aspen is synonymous with great skiing, celebrities, awesome après ski and the annual Winter X Games. People come to Aspen to ski hard and party hardier. It is indeed one of the most famous ski resorts, for its four ski mountains, its classic Colorado ski town, abundant bars, upscale ski hotels, gorgeous Aspen trees and the magnificent Maroon Bells mountain scenery. While the stars come here to party and be seen, skiers know there's a ton of terrain to ski, 5,500 acres combined at Aspen (Ajax), Snowmass, Aspen Highlands, and Buttermilk which are separate but included on one lift ticket.
Aspen Ski Tips: Of Aspen's four ski mountains, we like Snowmass best for its vast terrain, the biggest of Aspens' four ski areas.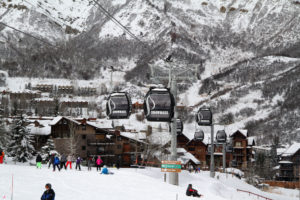 Our Snowmass Tips:
Stay at the Viceroy Hotel, the ultimate 5-star slopeside hotel at Snowmass. The suites are posh, and the outdoor pool with fire pits is perfect for après ski. Or Aspen's Limelight at Snowmass!

Sign up for Aspen Snowmass First Tracks at Viceroy's concierge, its complimentary and very special, as you load the Village Express at 8:15am with a select group and a ski guide before the mountain opens officially.
Ski the Big Burn on Sheer Bliss, with the beautiful views of the Maroon Bells in the morning light before the public arrived at the ski lifts.
Go to Venga Venga for après ski, or happy hour as they call it. Margs, beer buckets, nachos, firepits on the patio and a view of the last skiers descending Snowmass' ski slopes.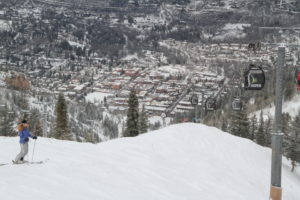 Aspen Mountain/ Ajax Ski Tips:
Load the Silver Queen Gondola for first tracks, at 8:15 a limited number are sold daily – pray for a powder day or seamless white carpet.
Aspen's gondola gets you  3,267' vertical in a swift 8 minutes, from downtown Aspen.
Locals call it AJAX, Aspen's original ski area – circa 1946. The ski trails are classic.

Ski Copper to Little Nell. Silver Bell over to Ruthie's is another, this is a classic World Cup race slope that drops dramatically toward Aspen's downtown with terrific views as you descend into town.

Stop at Aspen summit Sundeck Lodge at 11,212' with spectacular views, or go local cozy at the European chalet Bonnie's that serves homemade oatmeal pancakes, soups, and apple strudel mid mountain at 10,440'.

Ajax Tavern is a great spot for lunch in town at the base of the gondola, with slope views and a sun deck, often celeb sights too!

Lodging at Aspen, we love the St Regis, Hotel Jerome, Little Nell, and The Limelight Hotel Aspen.
Apres Ski Aspen-style, Ajax Tavern and 39-degrees at Sky Lodge are hopping.

Aspen shopping is extreme, Prada, Gucci, Coach, Gorsuch and all the top boutiques line the brick streets of Aspen village, its a wonderful mix of upscale wealthy clientele and cool earthy skiing locals.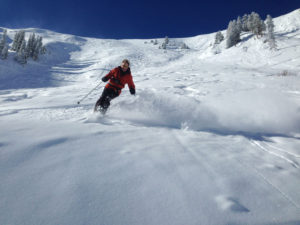 Aspen Highland Tips:
Highlands is Aspen's mightiest mountain, and Colorado's best steep, big-mountain, in bounds skiing.

Start your Aspen Highland ski day on the Exhibition high speed quad to mid mountain – the Merry-Go-Round. From here ride the Loge Peak lift to the highly scenic summit.

Ski beautiful groomers like Meadows and Kandahar or drop down off the ridge to steeper less manicured Garmisch, St Moritz and Chamonix.

The Cloud 9 Chair serves more blues like Gunbarrel and Grand Prix, and more edgy Moment Chutes and Olympic Bowl. Glade skiers will love the steep snow-filled trees of Deep Temerity.
Hit Highland Bowl when Patrol say go from PHQ on Loge Peak. It's a 30-minute hike up for experts only. This vast 1,040 acre in-bounds backcountry style bowl is high-elevation 12,392′ and high excitement factor. Highland Bowl has countless steep chutes, G 1-8, G Force, White Kitchen, Steep N Deep are few. The big powdery bowl skiing funnels you back to Deep Temerity to catch your breath, a serious vertical run.

Lunch at Cloud 9, Aspen's best chalet and party scene. This classic European mid mountain chalet serves traditional fondue and raclette with a spectacular view. Make a reservation, its uber popular, and pricey too. Cloud 9 also get rowdy in the afternoon when the music cranks up and the Champagne corks fly. The Veuve Clicquot ice bar on the deck is highly scenic and happening on a sunny ski day. Its après ski before you're done skiing since you still mid mountain at 10,825', their slogan is "ski in, dance out."

Aspen Highlands is just 3-miles from downtown Aspen, or stay slopeside in the compact ski village here at the Ritz Carlton Aspen Highlands.

Buttermilk Ski Tips: Skip it unless you're beginner intermediate skiers, or your kids insist on seeing where the Winter X Games parks and pipes are located. Otherwise, its pretty tame like the name implies…butter – milk.
Aspen Ski Ticket Tip:
Aspen has recently formed Alterra and acquired Intrawest ski resorts Steamboat, Winter Park, Stratton and Tremblant, and formed the IKON Pass also including Boyne resorts like Big Sky, Deer Valley, Snowbird/Alta, Mammoth & Squaw, Banff Sunshine and Lake Louise, Revelstoke – over 30 ski resorts! So buy your  2018-19 IKON pass for ski privileges at Aspen's 4 mountains plus 22 other top ski destinations including Winter Park, Steamboat and Copper in Colorado!
See More Colorado Skiing Reviews
Top Ski Hotels in West
"The days you don't ski, they don't come back" – Klaus Obermeyer, founder Sport Obermeyer Aspen, Colorado