Bike tours are a truly exhilarating way to explore a country or simply – the countryside. Riding a bike, you see so much more than you do in a car, bus, train or airplane. Life slows down, the scenery comes to life, and you are exercising while you travel.
Arriving at new destination with a guilt-free appetite, having seen pretty towns, hillside, rivers, castles, flowers, and even wildlife, on your bike is very special. Its magical cruising on two-wheels in the clean-air mountains, amid lush wineries, or along a sparkling flowing river.
Bicycle tours have become more and more available, with designated bike paths, and interesting bike tour itineraries, in the US, Canada, and Europe. In fact, now travelers have a plethora of bike trip options, from assisted bike trips with a van accompaniment, a bike tour guide, e-bikes to lighten your cycling load if you prefer, even bike river boat tours, and cruise ships with daily biking excursions. Bike tour operators have pre-planned bike trips for all abilities and many unique biking destinations.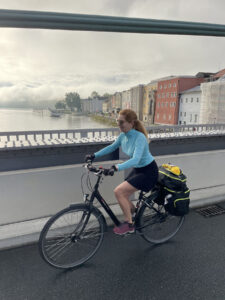 Or you can DIY your bike trip, carry your own gear in a pannier (saddlebag that straps over your rear wheel frame), and plan your own independent bike route through the Loire or Bordeaux valley, or along the Danube River from Germany to Austria, on the French Riviera, Italy,  in the Netherlands, or in the Rockies of Colorado! Even Florida has an increasing amount of bike paths – the Florida Coast to Coast Trail, Florida Keys Overseas Heritage Trail, and the Legacy Trail to name a few.
Cycling along the Danube River from Germany to Austria is a beautiful way to see this centuries' old waterway, and the wine region in the Alps, from the "Black Forest to the Black Sea." See our 9-day bike tour of the Danube River from Passau to Vienna staying at top hotels, visiting boutique wineries and beautiful castles.
Bike the French Loire Valley to visit castles and wineries, a beautiful tour of the spectacular Route of Kings and Queens is best explored by bike. You can reach cities of the Loire Valley by train from Paris, then rent a bike, stay in chateaux, sip wine, for a royal cycle holiday.
See our tips on How to pack for a bike trip, carrying everything you need in your pannier, you can be light and adventurous, and still well-dressed and stylish along your cycle route.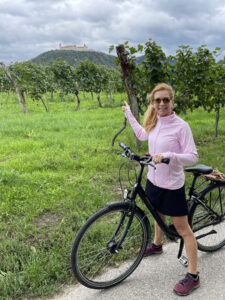 We're hooked on bike touring now! We love the sense of accomplishment, and the appetite for local food and wine at day's end. An independent bike trip rivals a high adventure ski trips in the Alps or The Canadian Rockies. We have more of the US and Europe to explore on bikes. We seek dedicated bike paths over road cycling for the serenity, scenery and safety versus busy urban roadways.
We are planning more bike trips in Europe and the U.S. and we'll be providing reviews of Top Bike Trips and fun biking travel itineraries.
"Sometimes getting lost is where you find yourself."
How to Pack for an Unassisted Bike Tour
Vienna Top Things to Do
Wachau Wine Region of Spitz, Dȕrnstein and Krems
Passau Germany to Vienna Austria bike tour
Prague Czechia
Loire Valley France Bike Tour