Is St Simons Island worth visiting? In a word – yes. See our tips, and warnings, to make your SSI trip the best.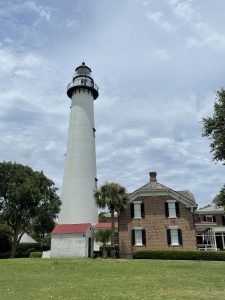 St Simons is a Georgian barrier island, just north of our favorite – Jekyll Island, mid way between Savannah and Jacksonville Florida. Of Georgia's alluring Golden Isles, St Simons is the largest, amid sister islands – Sea Island, Jekyll Island, and privately owned Little St Simons Island.
St Simons is 13 miles long and 4 wide, and it's the most densely populated – particularly to its southern half with residential, commercial and touristic development. Much of St Simons' northeastern stretch however is marsh and woodland. The 600-acre Cannon's Point Preserve offers public trails, plantation remains, and undisturbed maritime forest.
St Simons is steeped in history, first inhabited by Creek Indians and then by the Spanish, British, followed by southern plantation owners who harvest sea island cotton and live oak timber used to build ships.
St Simons' touristy map shows just three roads on island, making it look pristine and accessible. Warning: don't fall for this basic illustration that implies an easy picturesque path from the Light to the Fort and beaches. It's far more confusing, and congested, not on all peaceful bike paths. We got lost riding our bikes in heavily trafficked suburban and commercial areas not represented.
Top Things to Do on St Simons Island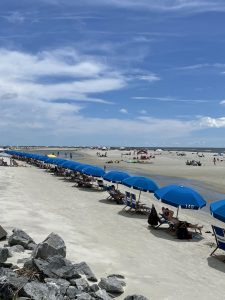 A Trolley Tour of St Simons provides a great overview of the Island history and highlights, from Mallery Street to the Lighthouse, all the way to Fort Frederica, the1742 Bloody Marsh  battle site, and famous Christ Church. The 90-minute narrated tour is fun and funny – in true southern fashion.
Climb St Simons Lighthouse – one of three Georgia lighthouses. The 1872 light station is 129 steps up, making it climbable, highly scenic, and visible to ships 23 miles out to sea. Confederate soldiers demolished the original 1810 St Simons Light in a strategic attempt to foil the Union navy. The Keeper's home and various exhibits are worth your visit.
Stroll Mallery Street and Pier Village with its gift shops and fun island bars and bistros, diners and dives – like Iguana's, Barbara Jean's, Georgia Sea Grill, Palmers and Porch. Walk all the way to St Simons Pier which juts out onto St Simon Sound with views of Jekyll Island. Unfortunately, there is also the unsightly shipwreck Golden Ray that dumped 4,200 cars into the Sound in 2019 – loud extraction effort is ongoing.
See St Simons Seven Tree Carvings. Majestic oak trees have been hand carved into characters, including a mermaid, and various tree spirits that have legend, lore and mythical lure to them. Pick up a tree map at St Simons Welcome Center where you will spot your first – spellbinding Cora – "protector of the island's sea turtles."
Drive or Bike out to Sea Island and Retreat Plantation to see relics and remains of slavery era plantations, now the entry to the posh semi-private Sea Island Resort. Most majestic of this trip is the Avenue of Oaks, a double row of towering mighty live oak trees planted in 1826 by Anna Page King, who inherited Retreat Plantation started by her family.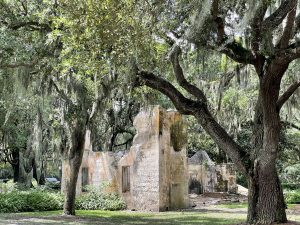 Visit Fort Frederica, now a National Monument with gorgeous park grounds. Bring a picnic. Remains of the 1730's colonial town and military headquarters tell the story of the original Province of Georgia, settled by General Oglethorpe – Georgia's first governor, a Brit who successfully defeated Spanish invasions of St Simons.
Christ Church is near the Fort. This storybook white Gothic chapel, a humble haven for worship since 1736, is open for tours and Episcopal sermons. The stained glass and surrounding greens and graveyard are serene, captured in Eugenia Price's St Simons Trilogy.
Beaches of St Simons – St Simons is wrapped to the south east with broad Atlantic Beaches, most notable is East Beach with three public access points. Also popular are Coast Guard Beach and Massengale Park. Shelling and strolling the beach are great pastimes. The Georgian surf and sand can be murky brown and a bit muddy certain seasons, safe to swim, just a little gooey.
Neptune Park Fun Zone in "Pier Village" is fun for kids to splash around. Interestingly Neptune Park is named after a Georgian slave – Neptune Small who worked at Retreat Plantation on island owned by Henry King. King and his brothers fought for the Confederacy in the American Civil War.
Halyards for dinner serves up delicious southern fare, a bit fancier than the touristy restaurants on Mallery. Despite its location in the strip mall Shops at Sea Island, the restaurant is top notch. Sit at the inviting bar, or the patio, and enjoy fresh caught seafood beautifully seasoned and prepared by Chef.
Best Place to stay on St Simons: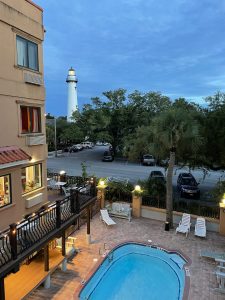 Sea Island is the most prestigious private golf resort community on St Simons. Its five star, pricey but posh with an elegant Clubhouse and Hotel, Inn, distinctive cottages, private beach, pool, tennis, 3 Golf Courses plus a Golf Performance Center. Sea Island is home to the annual RSM Golf Classic – a PGA tour event in November.
The Cloisters is sister property to Sea Island on a private island sanctuary. This classic 1928 hotel is the island centerpiece. The Cloisters offers fortunate guests a beach club and spa, and exclusive amenities. The Sea Island resorts occupy a third of St Simons, so if you're not a resort guest – you are not privy to much of the most spectacular spots and the sublime lifestyle.
King and Prince Beach and Golf Resort is oceanfront, with enviable beach access, award-winning golf, and a grand hotel property with five resort pools and oceanfront dining, minutes from the hub of Mallery Street and the Pier.
Ocean Inn and Suites is far more humble, even dowdy, but the location and value are good – steps to the Lighthouse, across from Neptune Waterpark, near Pier Village and Mallery Street shops and dining. Ask for an upper floor suite with a lighthouse view overlooking the small swimming pool.
St Simons is fun for families, but busy in peak season. The best of St Simons is staying at Sea Island in the enclave of the private resort grounds. Neighboring Jekyll Island to the south we found to be a more beautiful, less busy, more of a natural preserve for exploring, with equally grand history and a time-honored resort Club for an enchanted stay.
"If we were meant to stay in one place, we'd have roots instead of feet." ―Rachel Wolchin
See our luxury vacation reviews of Georgia
Jekyll Island Club
Savannah
St Simons Island
Nearby South Carolina
Beaufort
Charleston
Hilton Head Island
Nearby Florida
Amelia Island
St Augustine