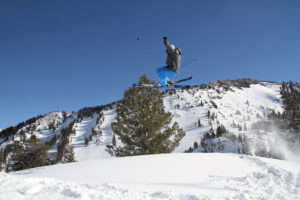 Alta Skiing at a Glance
Summit Elevation 10,550', Hike to 11,068'
Vertical Drop 2,538'
116 trails
7 lifts
2,200 Acres (4,700 with interconnected Snowbird)
Annual Snowfall: 550″
No snowboarders allowed (one of 3 left in North America) – Keeping it Pure!
Birth 1938
Alta is a skiers' paradise, it's a 2,614 acre skiers' playground that interconnects with Snowbird in Utah's Wasatch.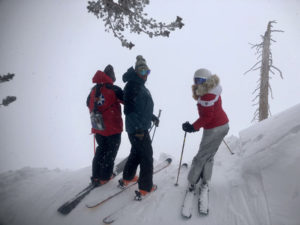 Alta is a classic, now snowboarders allowed, this time revered terrain is hearty and homey, with some old lifts and some new, same goes for the clientele – core Altans are a bit crusty, but the cool young skiers have discovered Alta's great terrain and copious snow too.
Since 1938, when it cost $.25 for single chair rides, Alta has attracted the best skiers in the world for the venerable steep chutes and wide open powder bowls.
Alta gets over 500 inches of snow annually of Utah's patented "greatest snow on earth." Alta is just 45 minutes to the major Salt Lake City airport up Little Cottonwood Canyon. The canyon can be black-diamond designation too when the snow is dumping. Alta is big mountain skiing, close to a major metropolis, but once you arrive – you feel world's away in this deep steep canyon.
Alta's terrain is vast particularly in Ballroom and Greely's, but there are plenty of groomed cruisers too, served by a lift system that has been upgraded in recent years to include three detachable quads. Alta has 116 named runs, but you can find new variations all season long.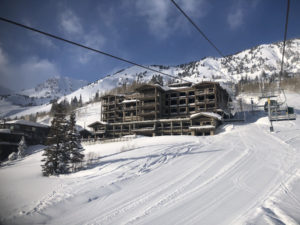 Intermediates will enjoy Sugarloaf and Supreme areas for long interesting runs mostly groomed. Sunnyside and Albion are limited beginner areas at the base. Alts is really not a novice place.
Hire a guide or bribe a local to show you Alta's serious stashes, much can be reached by traverse or a hike. ALTA acronym is all line-up and traverse again given the tricky aspects and effort to get to unique shots over false peaks. Alta can keep a pow hound amused all season with variations on tight chutes, steep glades and wider snowfield bowls.
Snowbird and Alta are interconnected, so you can ski all 4,700-acres in a day with a combine lift ticket – the possibilities are knee numbing…Its fun crossing the border over to Snowbird, then returning to your "skiers' only mountain.
Snowboarders are not allowed at Alta, but they keep testing the ban, questioning how US Forest land use could be selective, or exclusive to elitist skiers. Court cases have yet to show merit and judges continue to Alta to proclaim itself a skiers-only mountain. Hey, there's only three in the country! Sorry shredders, don't come knocking at Deer Valley either. For purist skiers, its very cool to be in this dramatic snow-laden canyon surrounded by one-minded two-plankers, no blind-side boarders.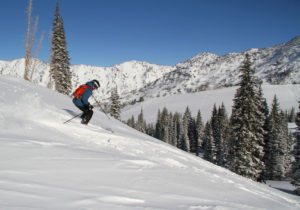 For upscale, on mountain lunch at Alta, ski into Watson's Shelter for a linen table lunch upstairs at Collin's Grill. The food and the views are very satisfying. Another great lunch is at The Rustler Lodge with a view of the namesake High Rustler chute that drops long and steep from the High Traverse from this historic and grand mountain lodge.
For ski lodging at Alta you have five options. The newly renovated Snowpine Lodge at Alta is swank, alpine mod, ski in ski out, with scenic sumptuous guest rooms, outdoor pool and Jacuzzis, and a gorgeous Spa plus casual aprés ski, elegant dining and inviting fireplace lounges. See our Review of Snowpine Lodge at Alta. The Rustler Lodge is similarly luxurious with an old world grandeur, perfect views of High Rustler ski trail at apres ski in Eagles Nest, fine dining included in your stay, fireplaces, suites with ski views, and an outdoor spa hot tub. See our review of Rustler Lodge ski vacations at Alta. Budget skiers, stay at the rustic Goldminer's Daughter, Peruvian, or Alta Lodge, or ask about Snowpine's bunk rooms.
Every skier worth his or her vertical claims must ski Alta in their lifetime to witness the legendary terrain and the historic ski hill.
See More Utah Ski Reviews:
Alta
Deer Valley
Powder Mountain 
Park City
Snowbasin
Snowbird
"Alta is what skiing is supposed to be like…"