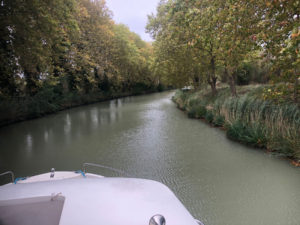 The scenic Canal du Midi in southern France is a must, especially for boaters! Cruising this 300 year-old waterway, you will savor the slow easy French pace, passing pretty countryside, medieval villages, farms and vineyards in the heart of the Languedoc wine region. Le Boat, the largest charter boat operation in Europe, offers surprisingly affordable, entry level canal charters to this Canal (and hundreds of other waterways). These historic canals are easy to navigate, scenic and fun.
Boating at a mellow 5 kilometers an hour, aboard your vessel of 30-45', the big excitement is passing through the lock system every kilometer or two, and arriving in ancient French villages as your destination each day on your personal cruise ship.
This is not a luxury yacht holiday however, since you are the crew and captain, you will be driving the boat or donning gloves to handle the boat lines in each "écluse" – lock system. But it's entertaining, and there's a sense of freedom chartering your own boat and navigating these centuries' old canals. Le Boat provides itineraries of how far you should voyage each day, but it's up to you.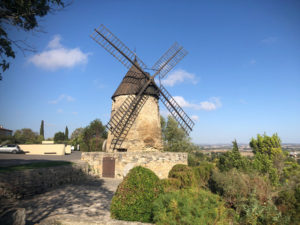 Our week long voyage started in Castelnaudary, a small pretty village. Le Boat's base in Castelnaudary is the Grand Basin with a beautiful view of the cathedral and village across the waterway, just a short walk over an old stone bridge to town. We could also see the majestic Pyrenees Mountains to our south west that create the French Spanish border.
After our swift check in and orientation aboard our 40' Horizon, we strolled to town, enjoyed local Languedoc wine and dinner at the Maison du Cassoulet sampling their specialty dish of slow-cooked white beans and chunky pieces of pork and duck – it was a staple in winters and meager times and wow is it filling. Returning over the old stone bridge back to our boat within the big fleet, the twinkling lights of the village reflected in the Canal. We were excited to embark the next morning, after a quiet comfy night's sleep in the Vberth of our Horizon – the most modern of Le Boats.
The history of the Canal Du Midi is fascinating, initially commissioned in 1516 by King Francis who hired Leonardo Da Vinci to survey the route. Canal construction didn't commence until 1667, Pierre-Paul Riquet completed the Canal Du Midi in 1694 connecting 240 kilometers, the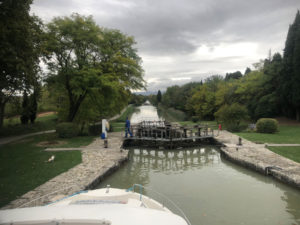 Atlantic to the Mediterranean, with aqueducts, bridges, and 91 locks to overcome the 620 feet height change in water levels. Designed as a trade route to shorten the otherwise long passage around the Iberian Peninsula – its also called the Deux-Mers canal – canal of two seas. This vital trade route for two centuries is now a meandering waterway for pleasure boaters as well as bicyclists riding the tow paths that parallel the canal.
First morning, our first lock was the most dramatic departing Castelnaudary – a series of four locks descending 9.5 meters in consecutive rushes of water. Captain Greg and I quickly established our duties, he'd drive into the narrow stone chamber (thankful for bow thrusters) while I secured lines to the lock shore, ready to adjust as the water floods out.  We traveled in tandem with two other boats, a Swiss Family and a German couple – all experienced boaters, so we enjoyed an efficient rhythm of entering the locks sequentially, tying up, descending and exiting in order.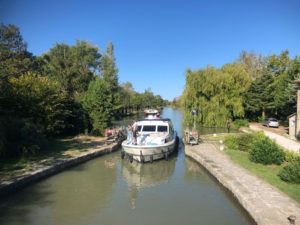 We cruised 15 locks by noon, when we tied to the canal bank for the lunch time lock closure of 12-1pm – so French. We'd provisioned in Castelnaudary for the perfect picnic of flaky croissants, local ham & cheese, and a glass of Languedoc Rosé on our top sun deck.
The Eclusier, lock operator, returned to open the lock for us, and we were cruising the canal again, with the occasional excitement of encountering oncoming boats in the somewhat narrow canal. Some boat captains were better at steering that others.
We clocked 19 locks, 26 kilometers from 9am to 3pm. We chose to moor overnight in Villesque – a pretty anchorage with a few other boats tied to the canal shores. There was no marina, but we could walk to the tiny village over a charming stone bridge to see the church and the Sully Elm planted in the square outside – among the last elms still alive in France.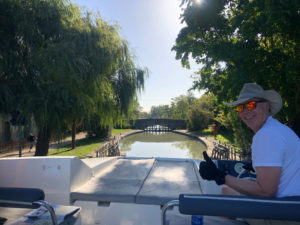 Toasting to our boat day #1 with wine & cheese on our top deck with new friends – boat neighbors we invited over for drinks- a delightful South African couple – proved Le Boat's international appeal. They'd read our travel article on the Canal Du Nivernais we'd boated the year prior. Small world indeed. He'd never boated before. Le Boat does state that you need no boating experience. I teased him that it's more enjoyable and safer if you have.
Day #2 we cruised under sunny skies, loving the shady canopy of iconic Plane trees that drape the river bends. Unfortunately much of the 42,000 Plane trees along the 240- kilometer stretch are diseased. Since 2006 over 25% have the blight, and are systematically being cut and burned, a huge undertaking. Parts of the river are barren or under tree removal construction. The good news – the revitalization project is underway, replanting different species, but it will take years to reestablish a substantial tree canopy on the banks of Canal Du Midi.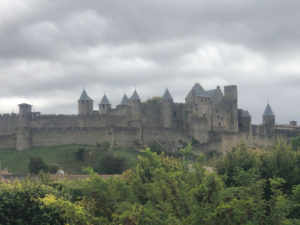 Midday we arrived at the marina of Carcassonne and docked our boat well-positioned for exploring the city, with views of the waterfront park, the tour boats coming and going, and the train station across the Aude River.
Carcassonne exceeded my expectation, I know now why it's the second most visited tourist attraction in France (#1 is Eiffel Tower). The Cité is a massive fortified castle atop the village with 52 spiraling turrets and imposing double walls of rampart circling 3 kilometers of this medieval city.
We rode our bikes, provided with our Le Boat charter, up to the majestic fairytale citadel. You can also ride le Petite Train for $6 Euro. Walking over the drawbridge, you step in to La Cité and the 13th century.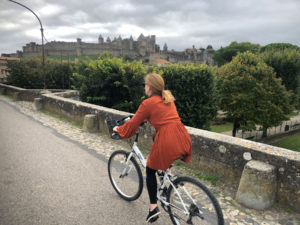 No wonder this is an UNESCO World Heritage site. Be sure to pay to appreciate the scale of the ramparts and the view of the lower city of Carcassonne and the Pyrenees to the west. Then stroll the maze of medieval cobblestone streets, now filled with shops and cafés. Lunch at Compt Roger was a culinary treat. A real luxury would be to stay at the 5 star Hotel De La Cité for an elegant evening in the illuminated castle.
Back in Carcassone's lower city, we found more allure, grand pedestrian plazas marked by statues and fountains, chic shops, bakeries and casual bistros. It's a fun city to explore on foot, with provisions aplenty for boaters.
Morning day #3, after pain au chocolate and café, we hopped on our bikes to cycle to wineries. Greg guided us with on his phone's google maps through road traffic to rustic dirt paths, let's say the canal is more straightforward. Our first Château Auzais was a wonderful tour and tasting at this 1872 estate.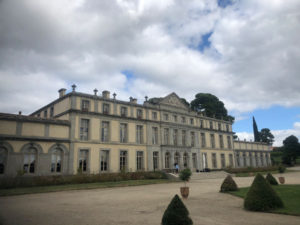 Our guide described the Occitane wine's bouquet as the convergence of Atlantic winds melding with the Mediterranean, as we sipped our favorite wine aptly named "La Cité Des Ventes."
Château de Pennautier was also fantastic. The gorgeous 1620 castle was home to the financier of the Canal Du Midi construction. The architect also designed Versailles – if that's enough name dropping for you – it's beautiful with authentic furniture. Interior castle tours must be prearranged but the expansive gardens are open. You can reserve to stay in the Castle (4 night minimum). From here, we went to the sister Lorgeril winery and restaurant, for a lovely lunch and wine tasting of Pennautier's whites, rosés and reds.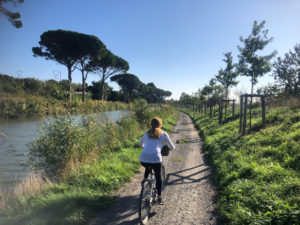 Day #4 we'd planned to boat to Trèbes from Carcasonne, but biked instead. The tow paths along the canal are ideal, in fact you can cycle faster than you can boat. We waved to fellow charter boats as we breezed by vineyards, farms, locks and bridges. Our return into Carcassone provided beautiful views of two UNESCO sites at once – The Cité atop the hillside and the Canal Du Midi.
Our return voyage –  Carcassone to Castelnaudary, we managed in one day, 24 locks and 30 kilometers, with our now well-orchestrated rhythm of locks. Our timing was good for the opening of most locks, and we traveled solo, as its mid-October and the end of the season the lock keeper told me. Summer however is very busy, with boats in a queue for their turn, and several boats in the locks together.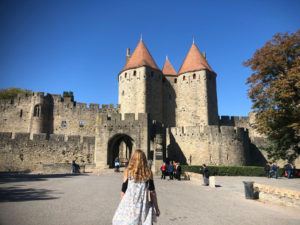 We highly recommend a one-way boating adventure of all new places along your voyage. Instead our round trip we retraced our passage, viewing previous scenery. We prefer the excitement of not knowing what's around the next river bend, discovering new villages. Also ascending the locks, going up, is a bit more difficult, as Captain Greg would let me off on a dock before the lock, I'd walk ahead and retrieve his tossed lines to secure the boat, we'd adjust during the rush of cascading water, then I'd board our boat once the boat came to the top of the full lock.
There's a sense of accomplishment, we completed our week with success (ie: no one fell in, no damage to boat). Our final day was leisure Sunday aboard the boat, walking Castelnaudary's village to the bakery, to the cathedral and up the hill to the windmill – literally – a wonderful 17th century Moulin Cugarel, with splendid views of Black Mountain and the French countryside. We biked along the canal, then relaxed on our boat in the sun deck viewing the grand Pyrenées where we love to ski in winter.
Le Boat's check out, like our orientation, was quick but thorough. The fleet of Le Boat varies in age, I was pleased we'd opted for the newer spacious Horizon model. Funny, other couples posed by our boat preferring their selfies of our more sophisticated looking vessel. Some of the older boats are banged up from their lock passages, testament to the "no license or experience required" policy of Le Boat.
We're already browsing Le Boat's destinations – Italy, Germany, Scotland, Ireland, England, Belgium, the Netherlands, or Canada for our next charter adventure.
See more France Travel Reviews:
France luxury vacations
Burgundy Valley
Beaune
Dijon
Auxerre
Toulouse
Boating the Burgundy Valley
Cote D'Azur- French Riviera
Skiing The French Alps
Courchevel, Meribel, Vale Thorens of Les Trois Vallees
Avoriaz, Les Gets, Morzine of Portes Du Soleil