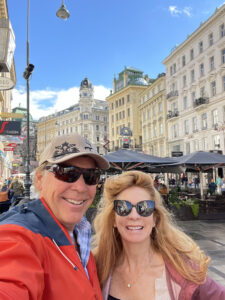 Austria is an amazing country in southern central Europe, in the Eastern Alps – best known for alpine skiing, wine, and Schnitzel. Austria is neighbored by Germany to the northwest, Czech Republic to the north, Slovakia to the northeast, Hungary to the east, Slovenia and Italy to the south, Switzerland and Liechtenstein to the west.
Latitude 46° – 49° N, Longitude 9° – 18° E.
Austria is the size of Maine, with 9 million people (versus Maine's 1.3 mill). Most Austrians are German speaking inhabitants. For a small country –Austria has diverse landscapes, a rich history and vibrant culture, not to mention a high GDP due to industry and tourism. Austria is part of the EU, and Euros are the nation's currency.
Austria is mostly Alps, mountain ranges with snowy winters, home to over 400 ski resorts, a major pastime and lifestyle, at the legendary Arlberg ski region of St Anton and Lech, Kitzbȕhel – home to the famed Hahnenkamm downhill ski race, and Innsbruck which is surrounded by ski areas, to name a few.
But Austria's famed Bavarian forests, the southern Wachau wine region and the Danube River are entirely different – lush, fertile valleys ripe for bike tours, and river cruises, and wine production of their unique, growingly popular Grüner Veltliner white and Zweigelt red wines.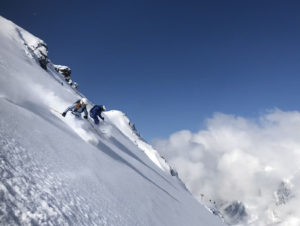 Then there's Salzburg, most known for the Sound of Music and Maria Von Trapp fame.
Austria has a fascinating history, once controlling most of Europe. From Roman to Bohemian, Renaissance to contemporary, Austria has many well-preserved historic towns and villages. The most beloved is the capital – Vienna, where the Habsburg family ruled for centuries, and their palaces and grandeur can be witnessed still.
Vienna is the birthplace of classical music by composers Ludwig van Beethoven, Wolfgang Amadeus Mozart, Joseph Haydn and Franz Schubert. Architects and philosophers like Sigmund Freud shaped the progress and culture of Austria.
Culinarily, Austria has its reputation for hearty homemade foods, Bavarian cheese and meats, Wiener Schnitzel and brats, Knodel and Spaetzle pasta and potatoes, and decadent dessert like Kaiserschmarren – which they soak in liquor and light on fire for fun, Sachertorte, Linzertorte, plus schnapps made from apricots and fermented fruits.
On a humorous note, don't be surprised if you tell friends you are visiting Austria and they tell you to look for koalas and kangaroos. Naïve travelers confuse Austria with Australia… 9,000 miles away.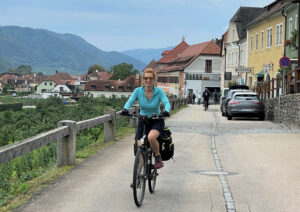 Our favorite way to explore Austria? On skis in the Austrian Alps. Or on a bike – an un-assisted bike tour of the Danube.
More Austria travel guides:
Danube River Bike Tour
Vienna Top Things to Do
Wachau Wine Region of Spitz, Dȕrnstein and Krems
Passau Germany to Vienna Austria bike tour
Skiing Kitzbühel
St. Anton and the Arlberg Ski Region
Ischgl – where the best apres ski lives
Serfaus Fiss Ladis for ski vacation
Solden Austria glacier skiing
Top 10 Reasons for an Austrian Ski Trip
Top Ski Hotels in Austria
The Best Skiing in the Alps of Europe
"Traveling – it leaves you speechless, then turns you into a storyteller."