Breckenridge is the most visited ski resort in the US. It is big and sprawling with loads of terrain, for all abilities, including serious high alpine terrain and the highest lift in North America at 12,840' offering stunning Rocky Mountain views. Breckenridge is an Epic resort, part of Vail resorts ski conglomerate, so your Epic Pass is valid here and for skiing nearby Keystone, Arapahoe Basin, Vail and Beaver Creek, among others. As for Breck's village, what was once a Colorado gold mining hamlet is now a lively ski resort town with a motherload of lodging properties, shopping and dining options.
Breck's historic Main Street still holds its western charm with cool pubs and happenin' bars, many of which offer great happy hour specials. And after skiing Breck's Peaks 6-10, you will be ready for après ski, in town or on-mountain at one of the three major base villages. Just remember the base of Breck is at 9,600' so drink lots of water to stay hydrated (drink at least one glass of water for every glass of alcohol). In fact, be sure you drink copious amounts of water to stave off altitude side effects. The moment you feel a headache at all, drink glasses of water!
If you love on mountain dining, sit down service for lunch with a view, or après ski with your ski boots on watching the ski area wind down, here are two good on mountain dining spots we discovered at Breck: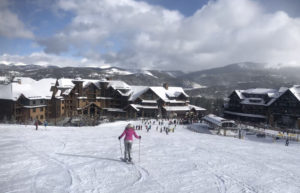 Robbie's at Peak 8 has a great deck with a fire bar overlooking the base area's two Super chairs and inside a local-friendly bar and high tops by the picture windows. Robbie's is casual, fun, with a plentiful pub menu, and slope-view bar. You also have a bird's eye view of the ski patrol toboggans coming and going underneath the restaurant (perverse entertainment, I know).
Copper Top at the base of the Beaver Run Super Chair at Peak 9 is not fancy, but its fun, easy to get to after last chair -its first beer upstairs with a slope view. Coppertop draws a crowd on super sunny days, thanks to its large patio, live music, and variety of drafts and drinks.
Sevens at Peak 7 is Vail-owned, so its nothing special, aside from its location. Reservations are required, even for an expensive slope-view lunch. As they say about Vail Resorts' food, "you may find better, but you won't pay more." We once loved to just grab a seat and a bite at the bar.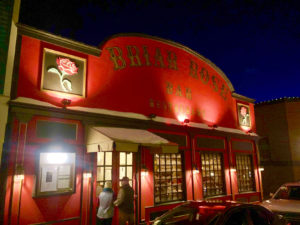 In town, Breck's Main Street and River Walk offer so many unique pubs and bars – many of which offer great value and a relaxed vibe for happy hour, après ski from 4-5:30 ish. Here are some of ours, and locals', faves in downtown Breckenridge:
Briar Rose is a classic western saloon, named for the mine atop Peak 10. This authentic former boarding house on Lincoln Ave (the historic pink building just off Main) has the best happy hour daily, and an inviting atmosphere. Saddle up to the 1883 mahogany bar early for drinks, and delish small plates like parm potato strings, beef and lamb, shrimp, escargot and ahi tuna. Locals love it here, and you will soon see why. Your only problem may be finding a bar stool or table as Briar Rose as it is on many folks "best happy hour" list.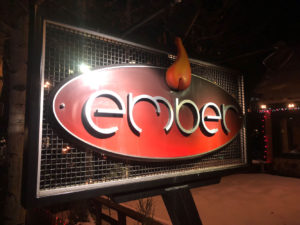 Hearthstone is an historic Victorian on South Ridge Street above Main. This charming 1880 inn has a wonderful upstairs bar overlooking Breck, and a terrific happy hour menu with wine specials and half-price appetizers like Local Colorado game and fish. The legend of Hearthstone dates back to the famous Pleasure Palace in the 1970's to now, with a strong local following.
Twist next door to Hearthstone serves delightful local comfort food – with an elevated twist! Their happy hour is a super deal with drinks and apps. Rick the bartender is fun. Twist's lamb chops and crab cakes are outstanding. This historic 1881 cottage was home to the Breck daily newspaper back then.
Legends across Ridge Street is a wonderful steak house saloon, with its own fabulous happy hour menu. Cozy up to the beautiful bar and enjoy deals on drinks and apps like French onion soup, surprisingly good mussels at 8,000′, and of course a Tavern burger, or splurge for the Tomahawk steak if you ripped the Lake Chutes.
Michaels is a classic Italian eatery, right down to the red plaid tablecloths, its a scene from Lady and The Tramp. While Michaels doesn't have a happy hour, their prices are affordable, and their portions are very ample. Sit at the bar or a window table for a delicious filling fun meal.
M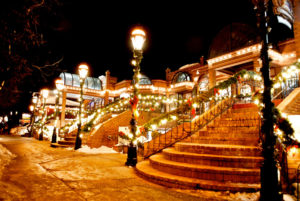 i Casa is a modest (okay kinda divey) Mexican joint… but that's what we (and others) like about it. Come as you are in your ski togs, happy hour is 3-6 with cheap and cheerful tacos, Tecate or Modelo Especial and house margarita deals. Nachos, chips and salsa are help-yourself and complimentary. For fiesta food and drink, plus fun music, score the couch seats in the back for the best setting after a day of skiing. Just walk towards Main Street from the Peak 9 Village, Mi Casa is tucked away in a strip mall behind a ski shop, you'll manage to find it for the margaritas.
RMU Saloon on Main Street is a very cool setting, part swank bar and part Indie ski showroom with Rocky Mountain Underground hand-crafted Colorado skis on display. I love the bar  and the vibe, well participated by locals. The outdoor deck is in the heart of Main Street for great people-watching in Breck, which can be hilarious… lets just say not everyone comes to Breck to ski…some just want to be seen.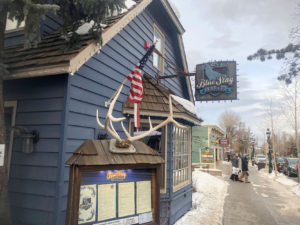 Blue Stag has a long casual bar and bench tables, and is a popular with an easy access Main St location, but we found the vibe is not as friendly as others in town. Cheap wines are offered during happy hour, which ends at 5. Happy Hour also includes a few bucks off their wood fired pizzas.
Gold Pan Saloon offers a a taste of Breckenridge history, swagger into the Gold Pan Saloon on Main Street. The oldest operating bar West of the Mississippi, Gold Pan dates back to the mining-boom days which put Breckenridge on the map. It's a bucket list bar like the Million Dollar Cowboy Bar in Jackson Hole.
Burke & Riley's Irish Pub has an emerald isle casual vibe, its a locals' favorite water hole. Don't we all just love a good Irish pub at high elevation?! Cheers, watch out for those beers.
Downstairs at Eric's is owned by the mayor of Breck – Eric himself. This is the kind of place my parents would take me, parents can get drinks, bar food, pizza, and kids can play, it's a bit chaotic, and super casual, in a family friendly way.
Ember is cozy and contemporary with an inviting circular bar where they serve craft cocktails. Their menu is upscale, 3 -courses at $75 prix fixe. Just a half block off Main, on East Adams, this chic place has a super friendly bartender, and great chef – whose dream while flipping burgers at Breck was one day to own his own place. Ember's grilled versions of lamb, elk, and other Colorado treats is special.
Also see our best happy hour and après ski at Vail.
Read more about Breckenridge Ski Resort.
Breckenridge Stats:
Summit Elevation: 12,840′, Vertical Drop: 3,398′
2,908 acres, 187 trails, 34 lifts including a Village Gondola
Longest Trail: 3.5 mile appropriately named "Four O'Clock" to the base.
See our Luxury Ski Vacations and Family Skiing Review of Breckenridge
Best Happy Hour in Vail, 40 minutes from Breck