Skiing is a challenging sport, to pack for especially. Being comfortable and warm when skiing is all about quality base layers and technical fabrics. But you also want to look stylish from first chair to après ski. Friends ask me how I dress for a ski day and après ski, and how to pack for a week skiing out West or the Swiss Alps – packing all your gear in a Kulkea ski boot bag. Here are the details for your next downhill destination: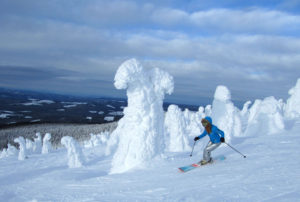 Ski clothing success starts from the inside out. Nothing keeps you protected like technical fabric base layers – tops and leggings, in fun festive colors. Montec (and Dope Snow for snowboarders) makes super stylish matching base shirts and leggings that fit like a glove, and wick away moisture – perfect! Rossignol, the French ski company since 1908, makes classic quality ski apparel – zip t-necks and long underwear to cool retro ski sweater and fleece!
Alp N Rock ski shirts are merino wool, moisture wicking but wonderful looking for skiing to après ski. If the forecast is super frigid, below 10, Alp N Rock's merino wool over a base layer are perfect, and look fabulous for ski in lunch to après ski.
SmartWool Ski Sox, the U.S. Ski Team's official sock, are the best. These socks fit well, keep me warm, dry, and on the balls of my feet so I am fast like Lindsey Vonn and bold like Bode Miller. Sure…
For outer layers, I love Rossignol for their classic colors and quality, they continue to make well-fitted technical jackets and coordinating pants that hold up to the elements- read: wind, cold, wet, snow.
SKEA ski outfit are more trendy, but still reliable. Skea makes gorgeous fur trimmed jackets in beautiful jewel tones, with gold and silver accessories that look plucked from the Swiss Alps. Rossignol and Obermeyer make well-fitted ladies technical jackets and coordinating pants that hold up to the elements- read: wind, cold, wet, snow. 
My frivolous alpine accessory is a blingy belt for my ski pants – fashion and function – it keeps my pants up (not a proponent of the boxer butt pants dragging trend) and makes me feel stylish even if it's only seen at lunch and après ski.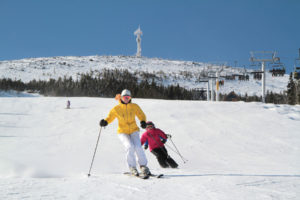 Smith IO Goggles or Oakley Prism are the best. The big lens provides super peripheral and great definition in the snow from flat light to full sun, and they look "steazy" with their reflective crystal rose finish.
My Turtlefur neck warmer is my security blanket, made in Vermont for four decades- they make Balaclavas for full face protection too. I also recommend Skida for lighter weight stylish face protection from wind and cold, and also sun – made in Vermont!
My pack a day habit. My hands get cold, occupational hazard when taking notes on chairlifts, so inside my Rossi leather mittens I fire up a pair of HotHands disposable hand warmers (I have blasted through boxes of brands- these last longest and best for me).
Thin is in, so I love my Rossignol Bamboo Ski Poles. I may not always pole plant properly, it's a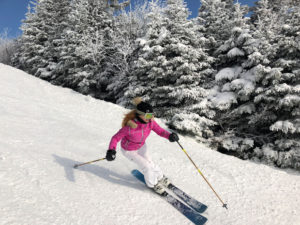 work in progress, but I try to keep my light bright pretty poles visible, out in front – a sign of good form.
Best skis please! See our Top Men's Skis Review and Top Women's Skis Review. I have skied on everything from 200-centimeter skinny Dynastars to K2, never forget my first short shaped Atomic Betas at 155, from slalom race carvers, to reverse camber pow skis, even neon. Nothing compares to my Blizzard Black Pearls, yes – a girl loves her pearls from powder to hard-pack, this quiver solver ski carves, dices moguls and plows through pow and crud thanks to the rocker tip.  For a winder underfoot ski, all-mountain conditions – the Blizzard Sheeva is sheer bliss. I also love my Blizzard Sheeva for big pow days, they're floaty and fun, blow through the snow like a boss, but they still carve ok on groomers. How far I have come since my first pair of Rossi FP 190s in Day-Glo green I mortgaged as a ski instructor in 1985.
My Rossignol All Trek Pro ski boots (not a brand manager for them – just find Rossi is making quality affordable skis and boots right now) are snug and stiff but flexible and fluffy furry inside. I plug in my $19 Seirus Ski Boot Sticks to dry my boots every night, and they're toasty warm in the morning for me.
My ski pocket contents: Burt Bees Lipbalm with SPF, Kleenex, ID and credit card, and cell phone – in an inside pocked (batteries don't like cold).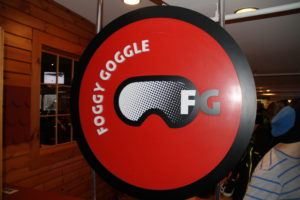 At Après Ski, switch from your helmet to a cute pom hat or headband. Ladies, I suggest you remove ski pants and don a cute après ski skirt as a cover up over those fun base layer leggies. Guys, I love a ball cap with your favorite ski resort logo and a funny ski-themed graphic T-Shirt, like the trendy  AllAboutApres ski swag our friends design, great conversation starters at the bar. See our favorite Apres Ski spots in Vail, and Best Apres Skii at Breck, and Top Apres Ski in The World
Traveling for a few day or a ski week, I bring a few black coordinates – European and simple. Black lycra travels seamlessly, coordinates easily, hides stains, and helps you blend in at the best après ski parties and restaurants, when bulky jeans don't fit the bill. Toss in a furry scarf and apres ski boots to jazz up your look for a nice dinner out!
Plan your outfits, pack two shirts or light sweaters that coordinate, a t-shirt in the event its warm and sunny spring skiing, and pants (or tights and a skirt for the ladies and a scarf to accessorize).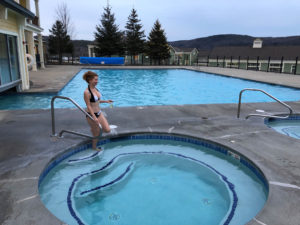 Always bring a swimsuit  – can you say hot tub?
Finally, attitude. Skiing requires that you are in the zone – mentally, physically. Every day is different in downhill skiing depending upon conditions, weather and your whereabouts. So I minimize the mayhem with my traditions, a good night's sleep and decent breakfast, my lucky bracelet, stretching before hitting the slopes, and happy self talk on the slopes.
Ski /Snowboard Boot Bag Checklist – Everything you need to pack in a Kulkea boot bag for a ski week or weekend:
Ski or Snowboard Boots (in a separate compartment)
Ski Pants for colder days, Wind Pants for the warmer days
Ski Jacket for wintry conditions, Windbreaker/Shell for warmer weather
Base Layer/Long Underwear
Two Pair of Ski Socks (travel-size Tide packets to handwash if you have stinky feet)
Helmet/Hat
Goggles and Sunglasses in their protective cases
Gloves/Mittens /Disposable Hand Warmer Packets
Neck warmer/Balaclava/Facemask
Pocket size sunscreen and lip balm
See our Top Ski Destinations for a Luxury Ski Vacation
And "How to Pack for Luxury Vacation"
"I don't do fashion. I am fashion." — Coco Chanel