Saas Fee is a secret stash for skiing in Switzerland's Alps. Everyone flocks to ski Zermatt, passing right by this big mountain ski resort. You start up the same valley as Zermatt and then take a left up a side valley just to the east. Saas Fee in the Swiss south has high elevation glacier skiing with an authentic alpine village, and fewer crowds.
Saas Fee is best known for its beautiful ice fields of glaciers and the stunning peaks that surround the magnificent valley. It's also a car free alpine village that provides a true luxury ski holiday for families an couples – particularly popular with the Brits.
Saas Fee is one of the best Swiss Ski Resorts for snow reliability, slope preparation (grooming) and coziness. Saas Fee is comprised of three ski areas, including Saas-Grund and Saas Almagell, all on the Swiss Magic Pass.
The skiing at Saas Fee includes 21 lifts and 35 long well-prepared (groomed) trails. The ski lifts are a mix of old and new – chairs, pomas, T-Bars, cable cars, and the amazing summit funicular railway to the summit. The Metro Alpin rail brings skiers underground up to the spectacular Allalin Glacier at 11,482′. The crown jewel is Saas Fee's rotating restaurant, "360" is the highest revolving restaurant in the world.
Saas Fee's summit panorama of gorgeous glaciers, and 14,000′ peaks including the Dom, Aletschhorn, Monch, and Jungfrau are ever changing. From the summit, its a long 5,906′ vertical ski all the way to the village, but there are plenty of  lifts and well-prepared trails to explore along the way.
Saas Fee's terrain is vast and while there is nothing particularly extreme on the trail map, there is lots off piste. Hire a Saas Fee mountain guide to explore, this is glacial territory where crevasses are plentiful and dangerously disguised beneath the snow. As the crow flies Saas Fee is very close to Zermatt and could interconnect, but folks in Zermatt claim they don't want that.
For families, Saas Fee has a top rated ski school in the Alps –British run and popular among families from the UK. Of note: kids under 9 ski free at Saas Fee. Young kids will enjoy Saas Fee's mascots, and the references to mountain fairies around the resort. Teenagers will love the terrain park at Saas Fee – and the highest percentage of snowboarders in the Alps.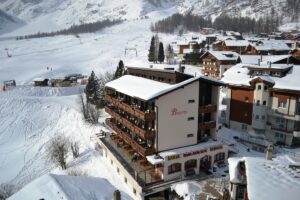 Saas Fee's quaint alpine village of 1,700 residents awaits at après ski. The peaceful car-free atmosphere (only electric shuttles are permitted for hotels and businesses) adds to the alpine charm and calm. Walking the picturesque ski village is a delight, its compact and cheery with a pleasant assortment of shops and Swiss restaurants for après ski. If you want to be slopeside The Hotel Bristol is the place to stay! This ski in/ski out hotel is conveniently located across from the Ski and Snowboard meeting point, Ice Hockey and Curling Rink. The south facing rooms offer a balcony with magnificent mountain views and balcony (Single rooms are on the north side). Well known for its excellent cuisine and curated wine-list in a pleasant atmosphere. The hotel offers single and double rooms, family suites and more. Push off from the 3,500M Saas Fee summit and end your day 1700M latter at The Bristol.
Winter holidays, Saas Fee hosts fairytale walks – called Mountain Magic, torch light hikes, and even night sledging, snow tubing and a mountain coaster called "SaasFeeblitz". Saas Grund has a wild 11-kilometer sledge run, one of the longest sled runs in the Alps.
"Saas Fee" translates to meadow of the cows. Arriving by bus or car, you leave your car and cares behind, and immerse yourself in this valley of natural splendor, though not many cows in winter.
Saas Fee Stats: Elevation 11,647′, 5,906′ vertical drop, 22 lifts, 62 miles of prepared trails plus off-piste and glacier skiing plus skiing at Saas Grund and Saas Almagell.
More on Skiing Switzerland
Our Guide to Skiing the Alps
Top Ski Resorts in The Alps
Top Swiss Ski Hotels
"Switzerland is a country where they don't like to fight, so they get others to do their fighting and they ski & eat chocolate"