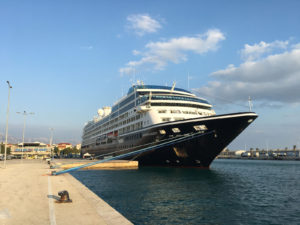 Imagine a cruise ship without the crowds… We had never heard of Azamara, but took a chance and a trip to Italy to experience this smaller, elite luxury cruise line – having read that they actually refurbish old cruise ships and down size the passenger capacity. More deck chairs and dance floor space … sailing the Adriatic Sea from Venice to Croatia and Slovenia – who wouldn't be on board with that?!
Arriving in Venice Italy, we explored this classic canal enclave for a few days. Venice is amazing on your first visit, the centuries' old architecture, the flowing canals at every turn, the bridges and the beautiful little boutiques selling art, Venetian lace and masks are magical at first pass. After two sweltering summer days navigating through the throngs of tourist we were ready to navigate our way out to sea.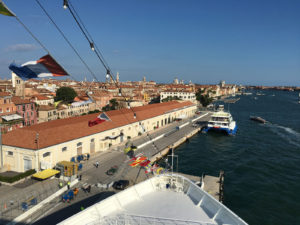 Boarding our Ship, Azamara has three ships the Journey and the Quest and Azamara Pursuit (coming March 2018). Azamara is Royal Caribbean's luxury line. We were immediately impressed by the mid-sized beauty of the cruise ship line. You would never guess this was a reclaimed ship from the 70's – sparkling crystal chandeliers light up beautiful big windows. With elegant lobbies and sitting areas  – we felt like royalty on an adults-only voyage bound for the Italian and Dalmatian coast. Our stateroom was ready when we boarded (that rarely happens aboard Royal or Carnival). Our room was very spacious, part of the ship renovation included making staterooms bigger, with modern amenities, a couch, desk, lounge chair, beautiful King bed with high thread count linens (I checked) and a huge veranda reached through a sliding glass door framed by luxurious drapery. I could already picture sitting on our balcony during passages in our chaise lounge. Our stateroom butler graciously introduced himself and even offered to unpack for us – above and beyond!
Azamara's ships are anything but standard – they resemble a boutique floating hotel that sails you to a new port every day. The crew is uber attentive… and so much is included (mind you its pricey upfront). Guests don't pay for beer, wine, cocktails, soda, top shelf coffee and cappuccino, laundry service, even gratuities are included!
LOVE AZAMARA VENICE TO CROATIA CRUISE
Touring the grand ship, we began seeing familiar faces from check in – Azamara feels more like a private club yacht charter with just 600+ passengers (compared to 3,000+ on most cruise ships), and an impressive 400 crew ( my kind of service ratio).
Setting sail, Venice looked once again magical as the sun sparkled off the sienna rooftops of St Mark's Square. We chilled by the pool on big cushions and thick towels, no battle for lounge chairs like many cruise lines. Fresh towels are plentiful, don't even have to sign them out. That night after freshening and dressing up, we enjoyed a wonderful dinner in the main dining room, seated with cool couples from as far as California, New Zealand and Canada – the clientele is diverse and international. That evening we enjoyed jazz in a piano bar and a fantastic show in the theatre, then dancing in "The Living Room."
The Adriatic is stunning, ironic that the Mediterranean gets all the love – I vote Croatia as the next great luxury destination along the Dalmatian Coast. Our first port was Split. We disembarked, no lines, no waiting and toured the beautiful old city streets, lined with cafes and boutiques selling lace made by local Benedictine nuns. Split is the largest city in Dalmatia, dating to 295 AD. The cobblestone streets and Gothic chapels loom like legends of the struggles and treasures of these people. Then we hopped aboard a charter speed boat to explore the nearby ancient seaside village of  Trogir. After climbing Trogir's forts, palaces and the bell tower, we boarded our yacht headed for the outlying islands… swimming in mesmerizing turquoise water of Blue Lagoon, boating along the dramatic rocky shores dotted with deep caves. Our lunch destination was Stomorska Harbor on Solta Island for a delicious seafood feast with local wine. Extraordinary! See our Review of the Top Things to do in Split.
Dubrovnik was our next port, a marvel of fortified walls, fountains, palaces, churches, and monasteries dating to the 13th century. The charming city streets are car-free, walking the city on the old stone walls is ideal. Chartering a boat to explore the islands and caves is another top tip. See our Dubrovnik Travel Review. Our Dubrovnik charter Captain brought us to The Blue Cave for fantastic swimming in the iridescent cavern, then Sunj Beach, before touring around more of the Elaphiti Islands of Sipan and Lopud. A lavish lunch ensued, at a beautiful seaside restaurant on Lopud Island – Obala. We dined by the water on freshly caught fish, octopus, shrimp, and squid, deliciously paired with local wine, olive oil and sea salt. The bill looked huge at 900,00$ Kuna, but was priceless once converted to $100 Euro.
Zadar is an amazing city, voted best in Europe in 2016. Our ship docked conveniently at the waterfront promenade, by the legendary Sea Organ, allowing for easy exploration of the Roman forum, Lions Gate, grand piazzas, and pedestrian marble streets. A slice of pizza and shots of maraschino liquor were highlights. See our Zadar Croatia review.
Slovenia is a gem, touring the mere 28 miles of shore on the Adriatic of this amazing country is must. We visited beautiful villages of Piran, Isola and Koper, before heading into the hinterlands to go deep underground into a 3 kilometer cave. Lunch was authentic and unforgettable, at a typical Medljan farmhouse, complete with goats and Lippizan horses. We savored wild boar over homemade gnocchi, and native walnut tart accompanied by citronella grappa and laurel liquor – Istrian traditions.  See more on Koper Slovenia.
Trieste – A final port of call on the eastern-most border of Italy returning toward Venice, is not as charming as the other places we had visited, Trieste's large neo-classic government buildings line the grand Piazza dell'Unita d'Italia. Visit the Roman amphitheater – or its remains. Trieste is a major port city, quite busy. If Trieste is too populated for you, hop a ferry to the nearby Muggia to find a more charming seaside village, Italian cafes line the marble piazzas where you can enjoy authentic Dolce Vita over a cappuccino or carafe of local vino.
Sailing back to Venice, we marveled at sailing on a mid-sized luxury cruise ship with the best dining on a cruise we have ever experienced, with the finest furnishings and crew. Azamara gets an A+ in this travel journalist's review. Azamara offers cruises to Greece, France, Spain, Portugal, London and Amersterdam, plus Alaska and Panama. Azamara was founded in 2007, refurbishing Renaissance cruise ships, and features the Quest, Journey, and Pursuit, their parent company is Royal Caribbean.
See more Reviews of the Best Italy Travel Destinations:
Italy's Cinque Terre
Venice Top Travel Tips
Florence – our Favorite Italian City
The Italian Dolomites Ski Vacation
Portugal's Douro River
France Burgundy Valley