We love Chile, it's a huge country, spicy and diverse like its name, and spectacular – big Andes peaks to the East, and Pacific coastline to the west, rich abundant vineyards between. Chile is 4,300 miles long – stretching north to south, with the 2nd-highest peaks on the planet (The Himalayas being #1) creating the dramatic border with Argentina.
Why we love Chile?
Our visit to Chile – in our "summer" – August, it's winter and "chilly" in Chile! This is technically off-season in Chile, but a great time to visit – to ski the Andes, and tour Chilean wine country.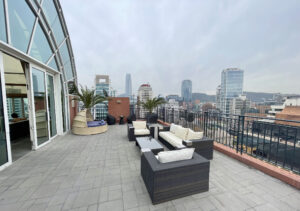 Flying into Santiago, you are just a few hours to ski resorts of Ski Portillo, Valle Nevada, and La Parva. And you're an hour to Chile's legendary wine country of Maipo Valley, two to Colchagua. Santiago is a huge city, fun for a night or two on your arrival and departure. Stay at the Ritz Carlton for the best location, a beautiful city-view room and helpful concierges. See things to do, where to stay and great places to dine in Santiago.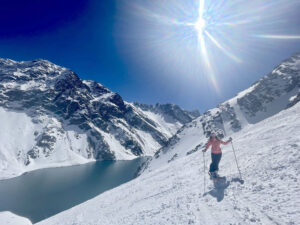 Ski Chile's oldest, most famous ski resort – Ski Portillo. This mountain retreat is magical, high in the Andes at 9,000' on the Argentina border. Portillo feels like a private ski resort, for the fortunate Hotel Portillo guests sharing the 1,252 acres of amazing ski slopes and easy-to-reach side country expert terrain. Lake Inca is the sparkling centerpiece as you ski the phenomenal slopes and later après ski at the fantastic all-inclusive historic hotel. A week at Ski Portillo is extraordinary – especially with add-on heli-skiing in the Andes up to 14,000'.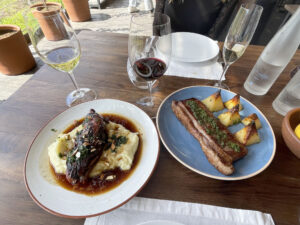 Chile's food scene is fantastic. This vibrant Latin culture embraces delicious dishes like their Asados – smoky grilled meats and chicken. Chilean homemade pastries and empanadas are delish, delicate and flaky, filled with wonderful ingredients – just the perfect bundle of tastes and flavors. Chile has extraordinary seafood- a top exporter of salmon, shrimp, crab. You'll find fresh seafood ceviche on many menus. Chile's world-famous dessert is tres leches tortas – three sweet cream cakes.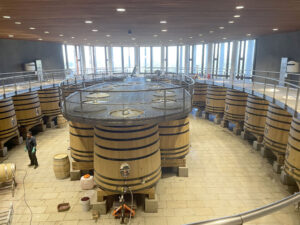 Chile's Wine is some of the best in the world! We toured Santa Rita winery in the historic Maipo Vally. Santa Rita is one of the oldest Chilean wineries and top exporter of Chilean red wines. We tasted iconic Cab and Carmenère wines, not the basic Santa Rita we see on U.S. wine shop shelves. Vik winery was our next wine tour, conversely this is a new wine production facility, fascinating with extraordinarily modern design and methods.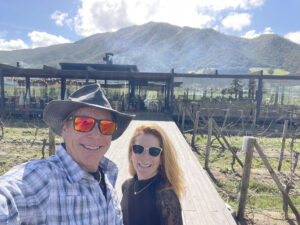 Chile's Colchagua Valley has over 1,7000 vineyards, its the Chilean epicenter of winemaking. This valley and Santa Cruz is also incredibly scenic, with towering snow-capped Andes to the east and lush vineyards climbing the hillsides above the rivers. We easily visited six wineries along the "Wine Route", each one unique, with its own Iconic wine tours and tastings in this pretty, pleasant, proud winemaking region. See our review of Colchagua's amazing wines, the best wine tours, and where to stay and dine.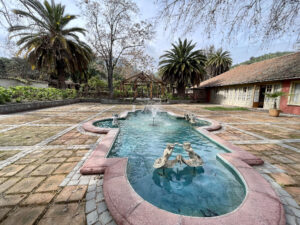 Cool Chile Hotels – take your pick of uber-modern or classic centuries0old castle. We stayed in an 1880 chateau, Casa Real – home to Santa Rita's wealthy wine-making family. This elegant estate overlooks beautiful park-like grounds – I felt like a princess in a chapter out of Chilean history books.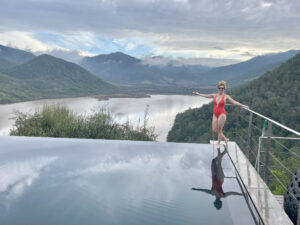 The most modern, bronzed titanium roof wine hotel – VIK – is our next stay – where each of the 22 suites is artist inspired, and the infinity edge pool is picture-perfection above Lake Tranque. Vik is so chic, while Casa Real is traditional and historic. Both had their own wineries and wonderful cuisine to accompany their own vintages produced right on the property – very special!  We recommend you visit both!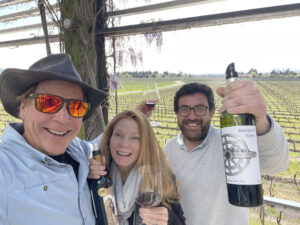 Friendly Chileans you will meet truly appreciate when you speak a little Spanish. Only 10% of this huge country speak English – that stat is higher in touristy hotels and wine regions. Still, say Hola, buenos dias,  gracias, per favor, bueno, delicioso, exquisito, me gusta, salud!, ciao, adios amigo, hasta luego!
Visit South America, go to Chile, and enjoy the food, the wine, the culture, the mountains, the skiing.
"From the Andes to the ocean, Chile's beauty knows no bounds."

See more luxury travel –
Top Luxury Vacation Destinations
Top Wine Destinations of the World
Top Ski Destinations